Digital Nomad Visa for Indians: Remote employment is perhaps one of the very few positive effects this pandemic has had on our lives. In order to accommodate people's lives, businesses everywhere have adjusted their working methods. And now, nations are adapting as well.
The newest nation to grant digital nomad visas to remote workers is Indonesia. With the help of this five-year visa, you'll be able to live and work remotely in Indonesia without having to pay taxes there. What you need to know about the digital nomad visa is provided here.
Digital Nomad Visa for Indians- List of Countries Issuing Nomad Visas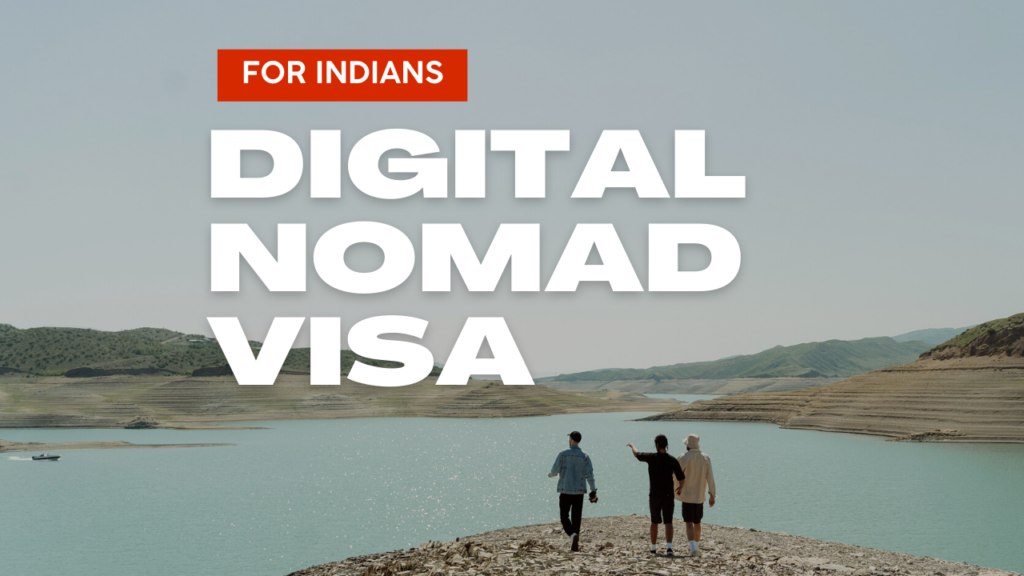 What is a Digital Nomad Visa ?
As long as you don't join the local labour force, you are authorised to stay and work in a country with a digital nomad visa. Unlike a tourist visa, it permits longer stays. Basically, as long as your money originates from outside the country, a digital nomad visa allows you to enjoy a longer-term, tax-free stay in a country.
Digital Nomad Visa VS Tourist Visa
A temporary permit known as a "digital nomad visa" enables you to carry out long-term remote employment in a certain nation. This provision states that during your visit, you may only work from a laptop or computer. Visas for digital nomads can be extended for another year of validity.
More of a temporary permit, a tourist visa allows you to go to a country. It is comparable to a visitor visa that enables you to go to another nation to see family or friends.
Depending on the nation, they can last anywhere from 90 days to 180 months. Additionally, you cannot work while you are there, in contrast to a digital nomad visa.
Eligibility Criteria For a Digital Nomad Visa for Indians
Here are some eligibility criteria you have to meet for the digital nomad visa:
You must be over 18 years of age.
You must have a specific monthly income (the amount varies from country to country).
You must have a job you can do from anywhere in the world.
Documents Required for Digital Nomad Visa for Indians
You need the following documents for your digital visa application:
Digital nomad visa application form. 
Your passport. 
Identity pictures. 
Proof of health insurance. 
Proof of financial income (its source, the amount, etc.).
Evidence of remote work (clients, work contract, business license). 
Civil documents (birth certificate, CV, qualifications, etc.)
Digital Nomad Visa Application Process
You can apply for a digital nomad visa by following the instructions below:
Fill out the application form. 
Make an appointment with an embassy or consulate. 
Prepare your documents. 
Submit your application. 
Fill Out The Application Form
The rules must be followed when submitting a digital nomad visa application. Others insist that you physically fill out the application at the embassy or consulate, while some countries want you to finish the application online, print it out, and sign it. You must enter information that is current, accurate, and comprehensive, so please be aware of that.
Set an Appointment With an Embassy or Consulate
Finding a visa office is also necessary; it might be an embassy or a consulate. But remember that these organisations aren't all same. Depending on where you live, you might need to submit your application at an embassy close by. After locating your local visa office, you must schedule an appointment in order to submit your application and show up for the visa interview.
Once you've submitted your application, you need to compile the last few pieces of documents. It could be necessary to translate or apostille certain of your documents.
Submit Your Application
Prepare your supporting materials, then deliver them along with your finished visa application to the embassy. You may need to make the payment in advance and provide the receipt with your application papers in some nations. Additionally, you must pay the fee and appear for the visa interview.
List of Countries Offering Digital Nomad Visas For Indians
| | | |
| --- | --- | --- |
| Andorra* | Dominica | Mexico |
| Anguilla | Dubai | Montenegro* |
| Antigua and Barbuda | Ecuador | Montserrat |
| Argentina* | Estonia | North Macedonia |
| Aruba | Georgia | Norway |
| Bahamas | Germany | Panama |
| Barbados | Greece | Romania |
| Belize | Hungary | Saint Lucia |
| Bermuda | Iceland | Seychelles |
| Cabo Verde | Indonesia | South Africa* |
| Cayman Islands | Italy* | Spain |
| Croatia | Latvia | Sri Lanka* |
| Curaçao | Malta | Taiwan |
| Cyprus | Mauritius | Czech Republic |
*Visa for digital nomads introduced but not yet implemented
What Type of Work Can you Do With Digital Nomad Visa?
The laws of the nation that awarded your digital nomad visa will dictate the type of work you are allowed to do there. In general, though, it is not restricted to any one profession or working environment. What does a digital nomad do for a living?
A digital nomad can work from any location in the world. The only thing needed is a dependable internet connection! In this situation, working in coffee shops and coworking spaces is frequently necessary.
Conclusion
I hope this essay has given you a better understanding of what it could mean to become a digital nomad. Living this way of life has the potential to completely change your life, and getting started is much easier than you may imagine.
The most crucial thing right now is to TAKE ACTION and begin working toward that goal if you truly want to work and travel. You will have the time of your life if you take it one step at a time and constantly remember that your ultimate objective should be to not just become a digital nomad but to build a 100% location-independent business so you can return home anytime you choose.
FAQs
How Long Does It Take to Get a Digital Nomad Visa
A visa for a digital nomad typically takes one month to process. But keep in mind that each nation has its own procedures for processing visa requests.
How Much Does a Digital Nomad Visa Cost?
A digital nomad's visa may cost between $200 and $2,000 to get. For digital nomads, numerous Caribbean countries including Barbados, Antigua, and Barbuda have the most expensive visa application fees, with family applications costing up to $3,000.
However, some countries, like Georgia, offer digital nomad visas free of charge to attract more applicants.
Digital Nomad Visa Validity
The duration of a digital nomad visa is one to two years. If you match the requirements, certain nations can let you extend your digital nomad visa for up to five years.