Do you love to travel but worry about the cost? Are you looking for ways to make money while travelling? If so, you're in luck! In this blog post, we will share some tips and tricks on how to make money by traveling. We'll discuss everything from working online to picking up odd jobs abroad. So, whether you're a backpacker or a luxury traveller, there are plenty of ways to earn money while traveling. Let's get started!
An Introduction to Traveling and Money Making
Do you love to travel but can't find the money to make it happen? Do you daydream about far-off destinations but feel like you'll never be able to afford a trip? If so, you're not alone. For many people, the high cost of travel is a significant barrier to entry.
However, what if we told you there are ways to make money by traveling? That's right; there are plenty of opportunities for travellers to earn an income on the road. Whether you're looking for online work, picking up odd jobs, or selling your skills and services, plenty of options are available. So, if you've been dreaming of hitting the road but don't know how you'll make it happen, read on for some inspiration.
9+ Effective Ways to Make Money While Travelling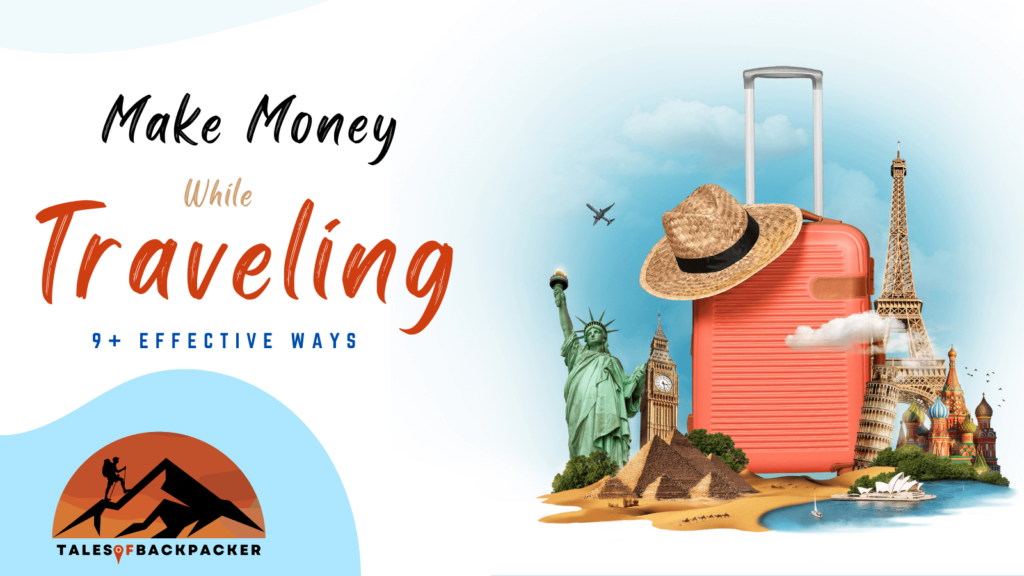 Now that we've piqued your interest let's dive into the details of how to make money by traveling. As we mentioned before, there are many different ways to do this. Below, we'll share some of the most popular methods:
Working Online:
One of the easiest ways to make money while traveling is to work online. You can work from anywhere in the world if you have a laptop and an internet connection. Several types of online work are available, such as freelance writing, web design, virtual assistant work, and more. Most online jobs can be done on a flexible schedule, so you can easily fit them around your travel plans. Search for online jobs in your desired industry and location to get started.
Selling Your Skills and Services:
If you have a particular skill or service that you can offer, why not sell it to others? This could include anything from teaching English to giving tours of your hometown. You could even start your own business selling handmade goods or services if you're creative. This is an excellent option for travellers who want to be their boss and call the shots regarding their work schedule. To get started, list the skills or services you offer, and then start marketing yourself to potential customers.
Picking Up Odd Jobs:
Another great way to make money while traveling is to pick up odd jobs along the way. This could include bar work and waitress to manual labour and construction work. Odd jobs are an excellent option for travellers who want to earn extra cash but don't have the skills or experience for more traditional types of employment. Plus, they can often be done on a short-term basis, which means you won't have to commit to anything long-term as you explore different places. To find odd jobs, ask about local businesses or check online classified websites.
Writing a Travel Blog while Traveling
We all do this, and it's the same for us at TalesofBackpacker. We love what we do because it's something people enjoy reading about. So, if you love to write and have a knack for sharing your experiences, writing a travel blog might be a great way to make extra money while traveling.
Not only will you get to share your stories with the world, but you can also potentially earn income through advertising, sponsorships, or affiliate marketing. Of course, starting a successful blog takes time, effort, and dedication. But if you're willing to put in the work, it can be worth it.
Check Out: Ultimate Guide to Choose Travel Backpacks
Here Are A Few Tips For Getting Started:
First, choose a catchy and unique name for your blog.

Second, make sure your website is visually appealing and easy to navigate.

Third, post regularly and try to provide helpful, informative, or entertaining content.

Finally, engage with your readers by replying to comments and promoting your blog on social media.
If you can build up a loyal following, you'll be well on making money from your travel blog.
Making Travel Vlogs While Traveling & Making Money
If you love to travel and are constantly posting pictures and videos of your adventures on Youtube & social media, you well get paid for it! Making travel vlogs is a great way to document your travels while also making some money.
There are a few ways to make money from travel vlogging. First, you can sign up for affiliate programs with companies that sell travel-related products, such as hotels or airlines. Then, you'll earn a commission when someone books a room through your link.
Also Read: Essential Tips to Know While Travelling Alone
You can also work with brands to promote their products or services in your videos. For example, if you're using a new camera to film your vlogs, you could mention the brand name and provide a link to their website.
Making money from travel vlogging is a great way to offset the costs of your travels and maybe even make a profit!
Freelance Writing While Traveling
Becoming a freelance writer is one of the best ways to make money while traveling. If you enjoy writing, this can be an excellent way to see the world and get paid. Many online platforms connect businesses and individuals with writers, such as Fiverr or Upwork.
All you need is a laptop and an internet connection, and you can work from anywhere in the world. Another great thing about freelance writing is that it's relatively easy to start; all you need to do is create a strong portfolio of your previous work.
Working for Hotels While Traveling
One of the most common ways to make money while traveling is to pick up some shifts at a local hotel. This can be a great way to get your foot in the door of the hospitality industry and learn some new skills.
Most hotels will require you to have some previous experience working in customer service, but if you don't have that, there are plenty of other positions that hotels need staff for, like housekeeping, laundry, or working as social media manager or digital marketer to promote their hotels.
Another plus side of working at a hotel is that they often offer their employees discounts on rooms and food, so you'll be able to save some money and earn it! If you're interested in this option, the best way to start is by searching online for hotels in the area where you'll be traveling. Once you've found a few that look promising, give them a call or send an email inquiring about any open positions or opportunities for work.
Who knows, maybe this could be the start of a whole new career!
Working for Travel Agencies While Traveling
Working for a travel agency is a popular way to make money while traveling.
This can be a great option if you have experience in the industry and are already familiar with some of the inner workings of booking trips and managing logistics.
Plus, it can be a fun way to meet other travellers and explore new places yourself while getting paid to do so!
Also Check Out: Guide to Research a Travel Destination Before Visiting
If this sounds like something you might be interested in, here are a few tips on how to get started:
Start by contacting local travel agencies in your area and seeing if they have any openings.

You can also search online for "travel jobs" or "work exchange programs" that will let you trade your time and skills for room and board in different parts of the world.

Finally, don't forget to check with your university or college if they have any programs that offer paid internships abroad in the travel industry.
Researching and planning can go a long way in helping you find gainful employment while you travel. With a little effort, you could be well on your way to earning money and seeing the world simultaneously!
Affiliate Marketing While Traveling
If you've a knack for promoting and selling products, then affiliate marketing might be an excellent way to make money while traveling.
You'll earn a commission from each sale you generate as an affiliate marketer. And the best part is that plenty of companies are out there looking for affiliates to promote their products.
Sign up for an affiliate program like Amazon Associates or Commission Junction to get started. Once approved, choose the products travel related products or any other products you want to promote and start sharing links with your audience.

When someone clicks on your link and makes a purchase, you'll earn a commission on the sale. And if they click through your connection and make multiple purchases, you'll also earn a commission on all of those.
It's an easy way to make extra money while you travel, and it doesn't require much effort. Just be sure to choose products you're familiar with and think your audience will find helpful. And if you need some help getting started, there are plenty of affiliate marketing courses available online that can teach you the ropes.
These are just a few of the many ways that you can make money by traveling. So, if you've been dreaming of hitting the road but don't know how you'll afford it, now is the time to start exploring your options. With some creativity and effort, you can easily find a way to make your travel dreams a reality.
So what are you waiting for? Start planning your next adventure today!
What are some other ways that you know of to make money while traveling? Could you share them in the comments below?