Least Explored / Offbeat Places to visit in Jammu & Kashmir: Jammu & Kashmir attracts many tourists every year, so regular tourist attractions attract a large number in all seasons. People who want to spend their time alone with nature should visit some exciting places. Some of these rare places in Jammu & Kashmir offer incredible views.
Still, there are so many different ways that people can spend their holidays with family and friends in various activities like hiking, camping, and sightseeing. Buy. So, let us all help you plan the best and brightest trip to Jammu & Kashmir next season. Here is a list of exact places to try:
Least Explored / Offbeat places to Visit in Jammu & Kashmir:
Chatpal:
Located in the Shangus region in southern Kashmir, this place is where one can wander and disappear among the lush green trees with mountains and wildflowers. A perfect location away from the hustle and bustle of the city, where laughing rivers and the chirping of birds can be heard as an ideal place.
Some J&K resorts are very cheap and convenient. The area has the power to amaze you with its beauty and relaxed atmosphere. Chatpal is a desert and archeological site where there is no trade. It is surrounded by exciting places like Ahrabal Falls, Sunmarg, Lolab Valley, Gulmarg, Martand Temple, and Kishtwar National Park.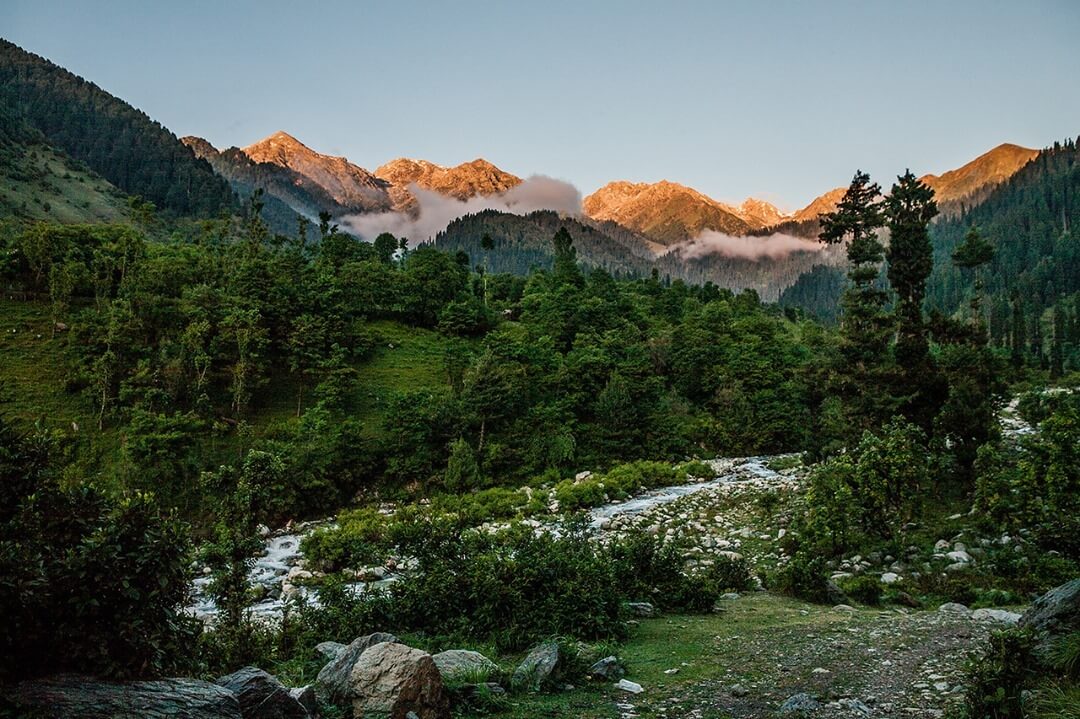 How to Visit Chatpal:
By Air: Srinagar Airport is the nearest airport, which is well connected to major Indian cities like Chandigarh, Jammu, Mumbai, New Delhi, and others. Taxis can be hired to travel 88 km from here.
Railways:The nearest railway station is the Jammu Tawi Railway Station, located 222 km from Chatpal.
By Road: From Anantnag-Chitergul Road to Achabal, take a local joint jeep / Somo to Chitergul and another that will take you to Chatpal. It takes three hours to reach Chatpal from Srinagar.
The Bangus Valley – Offbeat Places to Visit in Jammu & Kashmir:
Lost in Mysterious Ice, Bangus is one of the most obscure tourist destinations in Kashmir. Bangus Valley is located in a beautiful area of ​​Kupwara. Bangus Valley was one of the Least explored/ offbeat places to visit in Jammu & Kashmir. The views and sounds of this paradise overlooking the Bangus Valley are astonishing in their bravery. Filled with rich and fantastic flora and fauna, it is probably one of the most beautiful places in the world.
The forests' pine trees are breathtaking, and the mountain ridges reflected as if in a mirror in the peaceful streams of Tilwan Kul, Douda Kul, and Roshan Kul are majestic and exquisite.
It is home to many animals such as deer, brown beards, musk grass, large snow leopard, trefoil, pheasant, pheasant, monosynthe pheasant, bush coyote, and many more beautiful migratory birds.
The valley is bounded north by the Howkibal Mountains and the west by the Qazinag and Shamsbery Mountains. The Bangus Valley is as soft as a river. Strange stories are told about the Black Rose Caves of the Bangus Valley, including the Stone Age frescoes.
The cave is believed to be the gateway to Russia. It is also said that there are rivers in the caves of Castle Ross that are still not fully accessible. These caves remind us of past greatness.
Bangus is a beautiful canvas of clear rivers, green grass, and snow-capped mountains. The emerald valley is full of pearls. It is one of the best places to take natural beauty photos and picnics, peace for nature lovers, and a romantic atmosphere for the couple. It has everything to offer tourists who are expecting a fun experience.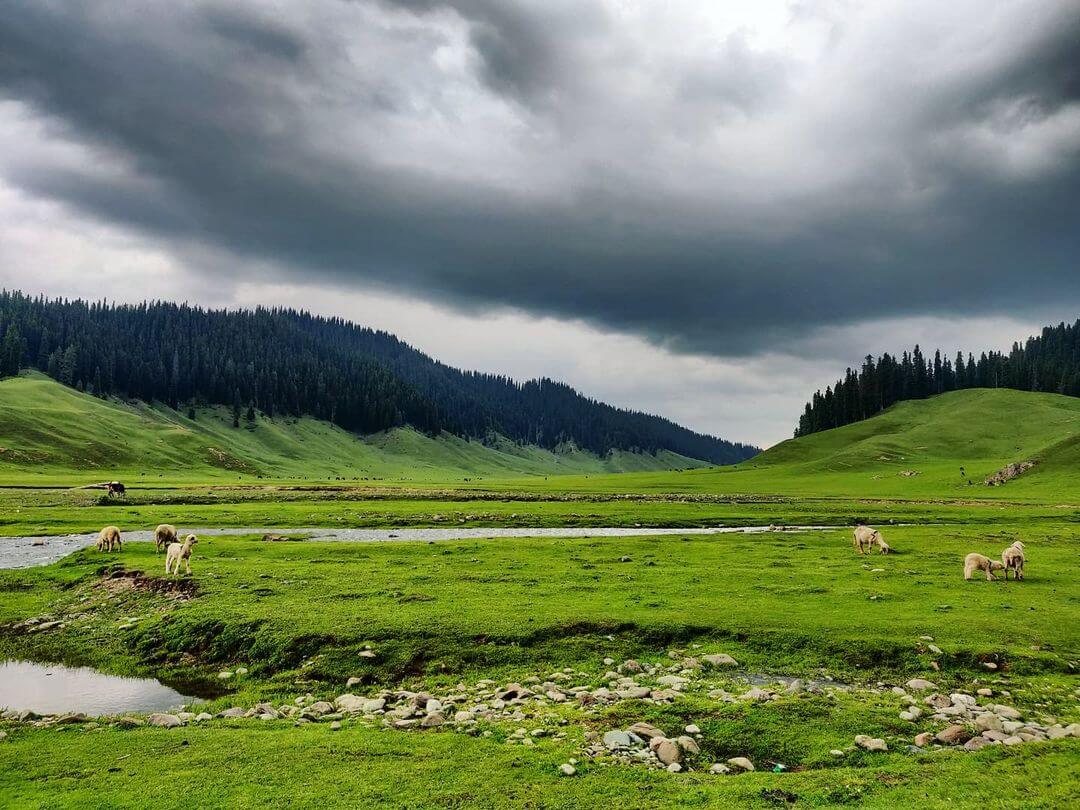 How to reach the Bangus Valley?
By Air – The nearest airport is Srinagar Airport, 90 km from Kopwara.

By Train – The nearest train head to Kupwara is Barhamullah which is 64 kms away.

By Bus – Buses and taxis are readily available from Srinagar to Bangus.
Lolab Valley:
Equivalent to divine beauty with beautiful scenery, this valley will surely love you. It is an elliptical valley with a length of 24 km and an average width of 3.2 km. From gardens, rice fields, lakes, and springs to birds, this place offers everyone a chance to discover and enjoy fantastic nature. Srinagar is located in the northwestern part of the city and is 9 km north of Kupwara.
Check out: Must Visit Places to Visit in Dehradun
This remote place, of course, amazes many with its raw beauty. There is also a lake called Satisar and a waterfall called Lavanag, three feet deep with clear water. Another spring called Gauri spring is another big spring in the area. Other major cities in the Lolab Valley include Kalaroos, Lalor, Kigam, Takipora, Kundi, Chandigarh, and Muqam. Nagmarg grass, which separates Lolab from the Bandipora district, attracts many tourists. The village offers a glimpse of typical Kashmiri villages and the local lifestyles.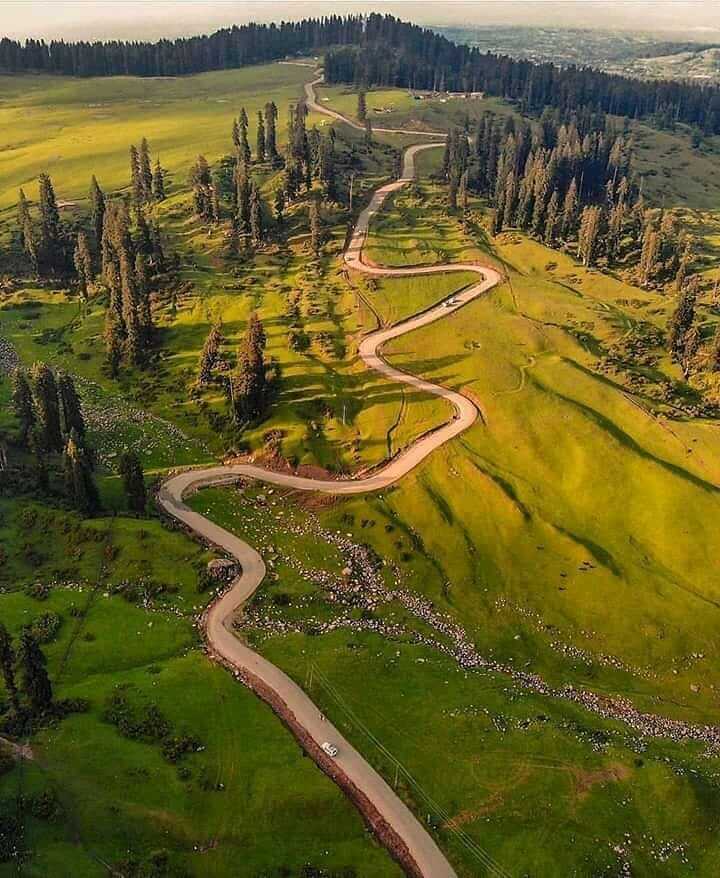 How to Reach Lolab Valley:
By Air:

Vehicles can be rented directly from Srinagar Airport.

By Rail:

Trains to Jammu are well connected to major cities, and from there, you can hire a Jammu and Kashmir bus or private car.

By Road:

Kupwara district can be reached from Srinagar by taxi or bus.
Also Check: Top 7 Underrated Tourist Attractions in Kolkata (Calcutta)
Tulian lake:
Located in the heart of the Zanskar and Pir Panjal mountain ranges, Tulian Lake is one of the most beautiful hidden places near Jammu. Tulian lake has breathtaking views of the high mountains that provide incredible beauty. The emerald water of this region is a painful sight for the eyes.
If you are looking for an adventure, the Tulian lake track is the right choice. This trip includes hiking. It may be difficult for some tourists to complete this long journey, but those who invest in physical activities can participate in this long journey. Also, walking in the beautiful area of ​​Tulian Lake is a lovely experience in itself.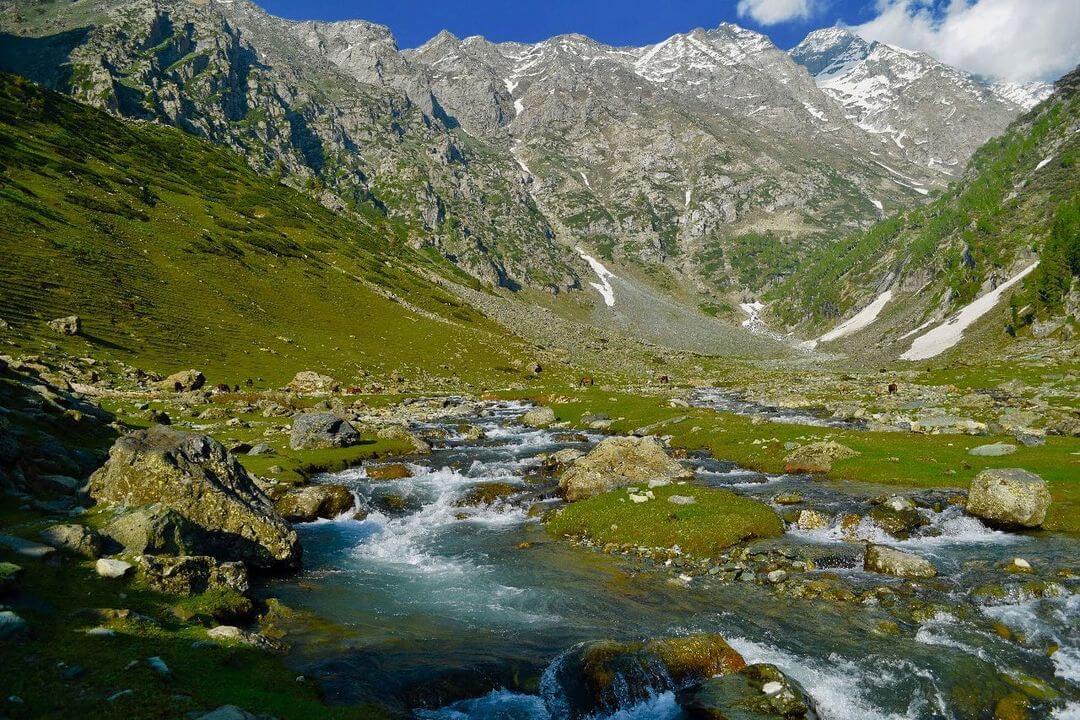 Gurez one of the Offbeat Places to Visit in Jammu & Kashmir:
Located about 123 km from Srinagar, Gurez Valley is another notable place in Jammu's list of unclean places. Gurez said Jammu had been declared the most beautiful place, and it's like a green carpet on a white snowfield.
Huge mountains surround the fascinating valley. The Gurez Valley was once known as the gateway from Europe to Kashgar, the famous Silk Road. It is an aesthetically pleasing place where it will never be enough, no matter how many photos one clicks. Between the Kishanganga river (Neelum) and the Vasant Valley, the Habba Khatoon tourist peak is worth the time.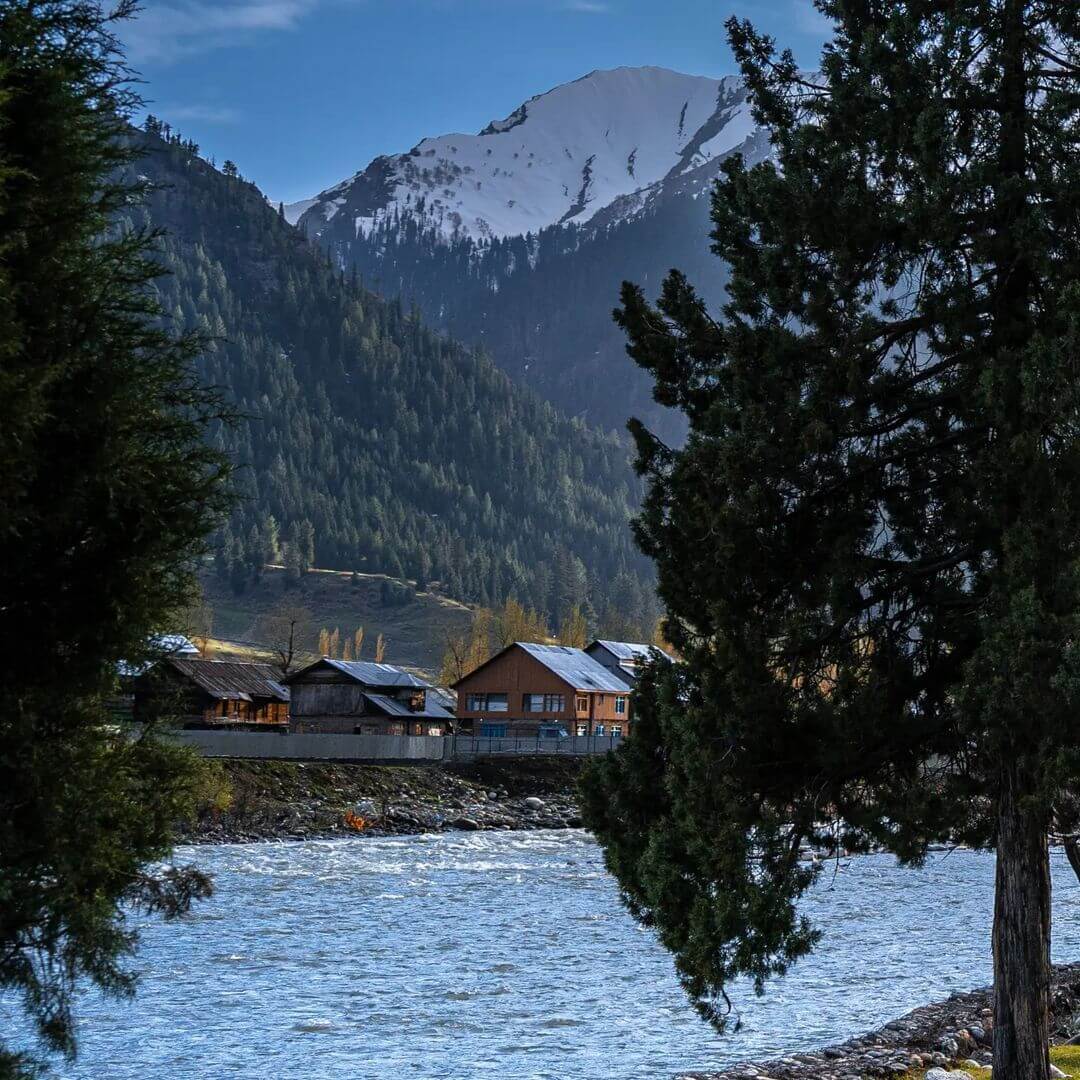 Doodh Ganga and Neelnag:
The Doodh Ganga River is ancient. Her milky water in front of her sweet eyes. It is one of the fascinator destinations on the map of Jammu. The traditional Doodhganga River is a perfect place to visit and travel.
The Doodhganga location is rich in all its natural beauty. A genuine breath of fresh air can be found at this excellent picnic spot in Jammu. Lake Neelnag lake is a perfect place to photograph in the middle of a pine forest which is on the list of best-undiscovered places near Jammu. With the soft, flowing backdrop of Neelnag Lake, the travel opportunities in this area are endless.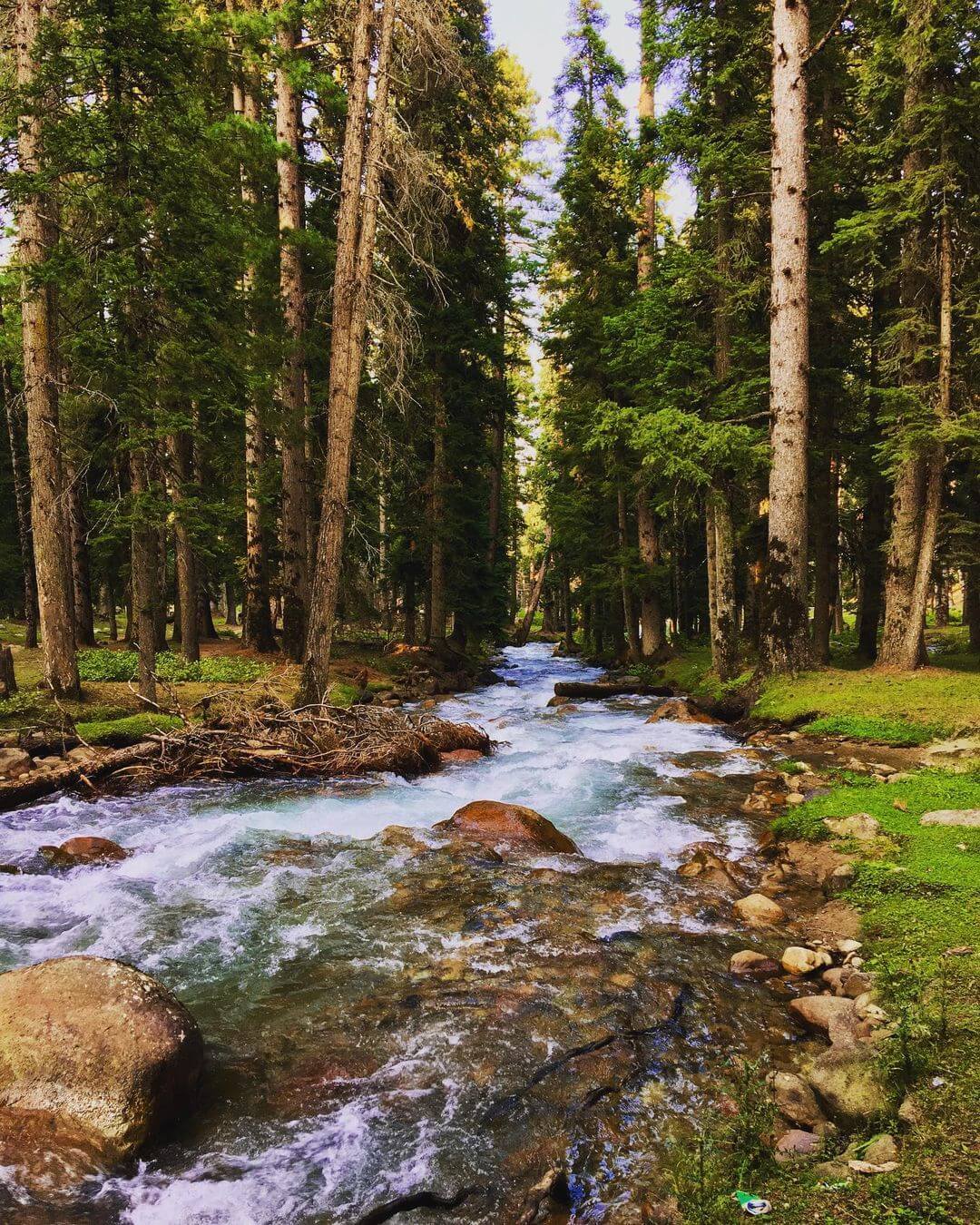 Conclusion:
Hope we have covered all the least explored / Offbeat places to visit in Jammu & Kashmir. This list is not exhaustive because Jammu and Kashmir has so much for every benefit, be it cultural or natural. It really is a paradise in the heart and even if you are not able to visit all the places, at least a brief visit to these places is necessary or you will always regret the missed opportunity.