Places to Visit in Tirumala: Are you planning to travel to Tirumala Hills which is one of the most visited sacred places in the world?? Confused on what places to visit in and around Tirumala? Your search ends with us where in this article we will let you know on what are the important places to visit and how to organize your trip before hand in order to make it more memorable.
In this blog Article we will be covering the must visit & top tourist attractions in Tirumala hills along with the Lord Venkateswara Swamy Temple. All these 8 places can be visited with in 150 INR per person. This will be explained below.
Places to Visit in Tirumala – 8 Places Under 150 INR Per Person !!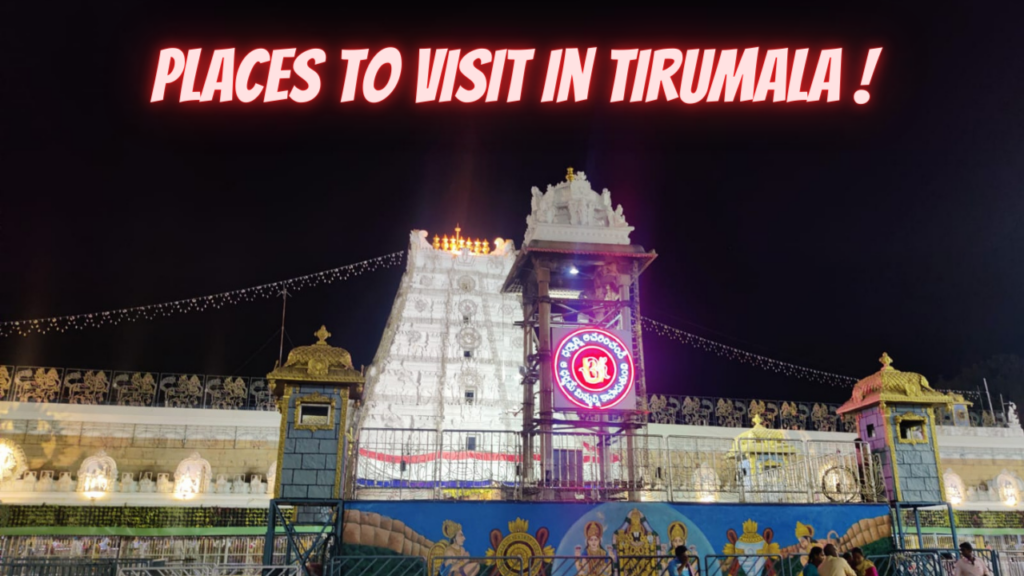 | | |
| --- | --- |
| Must Visit Places in Tirumala | |
| Venkateswara Swamy Temple | Sri Vaari Paadaalu |
| SilaThoranam (Natural Arch) | Papa Vinasanam |
| Akasha Ganga | Sri Venugopala Swamy Temple |
| Japali Theertham (Japali Hanuman Temple) | Chakra Theertham |
Lord Venkateswara Temple:
Distance From Tirumala Bus Station: 1km
Travel Option: Walk
Tirumala Venkateswara Temple which is situated at a distance of 1KM from the bus station, is one of the ancient temple where lord Vishnu is incarnated in the form of Balaji. Millions of devotees of Venkateswara swamy visit this place every year which is situated on the top of the hill.
One needs to pass through seven hill tops called Sapthagirulu. Venkateswara temple lies on the seventh hill, which is almost 3,200 ft above the ground level. King Thondaimaan who was a great devotee of lord Vishnu has built this temple which was later developed by Cholas and Pandiyas. The king of Vijaya Nagaram, Krishna devaraya has major role in contributing his wealth for the development of Tirumala Temple.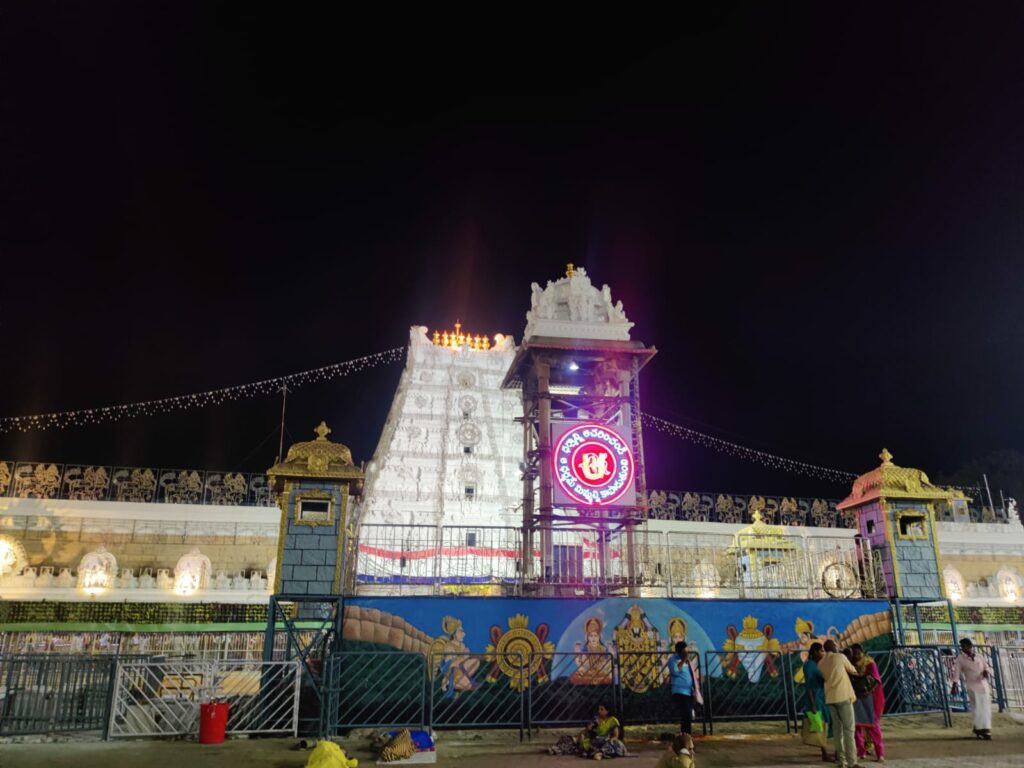 The temple was built with Dravidian architecture, with a black idol of lord Balaji standing high, with Bhudevi and Sridevi on both sides. The best time to visit the temple is during the Brahmotsavas which is a nine day event celebrated in October. pilgrims also visit the temple during the Padmavathi Kalyanam, garuda seva, Vaikunta Ekadasi, and radhasapthami.
Tirumala Tirupati Devastanam (TTD) provides special darshanam to senior citizens aged above 60 and parents with children below age 2 years. Physically handicapped will be taken in shortest route for darsanam. Devotees will be allotted with different slots in order to decrease the time taken for darsanam.
Accommodations will be provided by TTD with prior bookings as there are no private facilities for the visitors. Please check TTD website http://www.tirumala.org for further information.
Shila Thoranam – Must Visit Places in Tirumala
Distance From The Bus Station: 2kms
Trip Duration: 1 Hour
Travel Option: Private Cabs
Apart from being a pilgrimage, Tirumala hills has become major tourist place with many other attractions. One of them is the Shila Thoranam which is situated at 2kms from the Tirumala bus station. Shila Thoranam is a natural rock formation, which means a garland of rocks. It was found by the archealogists in and around 1980 while excavating the place. An arch of 25 feet length and 10 feet height will be seen which is formed due to the weathering of rocks.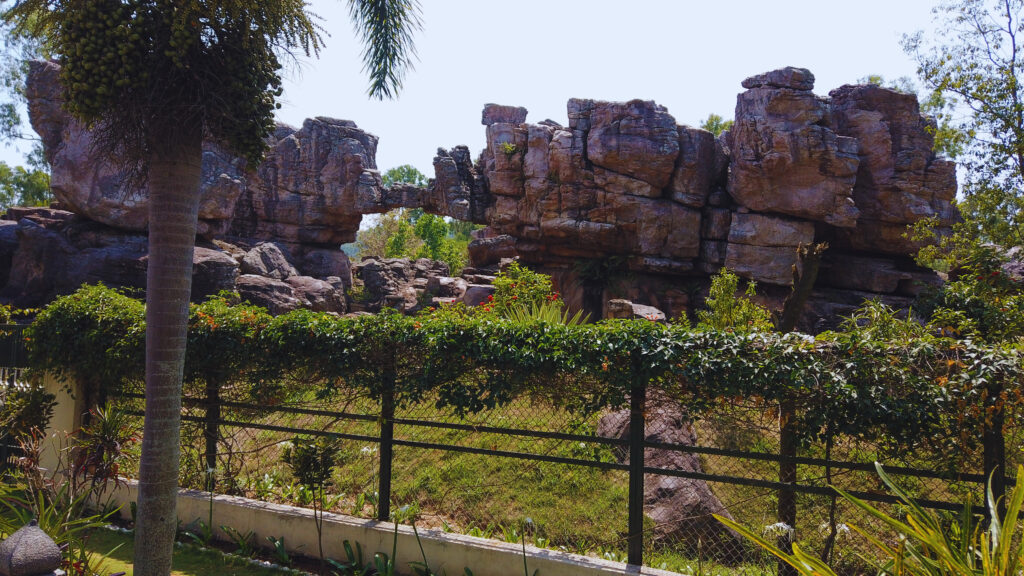 This rock formation comes under the pre-cambrian age which is formed millions of years ago. There is said to be only two natural rock arches in the world, another one of which is found in USA. The best time to visit this place is during 6AM in the morning and 6PM in the evening during sun rise and sun set when the arch of rocks looks even more beautiful with natural sun light focusing on it.
There are several cabs and private taxis available with shared options. There are TTD buses which runs regularly between these places.
Akasa Ganga:
Distance From Tirumala Bus Station: 3kms
Trip Duration: 2hours
Travel Option: Private Cabs
Akasa Ganga is a sacred water fall situated at a distance of 3kms from the Tirumala bus depo. This is one of the main places to visit in Tirumala as the water from this water fall is used for abhishekam for the main idol. According to the puranas, the water from the Akasa Ganga originates from the lotus feet of lord Vishnu.
Bathing in this holy waters will revive us from all the sins and gives us good fortune. The sight of the waterfalls feels so refreshing with greenery all around and is the best place to visit for nature lovers. It is also believed that tying a cradle to the tree near by after taking three dips in Akasa Ganga is said to give children to the childless couple. Even today priests from lord Venkateswara temple get water from this falls for regular rituals during morning hours.
The best time to visit Akasa Ganga is during winters and rainy seasons where the water flows in between the rocks. There are private cabs and TTD buses available to this place and can be reached by walking for a few minutes from main road.
Srivari Padalu:
Distance From Tirumala Temple: 4kms
Trip Duration: 2hours
Travel Option: Private Cabs And Buses
As mentioned before Tirumala lies on the seventh hill top where there is a place called Srivari Padalu situated at the highest point of Narayanadri hill, on the way to Shila Thoranam. One can find the lotus feet of lord venkateswara which is believed as the first step of him on this Earth. Devotees can take a look of his feet caged in a glass case for protection. The sight of the whole Temple complex and Tirupati city can be seen surrounded by forests around from this high altitude.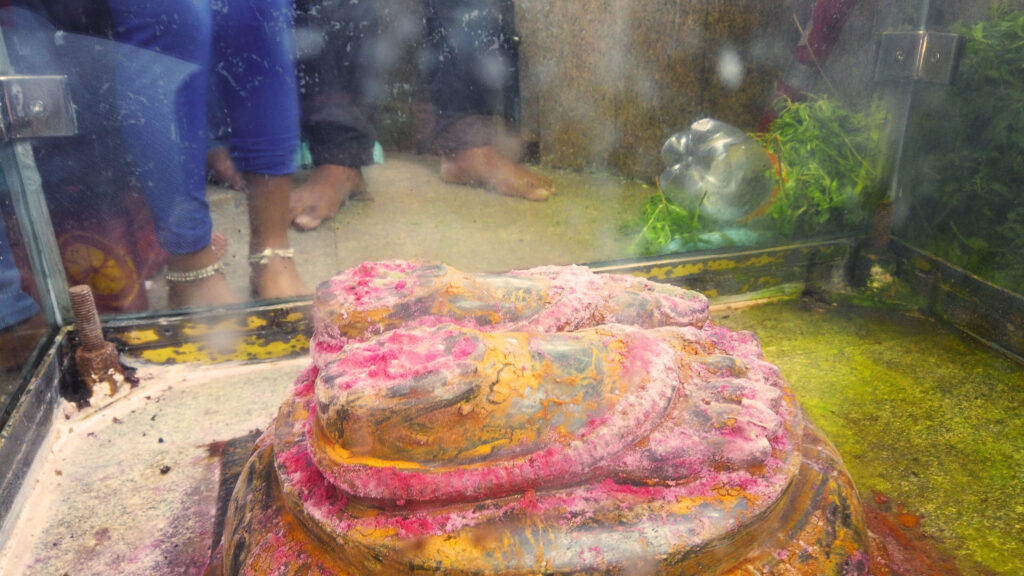 A shiva temple near by can be seen and worshiped by the devotees with garden around. the scenic beauty of this place is one of its best and can not be described. one needs to see with his own eyes and enjoy the beauty of nature with hills and valleys.
Several cabs with shared travel options are available. One needs to go through 400 steps to reach his divine feet. The place will be open for visitors from morning 6 to evening 6.
Chakra Theertham:
Distance From Tirumala Bus Station: 2kms
Trip Duration: 1hour
Travel Options: Cabs/ Treking
On the way to Shila Thoranam, there is a small water body called Chakra Theertam which is said to be formed with the help of Sudershana Chakram. during his penance, lord Brahma wanted to clean the place with holy water and requested lord Vishnu to help him, thus making this sacred theertam. During Bramotsavams swamy vari idol is brought here for abhishekam.
Taking a dip in this holy waters is said to wash away all our sins and make us free from our past bad deeds. visitors also visit this place as it is delightful to see and make our senses rejuvenate.
TTD runs buses which take visitors to the place and can be visited between 8AM to 5 PM. Private cabs are also available with personal and shared options. pilgrims can take a walk from Shila Thoranam following the sign boards arranged by TTD.
Pushkarni
Distance From Tirumala Bus Station: 1km
Trip Duration: 1 Hour
Travel Option: Private Cabs/Treking
One who visits Tirumala should plan to visit Pushkarini which is at a distance of 1km from TTD bus station. Present adjacent to the Srivari Temple is huge water body where pilgrims take sacred bath before entering the temple.
Mukkoti Dwadasi is an auspicious day where 3 crore theertams merge together in this Pushkarni. Actually this water body is considered to be present in Vaikuntam and has been brought to Earth for the sake of Lord Vishnu.
Lakhs of devotees visit this place on mukkoti Dwadasi and there happens teppotsavam which is witnessed here. Taking a dip during this time is considered equivalent to bathing in 3 crore sacred waters.
Papa Vinasanam:
Distance From Ttd Bus Station:6 Kms
Trip Duration: 1hour
Travel Option: Private Cabs
This small water body is situated 6 kms away from TTD devastanam and is considered sacred. the waters from Papa Nasanam is meant to be having divine powers which cleanses one's mind, body and soul. The visitors go through a spiritual happiness while viviting this water falls.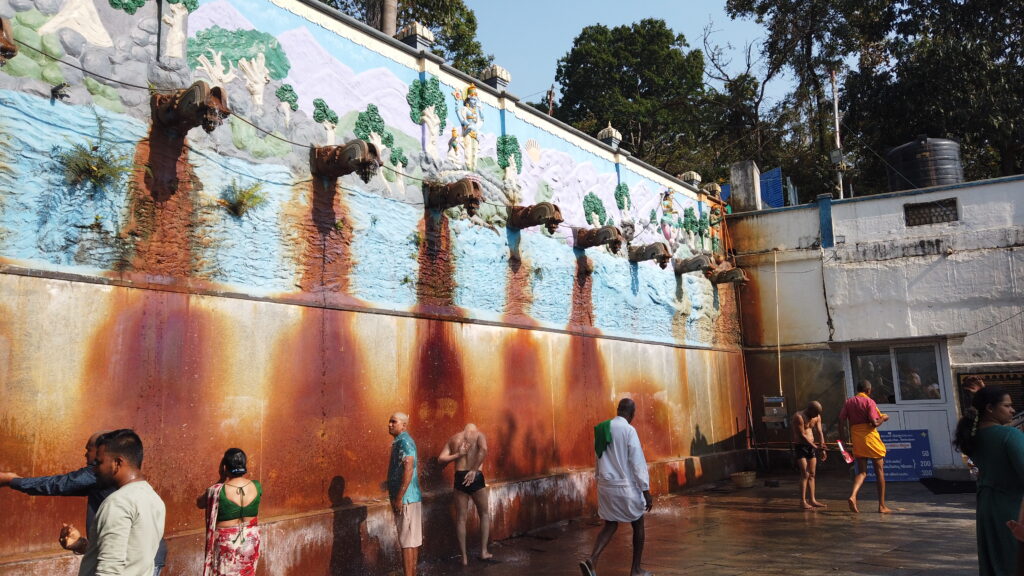 The breadth taking view of the mother nature is just amazing and is perfect place to visit while planning your trip to Tirumala. The water from papa Nasanam is stored in the reservoir near by and is used to supply water for the whole city of Tirumala. TTD has made arrangements such as changing rooms for pilgrims after their sacred bath.
Devotees consider taking dip in this waters and donating Saligrams will free them from their sins(papam) and hence the name Papa Nasanam. One can reach this water fall travelling through a stony path way for 5-10 minutes which makes your trip more memorable. There are several private cabs and TTD buses available very frequently which can take you to papa Nasanam.
Japali Teertham:
Distance From Ttd Bus Station: 3kms
Travel Time: 2 Hours
Travel Option: Private Cabs/Treking
Visitors visiting Tirumala can not forget to visit Japali Hunuman temple which is worth visiting. On the way to Akasa Ganga is situated Japali Theertam, which is said to be holy because of a legendary story. Japali maharshi used to stay here while Rama along with Sita, Lakshmana and Hanuman stay here for a good time during their vanavasam of 14 years.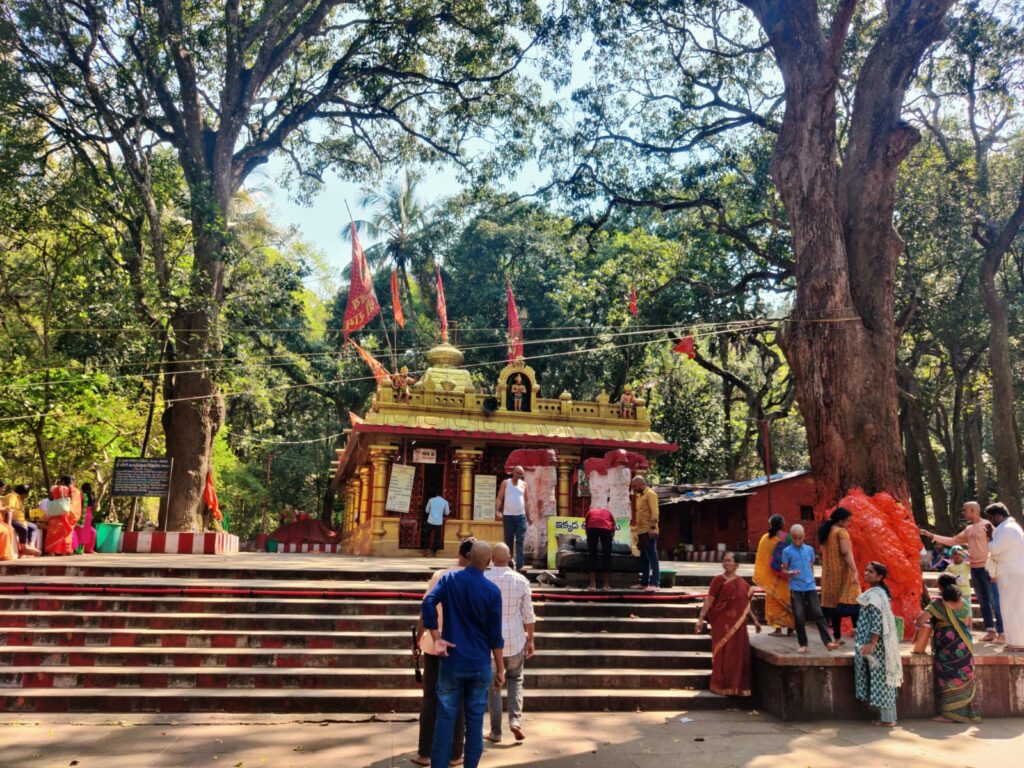 There is a small water body which is considered sacred by the devotees and is taking a bath in this theertham will wash away all the sins and may become free from various diseases. Apart from devotees, those who are found of trekking also visit this place as it is a beautiful spot surrounded by trees and woods.
One may arrange for private taxi or request for TTD buses to stop over the place. People are allowed at this place until evening 6 as this feeds many wild animals like Tigers for drinking water.
Apart from these there are also other attractions like Bedi Anjaneya Swamy temple, TTD gardens, Sri Venkateswara Museum which takes time to explore and can make your trip to Tirumala more memorable. You can find all the necessary information in TTD website which has been already mentioned above in the article.
Hope we have provided you with enough information so that you can plan your trip hassle free. Do write your feedback and queries if any in the comment section below and we will get back to you with more information you need as soon as possible.