Anjuna Beach, Goa: Are you a party animal? Do you get excited hearing about tripping on techno trance music on a beach shore with chicks and drinks? Or maybe morning yoga and spiritual experiences are something that excites you. 
Well, Anjuna is the place for you Folks! Anjuna is located in the freak capital. GOA, you read that right, it's GOAA. All it takes is few shortest floral casual dresses for pretty chicks and boxers for young men from your closet and an air ticket. And here you are in the arms of cool breezes from the Arabian sea. 
So, if you already there by now or planning to fly; here's I got you everything you need to know about Anjuna because, if you've been to Goa but not Anjuna. Have you been to Goa? Here, we're gonna be talking about what not to miss at Anjuna beach at all. Alright, guys! Let's get started.
Anjuna Beach Goa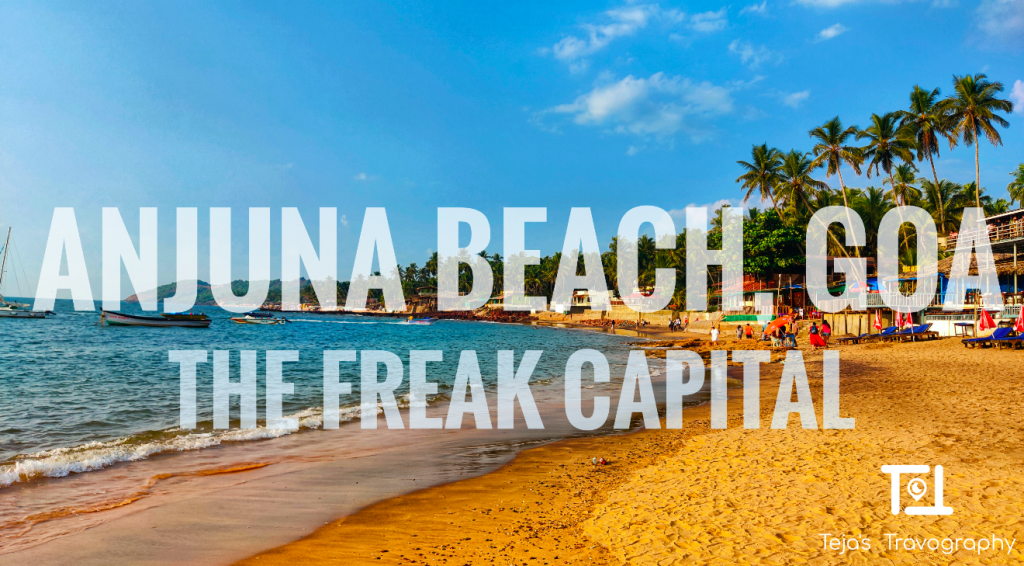 How to Reach Anjuna Beach, GOA ?
The Anjuna beach is situated near Panaji (18 km to be precise) and you can choose either way to reach here via Airways or railways. The only International and Domestic airport of goa is located in Dabolim. And from Dabolim, you'll get taxis as there are govt Taxi providers available at the airport only. From Airport Anjuna is about 46 km away, you can directly get a taxi for Anjuna. 
Coming to Railways now, Karmali is the nearest railway which is just 30 km from Anjuna and 12 from Panaji. So, you can get down to Karmali Railway station and get yourself a taxi there to Anjuna. 
And roadway is also an option for those who either live nearby or are passionate about long drives because you're going to love driving here.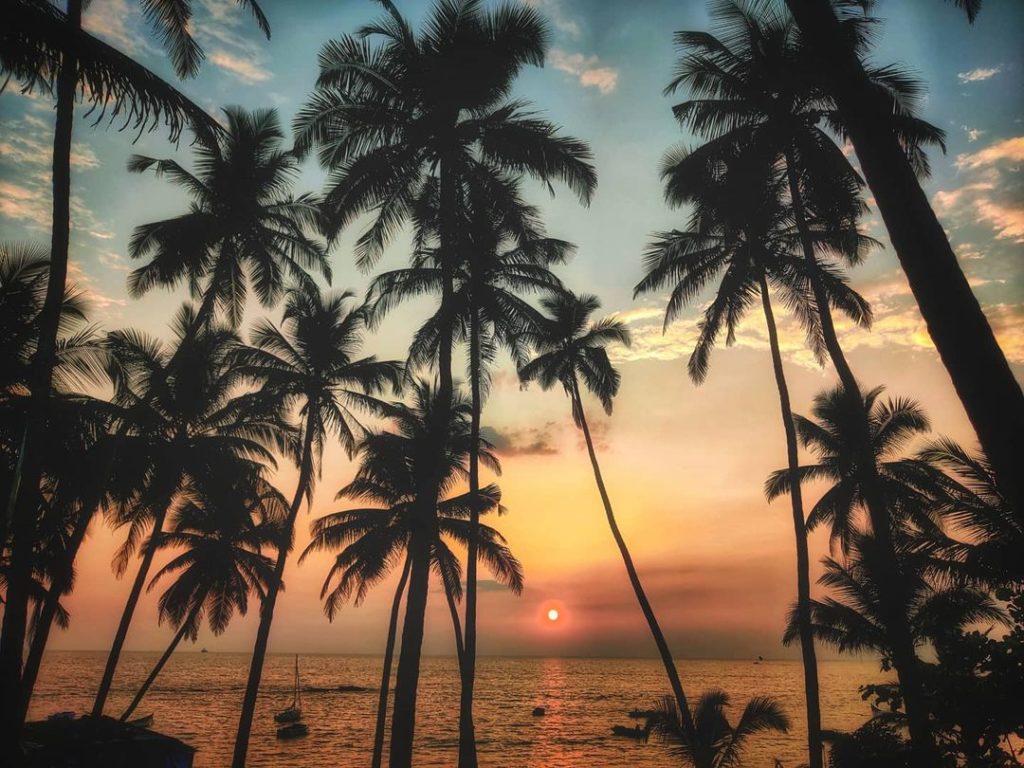 Perfect time to be at Anjuna Beach
Goa is somewhat hot during summers, but it's not as hot as Delhi and other central and northern parts of the country. Considering the best months to be at goa is from mid-November to mid-march. The temperature fluctuates between 22 degrees to 30 degrees during this time. Though after march temperature may rises as high up to 36-40 degrees sometimes. And so, people from the cooler places of the globe might find it a little hot in March.
Here, I'll suggest them to go before February. There's no cold in Anjuna beach, even during the coolest months of the north i,e December or January, Anjuna is the best place to escape from the winter season and celebrate your new year here with your loved ones and the people from across the globe.
Places to visit Near Anjuna
Ozran beach
Ozran beach is truly a hidden gem of Goa, located nearby Anjuna beach, often called little Vagator beach. It is said that it's a part of Vagator beach only but a little rockier it seems than Vagator beach appears. It's a no rush, clean, and blue beach surrounded by lush greenery all over. Bathing in the water current with hilltop sun view, if that's what you wanted Ozran beach is the beach for you.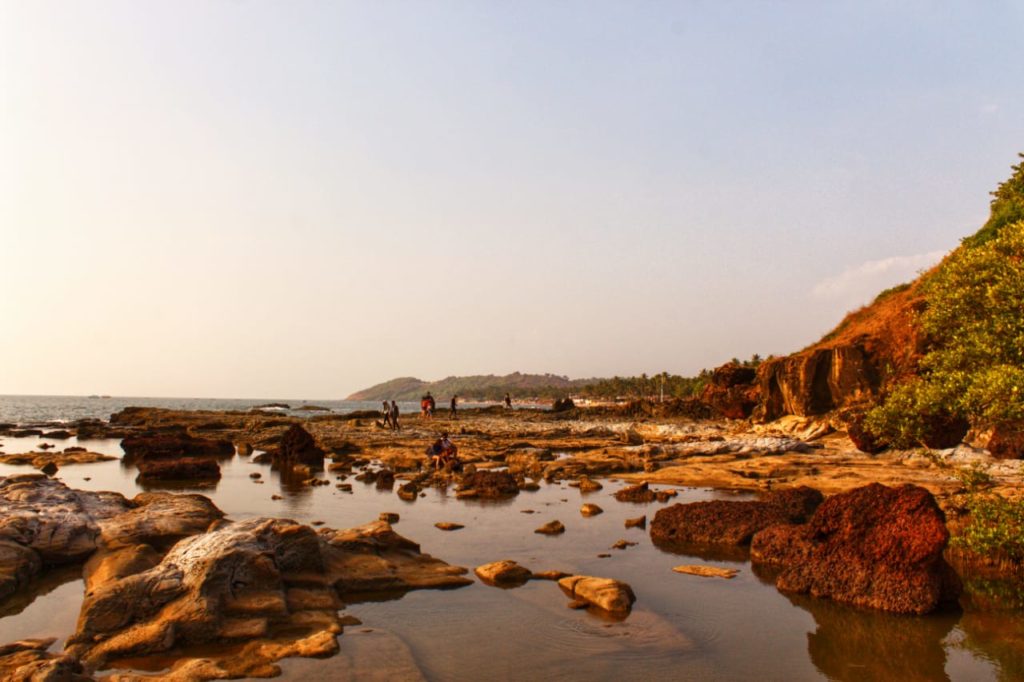 St. Michael's Church
One of the oldest Churches initially established during the late 16th century, rebuilt in the 18th century is purely dedicated to S. Miguel is just 4 km away from Anjuna beach and a lot of visitors of Anjuna beach prefer to visit St. Michael's Church. It has a statue of St. Michael holding a scale on one hand and a demon under their feet. You can visit there any day from 6 am to 7 pm, mesmerized and meticulous art scripted inside will keep you astound. And so, I consider St Michael's Church a must-go place in Anjuna.
Chapora Fort
Do you sometimes wonder about going to the fort where the movie "Dil Chahta hai" has been taped? Go to Chapora Fort; one of the best destinations for your vacations and incredible pictures. This fort has its history as it was established by the Portuguese, if you are an explorer, I recommend you to dig into the history of Chapora Fort once before visiting.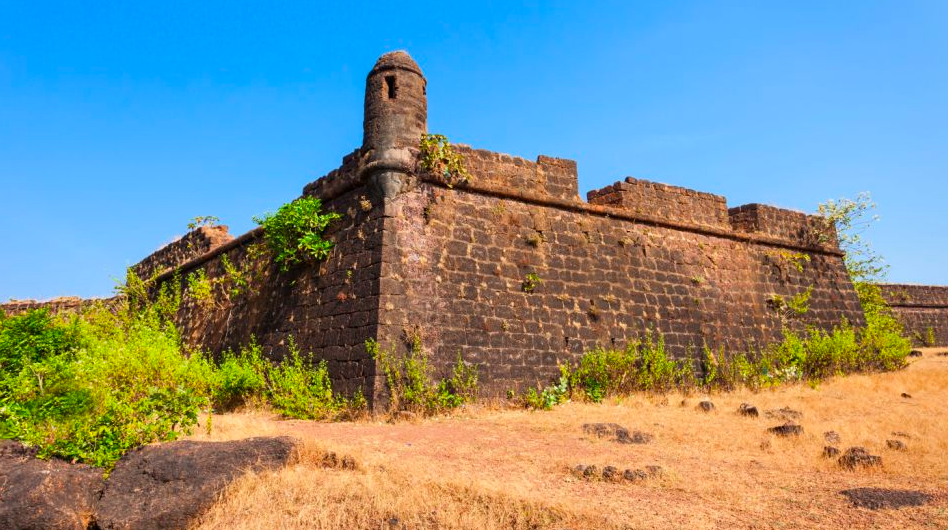 Anjuna Market
Hippie's paradise is known as Anjuna's flea market, here you can buy all the hippie stuff from abstract printed casual shirts to stoned garlands. Handicrafts for home décor, trinkets, and much more at the cheapest price. If you want to buy any Tibetan or Nepalis good, there can't be a better place than this market, Mesmerising attars (profound oil-based fragrances) is quite prevalent here. Miss everything but Anjuna Flea Market.
Splashdown Waterpark
Situated in Calangute-Anjuna Main Road, is a must-go water park if you're with children. Young kids find this place a heaven on earth, that they can't miss on. Equipped with five pools and interconnecting slides is the most amusing shit about this park. The entry price starting from 2.5k to 4k depending on the rides and activities you prefer. It's important to carry an extra piece of cloth for water activities, and changing rooms are available. So, if you're someone with kids, don't miss out on Splashdown Waterpark at all.
Shiva valley
Shiva valley as the name suggests is the temple of trance, situated in the Anjuna Beach crowded with hippies is the best place for all those party animals on the seashore. Electrifying techno music with drinks and food at affordable prices is available all the weekdays here. But Tuesday is the day for the best kind of rave party in Shiva Valley with a fun-loving crowd.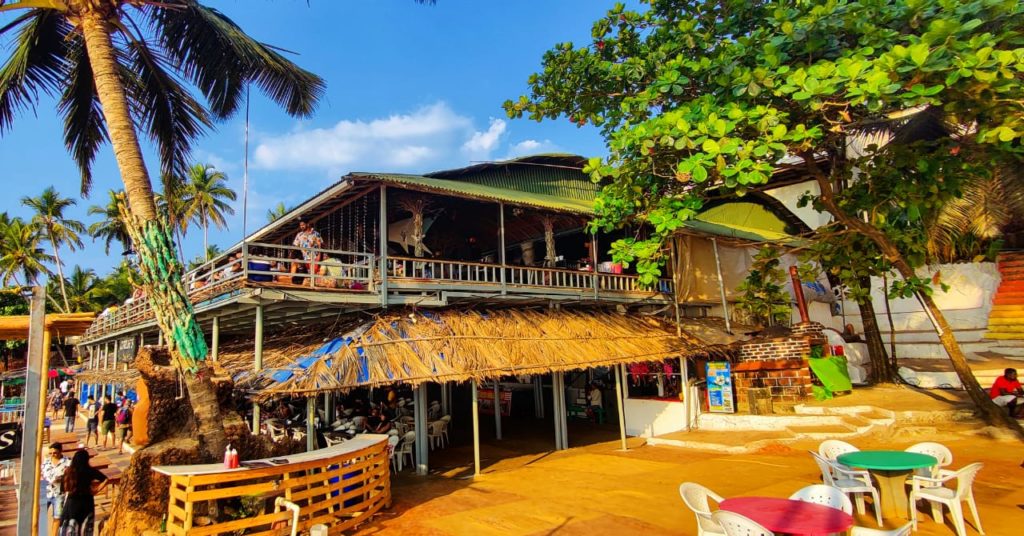 Curlies
Right next to Shiva Valley is Curlies beach shack, sitting upstairs on a table, witnessing the sunset from here has such an ambiance that soothing to eyes. Perfect wine and dine with melodies are mesmerizing and the cold breeze of Anjuna will blow away all your life issues. So, treat yourself with an ultimate vocation by spending a night here in Curlies.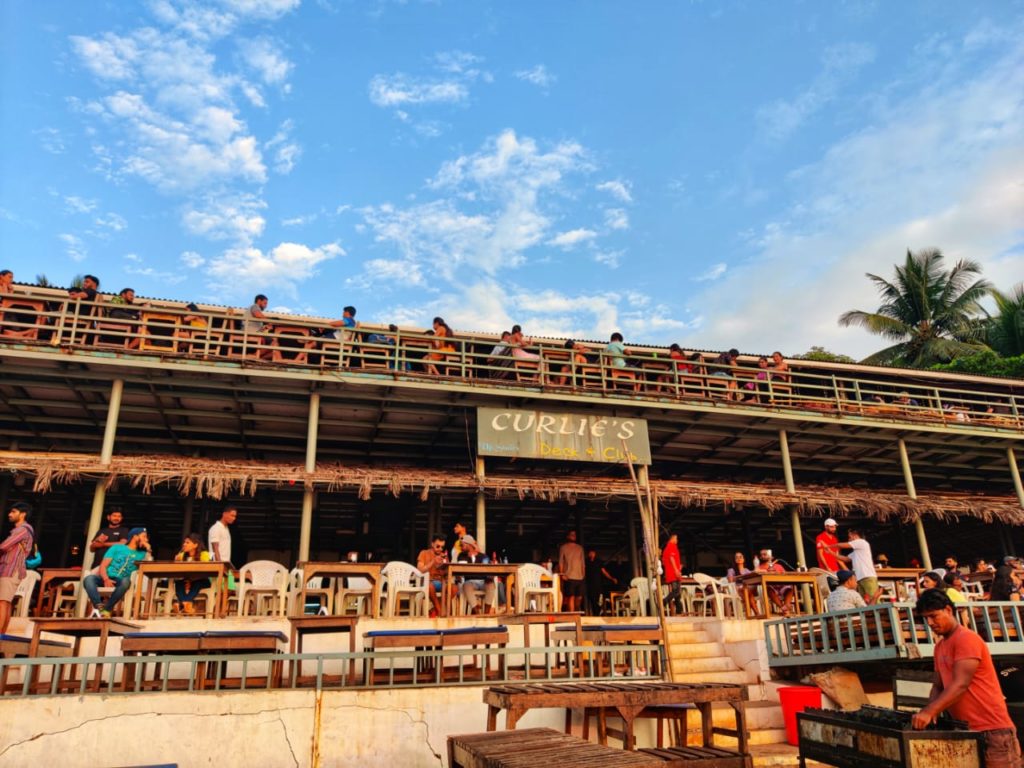 Club Cabana
One of the most popular Asia's nightclubs to visit in North Goa is Club Cabana, it's a hilltop club with a pool in between surrounded by sitting spots all around gives you the best kind of vibes in Goa. The food services, music, hospitality, crowd everything is top-notch. Situated 10 mins from Anjuna in Arpora, Club Cabana is the perfect party destination with an amusing upbeat vibe.
Things You Can't Miss To Do in Anjuna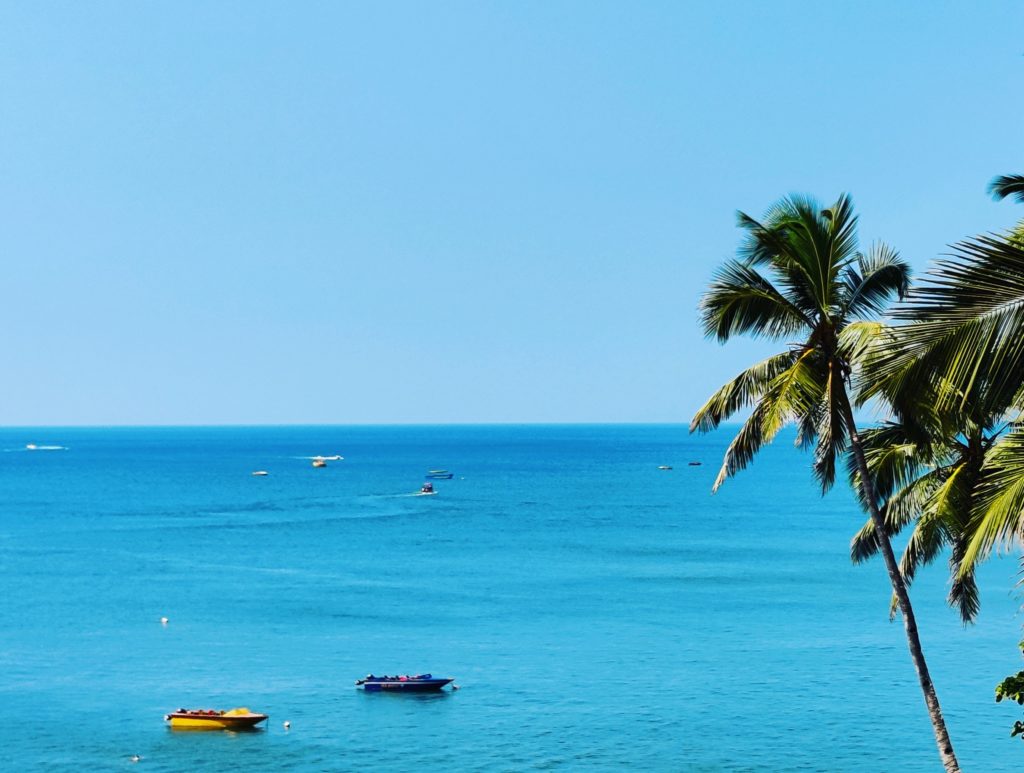 Water sports
Anjuna Beach is one of the cleanest beaches of north Goa and offers you with most thrilling water sports sites of North Goa. You've got various options for water sports and the best among them is the aerial Parasailing adventure followed by the jet ski ride. Then other packages provide you with 6-7 more adventure sports like banana boat ride, motorboat parasailing, speed boat ride, etc. There will be an expert guide that will assist you with insights into the activities. The minimum eligible age is 11 years, and the basic package costs you somewhat around 2000 bucks. But I would say these water activities are a bang for one's buck and will add fun to your Goa trip.
Sunset at Anjuna Beach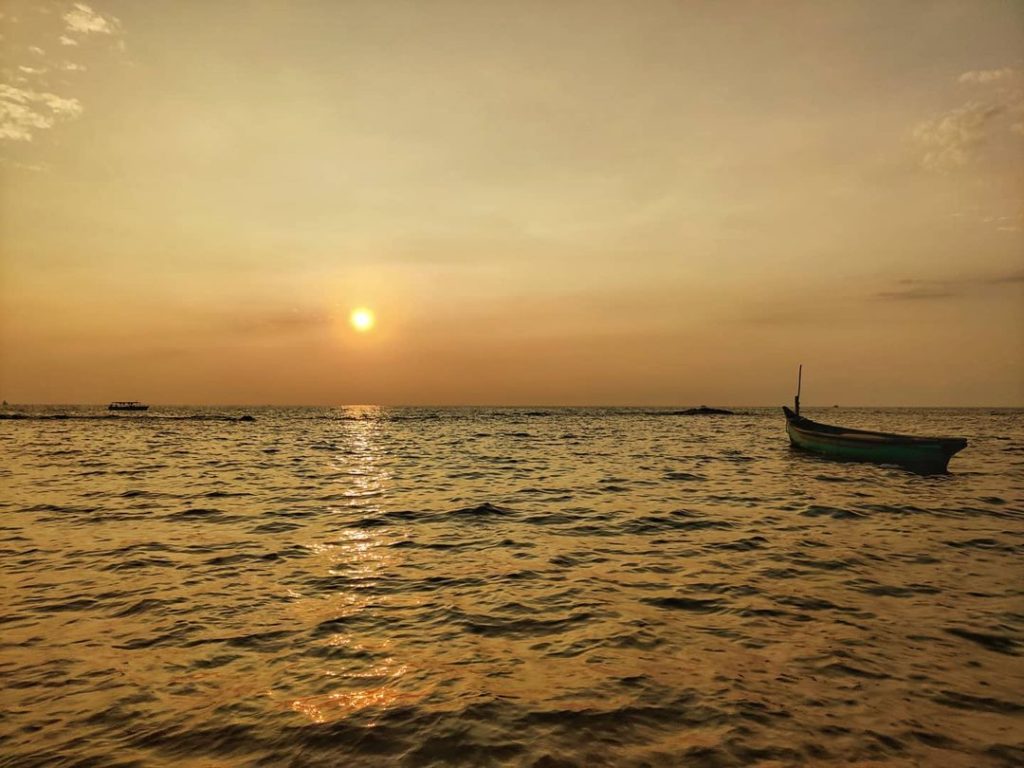 Paintball 
Another offbeat activity in Anjuna Beach is Paintball, we all know how much fun it is to play paintballs with our loved ones and sometimes even strangers too. Yet we haven't done that in years, can you remember the last time when you had a game. Paintball is such an enthralling activity do to with friends that it shoots that adrenaline rush into our veins. Not just it makes your heart beat faster but also, this game gives us a secret message that the biggest victory comes when we learn the art of teaming up. It opens from 10 am to 6 pm and this game lasts for about 1 hour. Now, that you've got an idea I hope you've packed your bags up to encounter a lot of adventures and thrills already.
Paragliding 
Flying over the endless ocean and experiencing the beauty of the landscapes through the bird's eye can be done at Anjuna Beach. Seeing the world from 800 feet above is going to be an experience of a lifetime, and Anjuna beach offers you this astounding episode at just 3500 INR. Don't worry, you won't be flying alone, there'll be an expert pilot cum guide with you throughout. You are even allowed to capture these memories up there, click selfies, make videos. Go hurry! Undergo one of the greatest episodes of your life.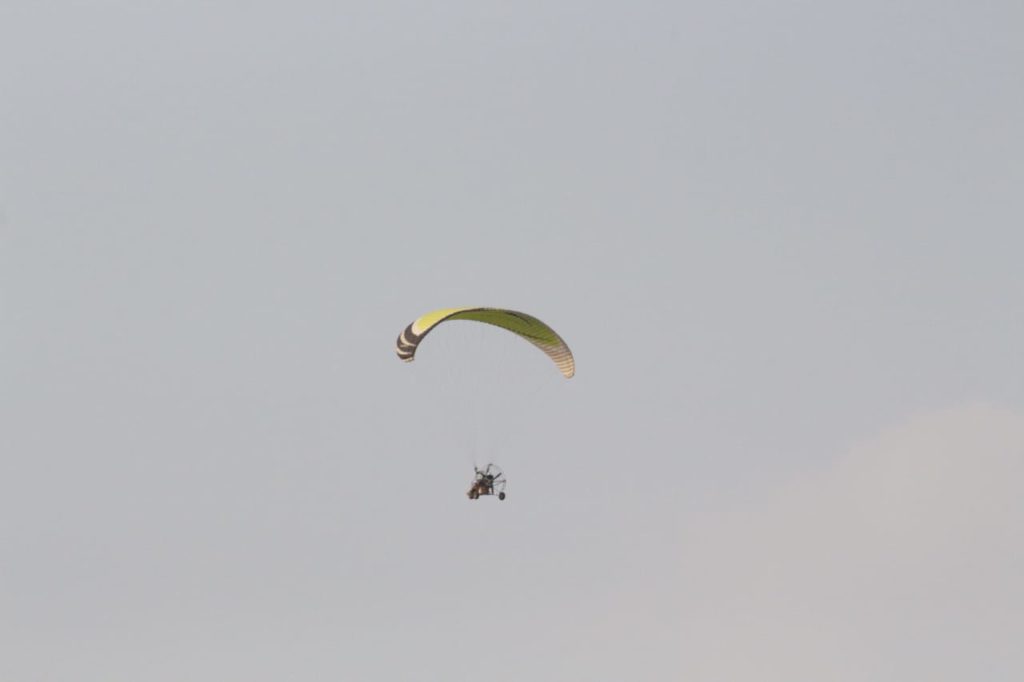 Amusement activities on Anjuna Hills
What not to miss in Anjuna beach is Hill horsing, ATV ride, and mechanical bull ride. So, if you've got the dare inside you to do something adventurous yet classy. Visit Anjuna Hills Amusement center, situated on the hilltop, this place is a boon for children as well as those who get excited when it comes to sand endeavors. You can play balloon shooting, Ring games, Horse carting, and castle jumping here. Starting from an affordable range, you can choose the rides as per your budget. It is open from 10 am on wards till 6 pm. Carry your hats, sunglasses, pair of comfortable footwear, and last but not least, sunscreen if you don't want to get tanned.
Yoga Retreat 
Anjuna is a place that has everything for everyone, and this is something that I love about this place. What I meant to say is that, if you're here for experiencing peace and serenity Anjuna has a place for you. And I would rather say this is the only place in North Goa, that itself represents the entire Goa so perfectly. Yoga Retreat is the best example to validate what I just claimed. Apart from the night parties, the incredible adventures, the numerous fun activities, Yoga Retreat treats you with an experience to rejuvenate your body, mind, and soul.
If you are someone, who's looking for a little tranquillity, serenity, and pause from the fast-paced and throat-cutting competitive world. Yoga Retreat welcomes you to the beautifully organized in the richness of lush green nature of Mandrem, which is just half an hour distant from Anjuna Beach. You must surely spend a few days there; they have cottages where you can have a stay at a very affordable price. They'll teach you Asanas and yoga and some insights from spirituality and that makes this place different from all the other places in Anjuna.
Cycling Tours
If you're a frequent traveller and you have been bored of just lying on the beaches with drinks. I would suggest you try cycling tours, it won't last more than two and a half hours but then this could be one of the major events of your trip. Cycling tours of Anjuna let you explore the offbeat and less explored parts and beauty of this place. The gear bikes and bicycles here are comfortable and those coaches are motivating and good-natured. This cycling trek isn't a rough or difficult kind of trek but you'll surely gonna receive new learnings. And that makes it a different yet incredible way for exploring goa, why don't you give it a try too?
A New Perspective
Moreover, there are many other places in Anjuna I haven't included that you are going to love, as it varies from person to person taste. Anjuna is known to be a place for hippies and spirituality for so long, you'll find profound aestheticism in the quiet beach shores in some areas whereas people high on substances dancing on electro trance in other areas.
This is place is a perfect combination of every aspect you look for peace and serenity in your life, a lot of people start their journey of spirituality from here. Anjuna is so much more than just a place to chill, I recommend you to include it in your travel places list if you're visiting Goa or planning to visit soon. You'll not only experience a different kind of vibe here but a whole new perspective towards life. If you've already been to Anjuna, do let me know about your experience in the comment below.
Anjuna Beach, Goa: The Freak Capital !!