Scuba diving is one of the most adventurous water sports out there, and Goa is among the best places to pursue it in India.
Scuba diving in Goa is perfectly safe, and most driving instructors are Professionally certified. Scuba diving is safer here because the waters around Goa beaches and islands are shallow and have little pressure. The cost of scuba diving in Goa varies depending on where you go. The price may also differ depending on the diver's depth and duration. Scuba diving costs typically start at INR 1500/- and range up to INR 5000/- or more.
Goa makes an excellent adventure gateway for underwater explorers and passionate adventurers with plenty of exhilarating and alluring scuba diving sites. Goa's best scuba diving places that you can't afford to miss!
Goa has a long, continuous coastline with comparatively calmer surf and more level seabeds. While water sports can be practised on all of Goa's beaches, particularly in the north and south, they are trendy and draw large crowds to Baga, Calangute, Benaulim, Candolim, and adjacent beaches. You can participate in various water sports activities here, including kneeboarding, kite surfing, snorkelling, parasailing & paragliding, diving, kayaking, etc.
Goa's long coastline, breezy beaches, and sunny skies provide plenty of opportunities for adventurers to explore the seas in as many ways as they wish. The waters of Goa contain something for everyone, whether you're a first-time water skier or a seasoned pro.
Best Places for Scuba Diving in Goa
There are numerous vendors of various water sports on the beach where you can participate in your favourite activities. You can also join in your favourite activities through licensed water sports package operators like Atlantis Water Sports, Aqua Sports Goa, etc.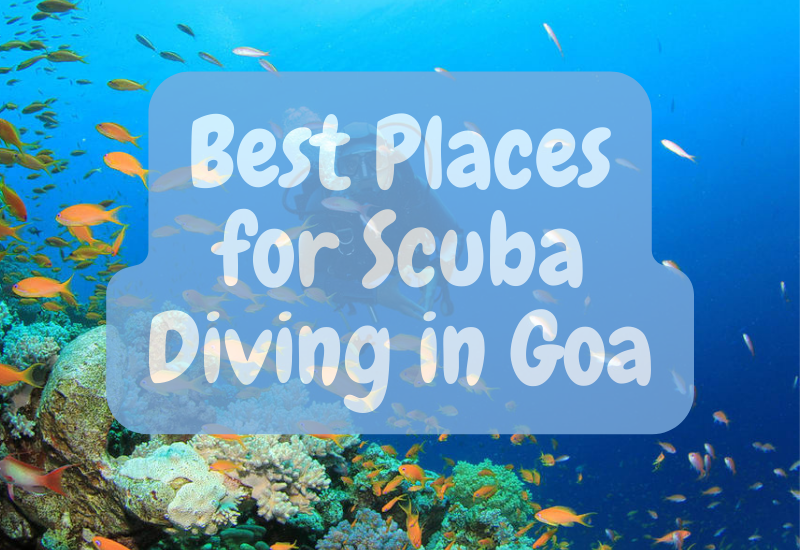 While you're out and about in the lovely city of Goa, have a look at what's on offer and learn more about all the thrilling activities and enthralling watersports that Goa has to offer for a fun-filled vacation. All of Goa's adventure sports are suitable for all levels of experience, from beginners to experts.
Scuba Diving in Malvan Beach
Malvan is a charming town with lovely beaches that are excellent for various adventure activities and water sports. This pure and quirky place allows you to relax with breathtaking panoramas of long stretches of the beach while also exploring underwater aquatic life. The only negative is we need to travel 150km from go for this.
And for that, one completed day will be wasted. 
Scuba diving can be combined with other adventure activities such as parasailing, speed boating, and jet skiing. Whether you are a novice or an expert, these watersports can be enjoyed alone or with your family.
Scuba Diving in Baga Beach
Baga beach, near North Goa, is one of the most famous beaches in Goa. The golden sands and clear blue water make it an ideal place to indulge in scuba diving adventures. Though a popular tourist destination, Baga beach has remained relatively untouched by commercialization due to its distance from South Goa. Some of these uninhabited islands can be accessed only by boat or seaplane.
This makes them an ideal spot for scuba diving enthusiasts. This is also where you will find some of India's best dive sites like Sinquerim Beach, Morjim Beach and Arambol Beach, home to colourful corals and exotic marine life.
Grande Island
The largest island of all, Grande Island, is shaped like a giant yin-yang symbol. A large part of it is still unexplored and offers vast expanses of pristine sandy beaches to relax on and inviting warm waters for scuba diving. The island lies at around 4 km from either Velsao or Cavelossim beach; thus is accessible from many parts by boat.
The island has plenty of coves where you can choose to anchor your boats. Most coves have small shelters made with coconut leaves and plenty of trees that welcome shade during hot summer days. While most people visit Grande Island for its beautiful beaches, some choose to explore its underwater treasures. Scuba diving here is a fantastic experience as there are plenty of corals and other marine life teeming in these waters.
Calangute Beach
Calangute beach is about 10 kilometres away from North Goa. It's a sheltered bay and is a good choice if you're new to scuba diving. The water depth isn't too deep, so you don't have to worry about running out of air or not being able to swim back up. Calangute beach is also a popular tourist destination, so many boat operators offer guided tours.
A guided tour will help you learn about marine life and provide safety if anything goes wrong.
Bounty Bay
If you're looking to scuba dive off a beach, Bounty Bay is a great option. The bay has clear water—ideal for exploration and swimming—and abundant marine life, including fish, crabs, rays and turtles. You can take scuba diving lessons here if you're not yet certified.
Located in south Goa's Colva region, Bounty Bay is a popular spot amongst scuba divers. This area is known to have deep-sea species like groupers, and experienced scuba divers can even explore shipwrecks that are more than 150 years old. The region also boasts exotic aquatic creatures like seahorses and sea slugs. Dive here with a certified driving instructor to maximise your experience.
Scuba Diving in Grande Banks
Located 2 hours away from Goa, Grande Banks is a favourite scuba diving destination. The waters are shallow and vibrant with colours, which provides an ideal spot for entry-level divers. Those with more experience can explore several shipwrecks that dot this area. Some of these wrecks lie just 10 metres below sea level. Moreover, there's always a chance to spot sea turtles here!
This makes it a perfect place for snorkelling as well. If you like exploring underwater caves, Grande Banks offers plenty of them. It's also one of those few places where you can dive without worrying about visibility issues or strong currents—so it's perfect for beginners who want to get their feet wet before moving on to something bigger!
Scuba Diving in Turbo Tunnel
Located at an undersea passage between Netravali and Amboli Islands, Turbo Tunnel is one of the most exciting dive sites to explore in India. You can swim with turtles and marine life without scaring them away! The best time to visit is from December to May.
It's a great experience that will leave you wanting more. You can find lots of marine life here, including pufferfish, catfish, cuttlefish, parrotfish and various species of corals. All these are so beautiful to watch! The visibility level is also quite good here.
Scuba Diving in Sail Rock
Sail Rock is a favourite destination among scuba divers. It lies about 15 miles west of Panjim and looks like a vast shipwreck protruding out of the Arabian Sea, with corals flourishing at various heights on its surface. What makes it a scuba diver's paradise is that it holds schools of mackerels, tuna fish, jacks and snappers near its base.
And if you are close enough to be there during monsoon season, you can see whale sharks here. The best time to visit Sail Rock is between December and May, when visibility is excellent.
Scuba diving is a sport in which you must be guided by an expert who will assist you in experiencing the wonderful life underwater. This professional will not only assure your safety undersea but will also help you with the correct location, accessing the sites, expert equipment, and pre-dive training.
Anybody in Goa can try snorkelling; scuba diving needs some training and equipment. Carrying the gear and diving with it is not as simple as one may think. It requires some practice, which is usually done before the real adventure begins beneath the waves.
Scuba diving is generally performed throughout Goa from October to April. Some sites may also provide adventure at other times. Monsoons are not recommended for this sport since the undercurrent and waves might be extremely strong.
Scuba diving is generally safe even for non-swimmers and is permitted in most locales, particularly those with shallow depths and mild undercurrents.
Conclusion
Lobsters, Moray Eels, and Rock Cod can also lurk amid the rocks. Turtles and Reef Rays are also seen here. There are no significant undercurrents, making it a popular scuba diving location for all divers. If these locations catch your interest, imagine how thrilling it would be to visit them in reality. Make it a point to try some scuba diving on your next trip to Goa.