Hello guys, welcome to Tales Of Backpacker.  Malvan Beach Scuba Diving with water sports activities is one of the Option if you love adventure and want to explore underwater life. I'm going to explain you the pros and cons of visiting malvan beach from goa for water sports. have a look. 
Visiting "Malvan Beach from GOA for Water Sports" Recommended or Not ?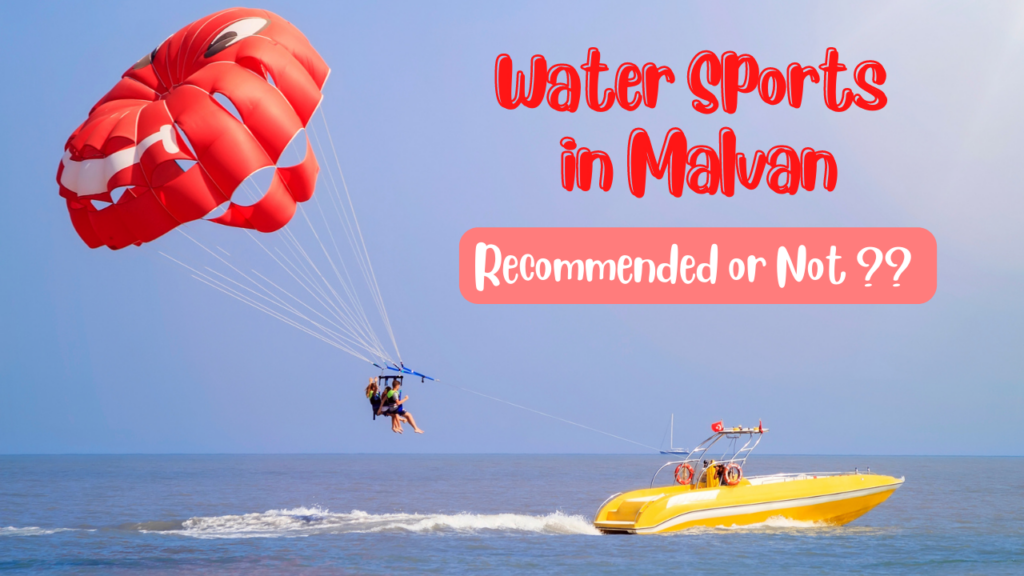 Malvan, a lovely getaway near Goa. It is a beautiful destination for all adventure seekers. It's one of the few oceanfront spots where you may enjoy a variety of water sports such as speed boating, jet skiing, bumper rides, banana rides, and parasailing. It is also a great scuba diving location, with a remarkable undersea marine life to discover, clear water, educated pros, and top-notch scuba diving equipment. Above all, many activities are available at a very modest cost.
Scuba diving around the western coastline of Goa will make you feel special as you blend in with your aquatic companions in the ocean below. Expert guides will accompany you and show you how to dive and explore the fantastic and colourful corals and amphibian life that can be found beneath the ocean. You can combine scuba diving with banana rides, parasailing, jet skiing, kayaking, and speed boating.
Scuba diving at Malvan consists of 10-15 minutes of diving with an expert, during which you will be briefed on scuba diving. Underwater photography and videography are optional additions to your package.
Malvan Beach, this beach's coral, is one of the major tourist attractions for its natural beauty. Another attraction about this beach is the water sports that are here to enjoy by all those who come to Malvan. Along with Scuba Diving, you can opt to add Parasailing, Jet Skiing, Kayaking, Speed boats etc… Here are some water sports of Malvan that many people love to do, and it is also fun to do them at this beach.
Price Range & Water Sports Packages in Malvan Beach
.
Rs. 2000 – Rs. 5000/- per head. Depending on what sort of water sports you are looking for and how long you want to indulge in that activity. There are a variety of online combos and packages that provide customers with cheaper pricing when they purchase multiple activities. These packages include all of the necessary amenities for visitors, ensuring that you have a fun-filled and hassle-free water sports trip in Malvan, Goa.
If you're visiting the area or planning a trip, you can use various combo packages available online at several web portals. These combo packages offer a combination of activities at a discounted price to provide you with memories to last a lifetime. Malvan is an excellent spot for cheap water activities, so your trip will be pretty affordable. These Packages also offers breakfast & lunch.
Scuba diving in Malvan Beach
Don't forget to bring your snorkelling gear so you can dive right into its sparkling blue waters. Several diving sites along these shores, some with fresh water and others undersea. The marine life is teeming with aquatic animals such as fish, crabs, lobsters, squid, octopus and even small sharks. Reputable locals may also arrange some deep-sea fishing trips here for serious fisherman enthusiasts.
Bumper ride in Malvan Beach
A circular tube is linked to the boat and pulled by the boat, similar to a Banana Ride. It then forces it at tremendous speeds, giving riders the sensation of flying. The journey is safe and is conducted by experienced professionals who take all necessary safety procedures. Guests can enjoy these fantastic watersports from various suppliers throughout the state. A bumper ride is an associate degree journey activity that everyone can enjoy, whether adults or children and is yet another journey Watersports in the state if you're not paying attention to the state's Bumper Ride.
Jet Skiing
It is a popular water sport wherein an individual rides on a jet-propelled watercraft. A jet ski is specifically designed for recreational use and lacks safety features found on larger, more powerful craft. It has no enclosed cab and a small engine that burns gasoline, making it an exciting ride and increasing your risk of injury. In addition to getting knocked off of your jet ski, you could also hit a wave improperly and fall backwards into other crafts or nearby swimmers.
Banana Boat Rides
Banana Boat Ride will provide you with exciting moments that you may share with your entire group. This is your opportunity to experience happiness and joy while screaming your lungs out in this incredible watersport. Come and experience another exciting and thrilling watersports adventure for all your adrenaline and water enthusiasts. Another highlight of the beautiful and exhilarating watersports is the banana boat trip. The banana boat ride can accommodate 4-6 people at a time and is packed with fun, screaming, laughing, excitement, adventure, and memories. While you haul at sea around you, enjoy your trips on motorised inflatable boats.
Parasailing
In Malvan, parasailing is the most thrilling Water Sport. Imagine flying through the skies like a bird, with a spectacular sea view. Parasailing in Malvan entails flying through the air on parasail equipment tied to a speedboat by a 30-40 m long rope. You'll be lifted as the speedboat disappears into the water. Malvan is India's most popular tourist attraction, with its gorgeous blue sky above and brilliant water below.
Malvan Beach for Water Sports, Recommended or Not ?
If you are visiting malvan from Goa only for water sports then it is not recommended, considering the distance from goa & travel time it take 5+ hrs for up & down journey. And we need to wait for long time to finish our activities and there a lot of time will be wasted. rather than going to malvan we will have lot of available options in goa. you can choose those as best options.
When To Go to Malvan Beach
The ideal time to visit Malvan beach is between October and February. During these months, one can expect a moderate climate with little rain and optimal sunshine. The peak season for tourists starts from December through May, but these are also months when hotels are likely to be fully booked.
Is Water Sports Safe and Healthy?
Going to Water Sports in Malvan Beach is Completely Safe. Water Sports are good for health and can reduce stress. There are many things to do in water sports like Scuba Diving, Snorkelling or Parasailing. It is a great experience to see colourful fishes of different species. Along with a professional guide, water sports experts will take you to a nearby reef where you will enjoy water sports without getting any harm. Still, it's not safe for you if you have an asthma problem because it causes coughing problems during scuba diving.
Before going to these water sports, make sure that you don't have any seafood allergies, and also, you should wear sunblock lotion. If your skin is sensitive, then use the cream before going outside. It would help if you drink plenty of water after these activities; otherwise, your body may dehydrate. So it's advisable to go with a doctor before doing these activities and consult about which activity suits best for your age group, physical fitness level and medical history.
Where To Stay at Malvan Beach
There are plenty of guest houses and hotels available for tourists. A stay at any of these accommodation options will be a great experience and a great vacation if you want to enjoy Water Sports activities. Many food joints are pretty popular and busy here. You can also opt for having homemade meals as there are many home-stays where you can have your meals and enjoy water sports activities like Scuba Diving, Parasailing etc…
Conclusion
The town of Malvan is a great place to go and experience water sports. You can try various water sports like parasailing, jet-skiing, banana rides, etc. These experiences are exciting and thrilling to do with your friends or family members on vacations. So if you're planning to visit Goa soon, don't forget to carry your speed boat licence and fill it up with lots of water bottles before you start enjoying riding your favourite speedboat.
🙂 Have fun!