Famous Street Foods of Jammu & Kashmir : When we think of Jammu, we think of its beauty. Its beautiful views and frozen lakes in the winter! But the street food of Jammu is equally excellent, and today we focus only on Jammu street foods.
Famous Street Foods of Jammu & Kashmir You Must Try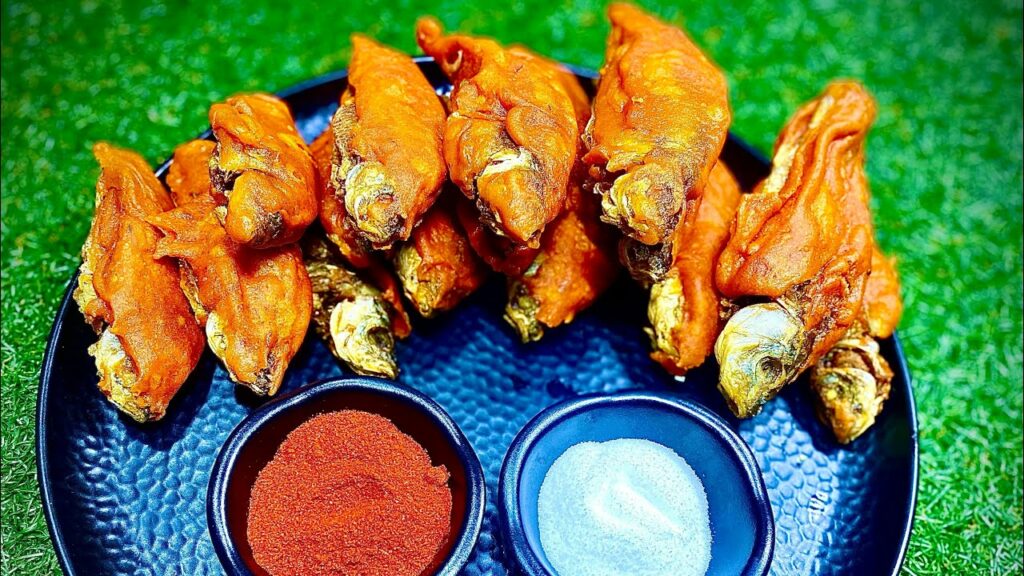 One of the famous places is the Hazratbal district of Srinagar, which is famous for its historical mosque. The relics of the Prophet (peace and blessings of Allah be upon him) are supposed to be kept in this mosque; however, there is little evidence to back this up. 
The beauty of the area of Hazratbal attracts a large number of tourists every day. It is situated on the banks of Dal Lake, making it a perfect destination for those who wish to spend a relaxing and peaceful evening. It is a place to relax with your friends and family. It has beauty, spirituality, and great street food culture, which you will surely enjoy.
Also Check Out : Famous Street Food of Dehradun 
As it is usually a busy place, Jammu street food is also available. You will also find Lebanese food, Mughal food, Wazwan food, Italian food and many other typical Jammu food that you can enjoy. These dishes are found in different parts of the city and other parts of the valley.
Monji Gaade
 If you love seafood, especially fish, then this is something you will not miss. It is a light fish dish in which the fish is first dipped in rice flour, then deep-fried after adding salt and some food colouring. It is the perfect snack for your fish lovers!
Kalari Kulcha
Kalari Kulcha tops the list of every street food vendor and restaurant in Jammu and Kashmir. Kalari Kulcha is a thick cheese made from goat's or cow's milk and used with cakes, vegetables and sauces. The dish was recently revamped and served as a burger with Kalari in Bun.
Halve-Parathe
There are two parts to this dish. The first Halwa is made from Semolina or Suji. The paratha, which is comprised of flour, is the second component. This paratha is unique in that it has a circumference of 3 feet! Jammu lives for the opportunity to purchase it. It is a delicious meal that should be eaten hot and must-try!
Laayeh
Laayeh is coloured puffs made from rice, sugar and some food colouring. Once you put it in your mouth, it dissolves immediately and leaves a sweet taste.
Khandh Gaziri
It is made from sweet flour and oil and then dipped in sugar syrup. It is a traditional and delicious snack loved by kids and adults, and its taste changes with the meal.
Nadir Monji
The lotus stem is deep-fried with a pinch of salt after being dipped in a batter of gram flour and rice flour. The flavours of the lotus stem inside will emerge as you chew through the crispy outer layer of this delicacy.
Rajma Chawal 
Red rajma or rajma curry is served with rice. Rajma sweets are unique to Jammu, and hence this dish is prevalent. Spices like chilli and turmeric powder and onions and tomatoes make up this delicious basic dish. The delicate smell is the result of the use of fresh seeds.
Mongh Masalah
Mongh Masalah is a Jammu black bean. Black gram is boiled with essential ingredients like salt and red chilli powder and then heated. A simple meal that you can easily prepare at home for a quick nap.
Basrakh
Another typical sweet dish is Basrakh. It is made from flour and oil, then cooked and dipped in syrup. After this, dry fruits are thrown to enhance the taste of onions.
Lale Sangram
The food is as delicious as it looks. It is a delicious dish made from flour, soybeans and sugar, then greased in oil. It appears crispy and harsh outside, but it transforms into a spongy feel when chewed.
Masala Tchot
Masala Tchot is a wrap or taco with a Jammu twist. Channa, a hummus-like spread, and radish chutney are wrapped in Lavasa bread. It is a complete dish that will quench your appetite but not your desire.
What Makes Street Food Special in Jammu and Kashmir?
You will get all kinds of happiness on the road of Jammu and Kashmir. Whether it is sweet, salty or spicy, there is everything to please your palate. Although the people here prefer vegetarian food, they also offer a variety of foods for vegetables. Kalari Kulcha originated in Jammu and Kashmir, hence Jammu Kalari Kulcha.
There is a particular way to prepare calories. Grated paneer is made by adding salt to ghee. The Jammu potato tail made of vegetables is made without onions and garlic, and it is still delicious due to the homemade spices and selection of potatoes. However, it is sold in various forms, including onions and garlic. So if you are a vegetarian or non-vegetarian choice, if you prefer sweet or spicy food, street food in Jammu and Kashmir offers all.