Jaipur is a city in Rajasthan also known as Pink City. Jaipur has a unique mix of ancient and contemporary attractions. The city has witnessed the rule of several dynasties and kingdoms, including the Rajputs, the Mughals and the British, all of which have left their mark on Jaipur's culture, architecture and cuisine. It has been called the Pink City because of the predominance of pink building sandstone. 
The city was founded in 1727 by Maharaja Sawai Jai Singh II of the Kachwaha Rajput clan. Jaipur is also known as the City of Lakes or the Pink City. Jaipur attained prominence during the 18th century as a major trading centre. There are so many things to do in Jaipur that you will never be able to finish exploring this magnificent city in one trip. Following are places to visit in Jaipur, activities, Jaipur itinerary & tourist attractions  you should check out while planning your next Jaipur vacation.
Plan The Perfect Jaipur Getaway: Travel Guide, Itinerary & Tourist Attractions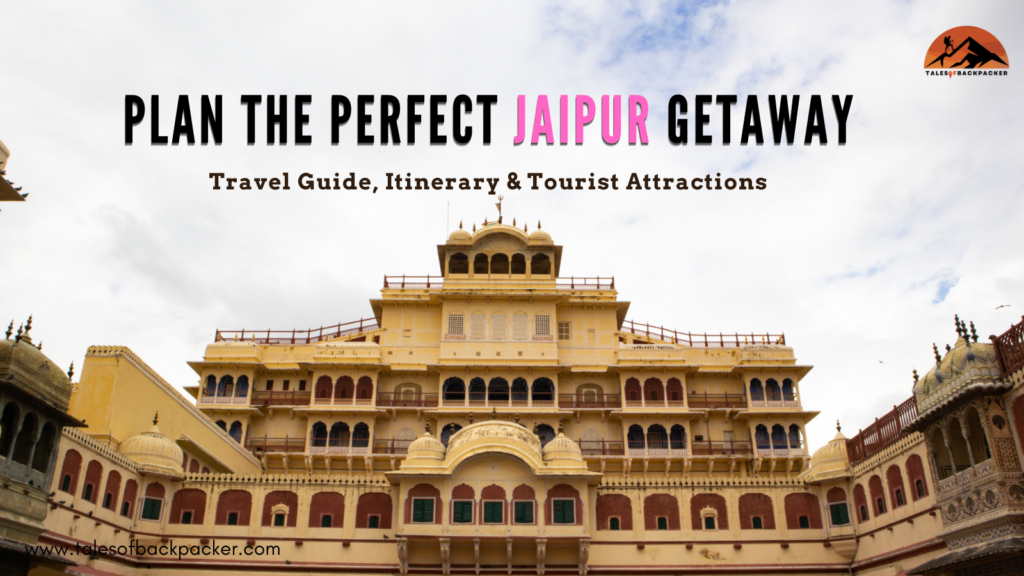 Ways to Reach Jaipur City:
Jaipur is well connected to the world's top metropolitan centres by direct flights at regular intervals. Jaipur Airport acts as both a domestic and international gateway. The city also features an integrated rail network, as well as well-planned motorways and expressways that allow travellers to reach Jaipur from anywhere in the country. 
The most common way to reach Jaipur is by train. Alternatively, you can fly to Jaipur International Airport. Once you arrive at the airport, it's easy to take a taxi or auto-rickshaw into the city centre. Hotels in Jaipur offer free pickup service for guests arriving by air. From the railway station, tuk-tuks will be readily available outside the terminal. You can also rent a car from one of the many agencies around town and explore on your own.
Best time to visit Jaipur: During Winter (Nov to Feb)
If you're planning a Jaipur trip during the winter season, pack some warm clothes! Jaipur can be cold from November to February, with temperatures dipping below freezing. Expect an average day temperature of 20-25 degrees Celsius. 
The festival of Diwali is celebrated in October-November every year so if you want to celebrate Diwali while exploring this city, then plan your visit around these dates. One of the best things about visiting India during this time is that all transport options are available on offer, including flights and trains, so you will have plenty of options when it comes to travelling.
Places to Visit in Jaipur / Recommended Attractions in Jaipur
Explore the city's rich culture and history by visiting the City Palace Museum, Amer Fort, Hawa Mahal, Jantar Mantar observatory, Jaswant Thada (cenotaph) and Nahargarh Fort. This beautiful city is also a shopper's paradise with a wide variety of shops for jewellery, textiles, handicrafts, and contemporary fashion. Check out below for the places to visit in Jaipur & tourist attractions that you shouldn't miss on your trip.
Also Check Out: Most Beautiful Places to Visit in Himachal Pradesh During Winter
Chokhi Dhani
Chokhi Dhani is located in Jaipur's Pink City which is 20km away form the city. Chokhi Dhani promotes the art and culture of these communities by providing all of the components of a legitimate village.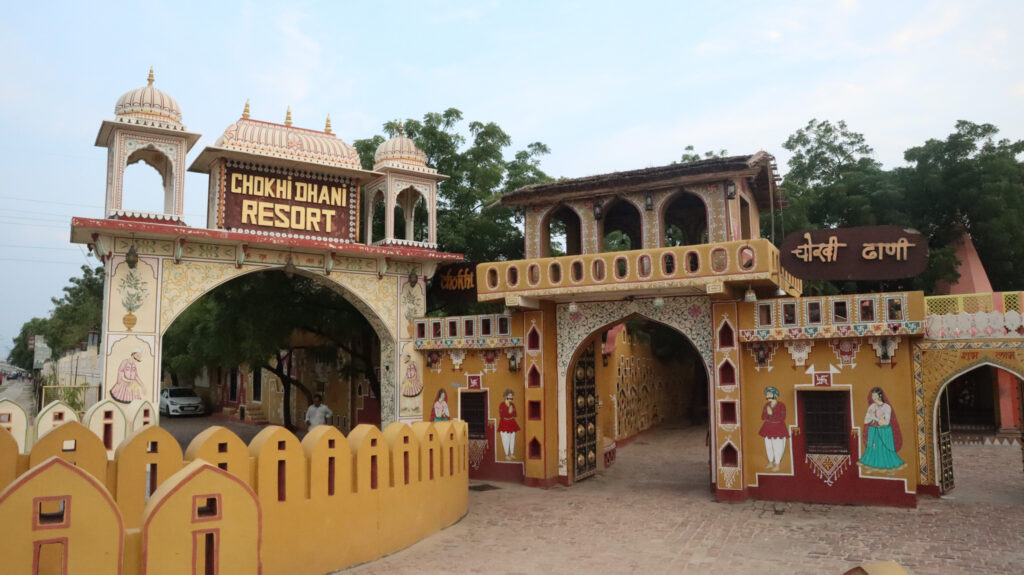 You'll feel transported to a village as soon as you walk in. The gatekeepers, dressed in traditional Rajasthani costumes, will greet you in Rajasthani and offer you a welcome drink. This location is built to look like an antique Rajasthani village and is a delight for visitors. 
Chokhi Dhani is ideal for a weekend getaway to enjoy the simplicity of the village. Chokhi Dhani provides numerous reasons to come here with your family and loved ones to enjoy a great weekend.
Timings: Opens at 5:00pm & closes at 11:00pm (all days)
Entry fee: 500 INR for adult (includes meal and freebies)
| | | | |
| --- | --- | --- | --- |
| | Adult | Child | Foreigner |
| Chokhi Dhani Dining Cost | 750 INR | 450 INR | – |
| AC Royal Rajasthani Dining | 950 INR | 500 INR | – |
| Multi cuisine Buffet – Choupal | 1200 INR | 800 INR | – |
Hawa Mahal
The museum is behind the Hawa Mahal and houses a large collection of weapons, antiques, and other royal artefacts originally utilised by the Jaipur royals. Hawa Museum opened in 1983 and is an excellent venue to learn more about Jaipur's royal heritage.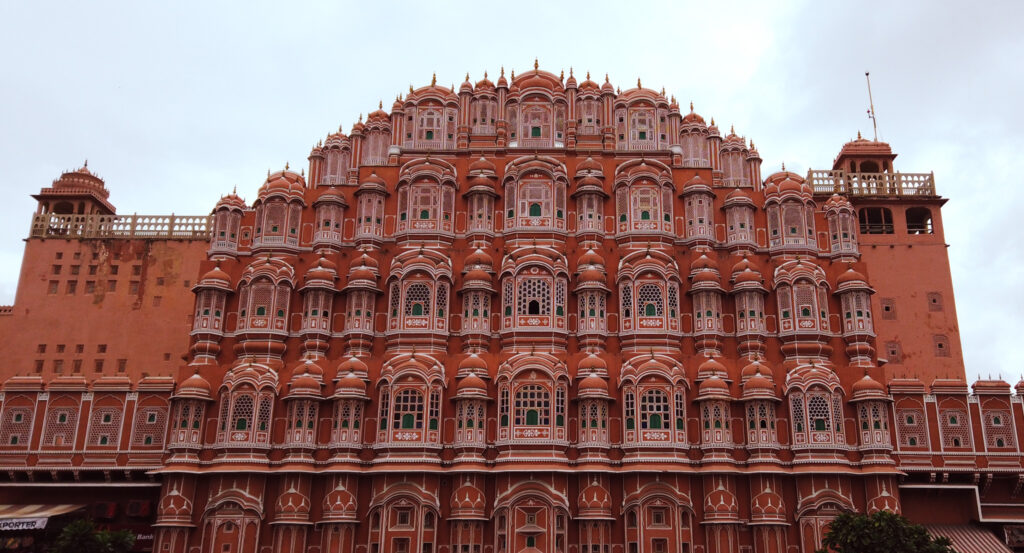 The finest times to visit Hawa Magal are sunset and sunrise. The golden sun rays illuminate the pink and scarlet structure, making it ideal for photographers. The Hawa Mahal may be viewed at any time of day because of the exquisite latticework. 
Hawa Mahal is a beautiful beauty constructed of red and pink sandstone, shaped like Lord Krishna's crown. The top of the five-story building offers amazing city views. Hawa Mahal, which means "Palace of Winds," contains 953 open windows called Jharokhas that resemble a honeycomb hive.
They are separated into large courtyards with tunnels leading to the upper floor. The magnificent blend of Mughal, Islamic, and Rajput architectural traditions can be seen at Hawa Mahal. 
The features of Hawa Mahal Jaipur include lotus designs, fluted pillars, domed canopies, and floral patterns, which wonderfully portray the rich Rajput style. Islamic architecture can also be seen in the stone filigree work and arches. The Hawa Mahal, or Palace of the Winds, is one more tourist attraction in jaipur that should not to miss.
Hawa Mahal Timings: 9:00am to 4:30 PM (all days)
Hawa mahal Entry Fee: 50 INR for Indians, 200 INR for Foreigners
Jal Mahal
This is one of the most important places to visit in Jaipur, The Jal Mahal is a white marble palace built in 1699 in Jaipur, India. The Jal Mahal is a beautiful, intricately designed monument to love. In addition to being a palace, the building was also used as a water-harvesting structure. It stands on the edge of Man Sagar Lake and collects rainwater in its underground chambers during monsoons.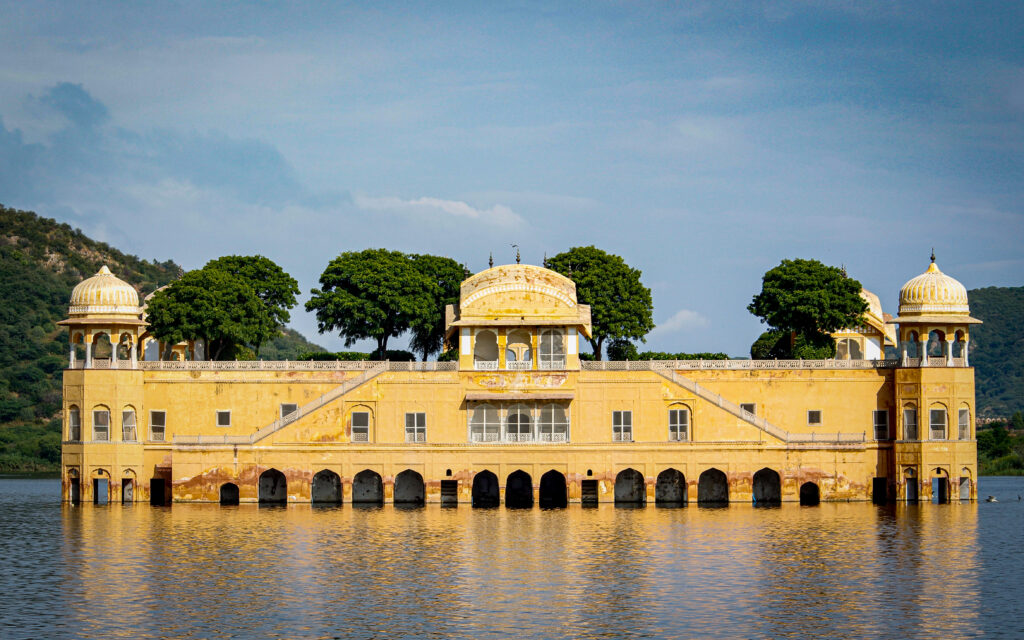 The Jal Mahal has been used as a backdrop for many Bollywood films due to its beauty. One of Jaipur's spectacular structures from the Rajput era is a gem of Rajput architecture. This magnificent palace is a living legend and an example of an artificial masterpiece constructed in the ancient age a few centuries ago.
It still stands tall in all its splendour. Jal Mahal translates as "water palace" or "palace on the lake." This palace is located in the heart of Man Sagar or Mansarovar Lake. The Aravalli mountain range surrounds the palace.
There is no entry fee for jalmahal & visitors can visit at any time. 
Amer fort
The Amer Fort was built in 1599 by Raja Man Singh I, who wanted to build a fort that would give him a view of the Taj Mahal. The Fort is now mostly in ruins, with only the palace, gateways, and bastions still standing. It's worth going up to the top of the ramparts for a panoramic view of Jaipur.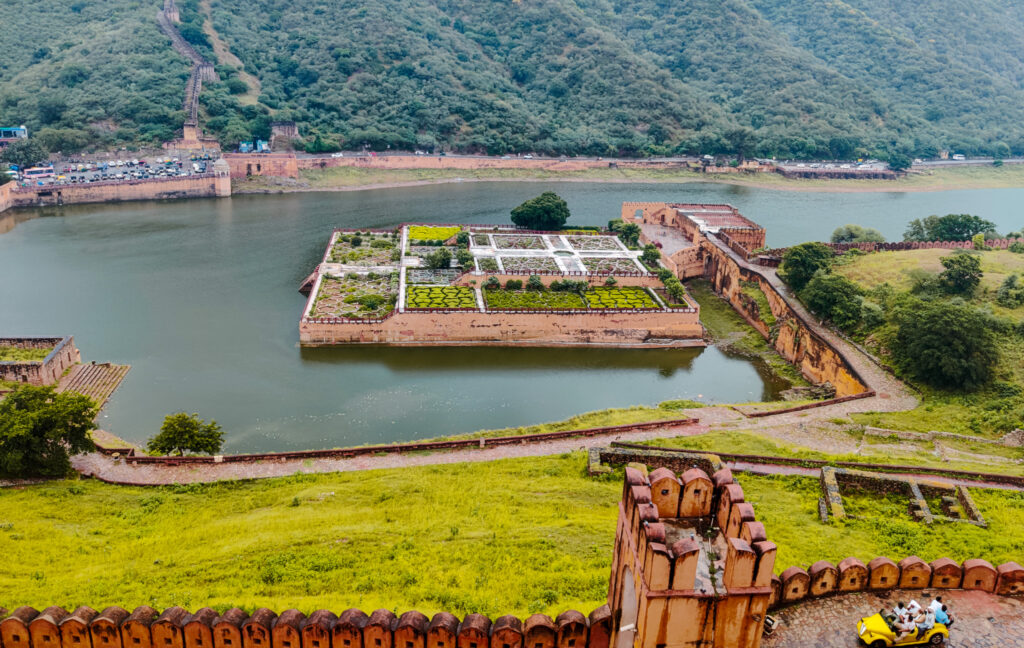 Amer Fort, located on a forested hill outside India's 'Pink City' of Jaipur, provides a beautiful union of Hindu and Mughal architecture in red sandstone and white marble. Amer Fort, India's second most visited attraction after the Taj Mahal, was added to the UNESCO List of World Heritage Sites in 2013, together with five other spectacular forts in Rajasthan. 
Together, these magnificent citadels record the emergence of the Rajput princely states that flourished in this region from the eighth to the eighteenth centuries, with each one indicating a turning point in creating a shared Rajput-Mughal court architectural style.
Timings: Opens at 8:00am & closes at 7:00pm
Entry fee for Amer fort
| | |
| --- | --- |
| Indians | 50 INR |
| Indian Students | 10 INR |
| Foreigners | 550 INR |
| Foreigner Students | 100 INR |
Albert Museum
Museum of Albert Hall It is housed in the Ram Niwas Garden in Jaipur, Rajasthan's oldest museum. The museum is named for the Prince of Whales, Albert Edward, and stands as a superb image of Indo-Saracenic architecture.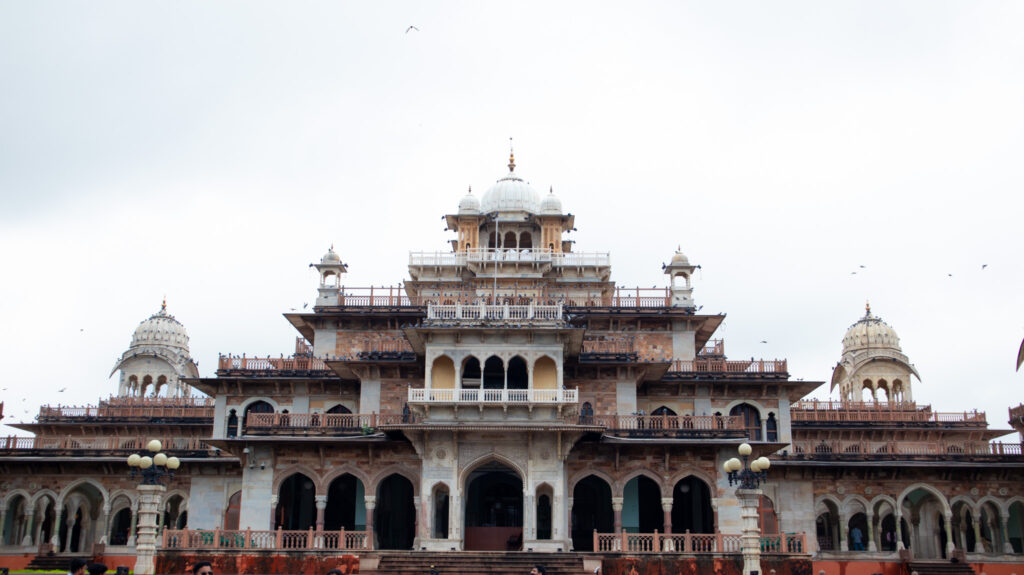 The building's foundation was laid on February 6, 1876, during Prince of Wales Albert Edward's visit to Jaipur. It was finished in 1887 by the architect Samuel Swinton Jacob, who was also the director of the Jaipur PWD at the time.
Since its inception, this museum has been known for its architectural splendour. Many frescoes, Persian paintings, and other works may be found in the museum's halls.
Timings: 9:00am to 5:00p, 6:pm to 10:00pm (all days)
Entry Fee: 
| | |
| --- | --- |
| Indians | 40 INR |
| Indian Students | 20 INR |
| Foreigners | 300 INR |
| Foreigner Students | 150 INR |
Nahargarh Fort
Nahargarh Fort, located on the outskirts of Jaipur, is famed for its spectacular views of the city and its extensive wall that connects it to Jaigarh Fort. The Nahargarh Fort, adorned with intricate carvings and stonework, is an impregnable fortress with its two neighbouring forts – Amer and Jaigarh – that previously served as Jaipur's formidable defence. 
The Fort was erected as a refuge by Maharaja Sawai Jai Singh II in 1734. The Padao Restaurant is also a must-see near Nahargarh Fort, where you can enjoy a panoramic view of Jaipur. Inside, this traditional Indian restaurant serves authentic Rajasthani food such as aloo chokha (a spicy dish made of mashed potatoes and green chillies), dal bati churma (a sweet dish made from lentils cooked with roasted wheat flour) and methi naadu ki sabzi (a spicy spinach dish). 
Timings: 10:00 am to 5:00pm (everyday)
Nahargarh Fort Entry Fee:
| | |
| --- | --- |
| Indians | 50INR |
| Indian Students | 25 INR |
| Forigners | 200 INR |
| Foreigner Students | 200 INR |
City Palace
City Palace is located in the heart of Old Jaipur, occupying one-seventh of the area. The palace was built in 1732, but it still looks as fresh and pristine as it always has. The palace is separated into distinct sections, including courtyards, gardens, palaces, and other features. A portion of the palace has also been converted into a museum, where you can see all of the royal family's antiquities and treasures.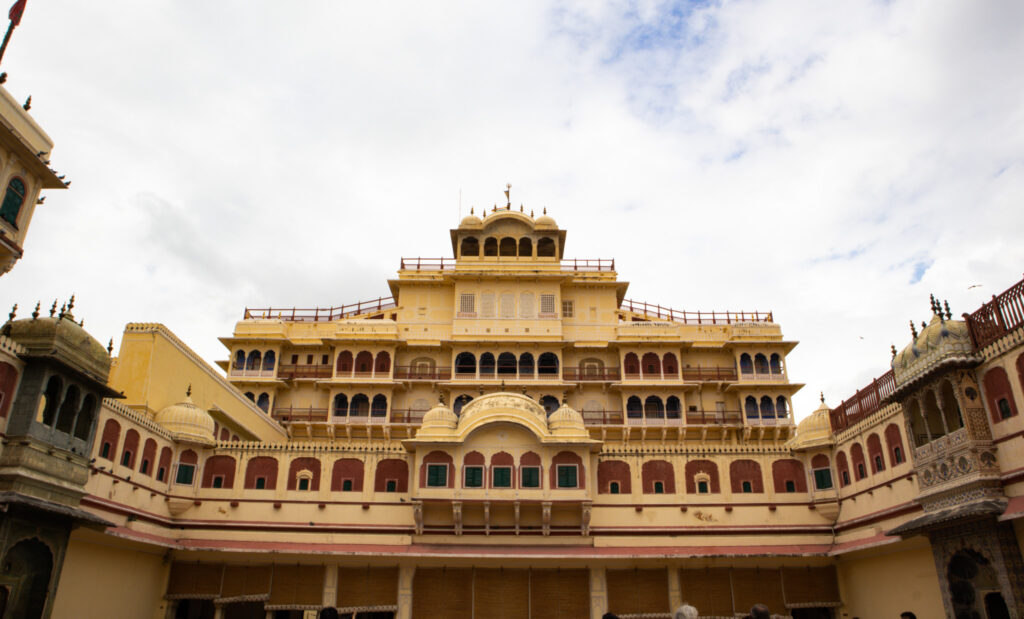 This lovely palace exemplifies the rich culture that Jaipur still maintains. The architecture is a superb blend of Rajputana, Mughal, and European styles. The huge estate displays the grandeur and tradition of previous royal lineages. The walls are intricately sculpted and embellished with mirrors and hand paints. You will also see how detailed the sculptures on the palace's roofs are. 
The entire palace transforms into a window, allowing you to peer into the past and get a true sense of the authentic culture acquired by Jaipur. You can purchase products from the market immediately outside the palace to bring home a little of the richness of the local culture and remember the journey from now to 1732, and so on. This is a must visit tourist attractions in Jaipur. 
City Palace Timings:
Day Visit: 9:30 am – 5:00 pm (all days)
Night Visit: 7:00 pm – 10:00 pm (all days)
City Palace Entrance Fee for Indian Nationals
| | | | | | |
| --- | --- | --- | --- | --- | --- |
| | Museum | Composite | Museum at Night | Royal Grandeur | |
| Adult | 200 | 300 | 500 | 1500 | 3000 |
| Child (5-12 years) | 100 | 200 | 250 | 1000 | 1500 |
| Adult (Senior/ Defence) | 100 | 200 | 380 | – | – |
City Palace Entrance Fee for Foreigners
| | | | | |
| --- | --- | --- | --- | --- |
| | Composite | Museum at Night | Royal Grandeur | |
| Adult | 700 | 1000 | 2000 | 3500 |
| Child (5-12 years) | 400 | 500 | 1500 | 2000 |
| Adult (Senior/ Defence) | 430 | 780 | – | – |
Birla Mandir
Constructed in 1988, Birla Mandir is one of the most prominent landmarks in Jaipur. The temple was built with red sandstone from Rajasthan and white marble from Italy. Visitors can find a statue of Lord Krishna made out of black marble with a gold plated crown. 
The architecture combines Mughal and Rajput styles, which were popular during the reigns of Akbar and Maharaja Jai Singh II, respectively. Located at the foothills of the Moti Dungri is yet another modern architectural marvel. The white marble temple is a sight to behold, even from a distance. 
The temple is also known as the Lakshmi Narayan Mandir because it is dedicated to Lord Vishnu, also known as Narayana, and his companion, the Goddess of Wealth and Fortune, Lakshmi. Despite its youth, the temple is a sight for architecture enthusiasts, tourists, and devotees. 
It's one of the most tranquil and clean areas in and around Jaipur. Birla Mandir's stunning white sanctuary will captivate you.
Timings: 7:00 am to 12:00pm, 4:00pm to 9:00pm.
Entry fee : no entry fee
Jaipur 3 Day Itinerary / 3 day Travel Plan
Day-1:
Arrive at Jaipur airport/station and then take a taxi to Jaipur. Upon arrival, transfer to the hotel. In the evening, proceed to Chowki Dhani, an ethnic village resort offering a variety of entertainment options such as dance, music, food, and royal-style rooms. Return to your hotel. Stay in Jaipur for the night.
Day-2:
Breakfast at the hotel, followed by a tour to Amber Fort, a magnificent fort built from pale yellow and pink sandstone and white marble, and divided into four main portions, each with its own courtyard. Take an elephant ride up to the Fort.
The City Palace, Sawai Jai Singh II built the palace between 1729 and 1732 AD. He ruled at Amer and designed and erected the palace's outer walls, which were later extended to by subsequent monarchs.
Maharaja Sawai Pratap Singh of the Kachhwaha Rajput dynasty built the Hawa Mahal in 1799. Explore local markets in the evening. Hotel dinner. Stay in Jaipur for the night.
Day-3:
Hotel breakfast. visit Birla Mandir and Jal Mahal. Free afternoon to go shopping or do whatever you want. then proceed to Stations by car. Arrive at the airport and be transferred so you can catch your next flight with Happy Memories.
Jaipur 2 Day Travel Plan / Jaipur Two Day Itinerary
Day-1:
Arrive at the airport or train station in Jaipur, and then go to the hotel. Visit Choki Dhani in the evening for all kinds of entertainment options, including dance, music, food, and accommodations in regal forms. Choki Dhani is an ethnic village resort. back to the hotel Jaipur overnight stay.
Day-2:
Breakfast at the hotel, followed by a visit to the Nahargarh Fort. This spectacular fort is made up of a vast palace complex made of white marble, pale yellow sandstone, and four main sections, each with its own courtyard. Take a quick Jeep trip up to the Fort.
Jal Mahal, The magnificent Jal Mahal (Water Palace) in Jaipur is situated in the centre of the gorgeous Man Sagar Lake and gives the impression that it is floating on the water. Jantar Mantar, There are many observatories in the globe, but the Jantar Mantar is regarded as one of the biggest ones ever constructed.
City Palace, One of the most well-known tourist destinations and a significant landmark in Jaipur is City Palace. During his reign, Maharaja Sawai Jai Singh constructed the lovely palace. With its exceptional art and architecture, City Palace stands out among the many forts and palaces in Jaipur.
Best Hotels To Stay in Jaipur
Hotel Pearl Palace Heritage
The Hotel Pearl Palace Heritage is a beautiful, luxurious hotel in Jaipur. It is one of the oldest hotels in the city, with a history. The rooms are large, spacious and comfortable with floor to ceiling windows overlooking the city's iconic Hawa Mahal. The staff were welcoming and helpful during our stay.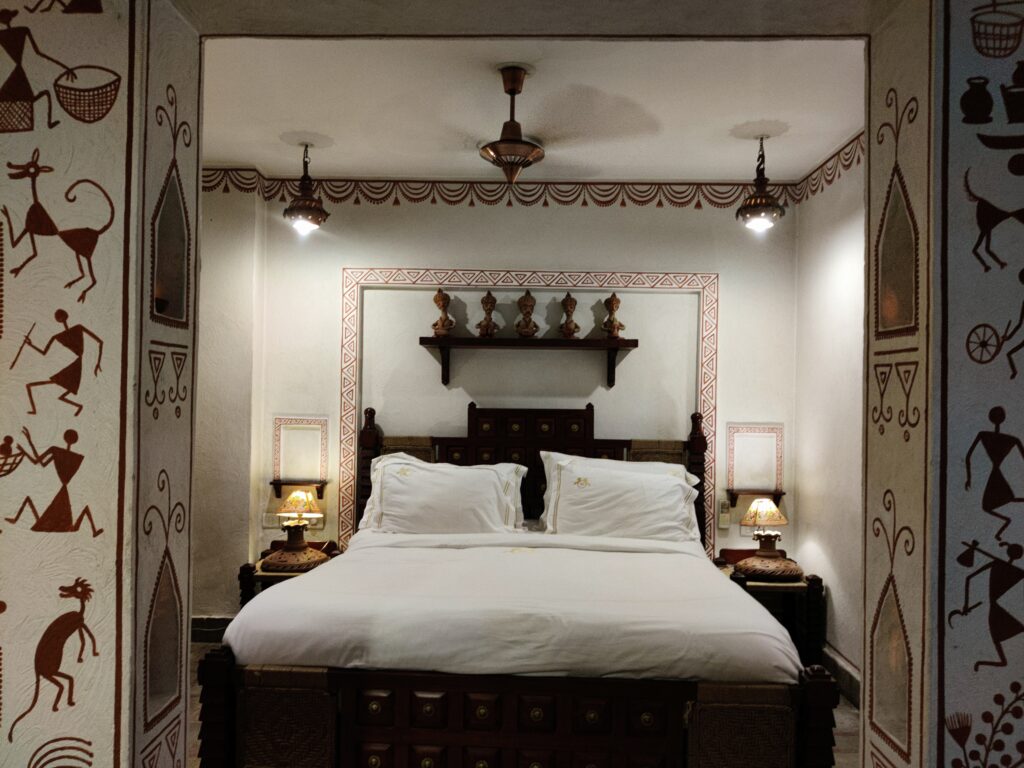 Hotel Sarang Palace
For a luxurious stay in Jaipur, you can't go wrong with Hotel Sarang Palace. This 5-star hotel is located in the heart of the city and offers amenities like a 24-hour gym, spa, an outdoor pool, and more. The hotel also has some great restaurants on site like The Rooftop Garden Lounge.
The Fern – An Ecotel Hotel, Jaipur
The Fern is a friendly hotel that offers luxury accommodations in the heart of Jaipur. The hotel has a unique design that blends seamlessly with the natural surroundings while also incorporating modern conveniences such as free WiFi, laundry service, and complimentary breakfast. The Fern's grounds offer a variety of outdoor spaces for guests to enjoy, including a beautiful garden where you can unwind from your travels.
Famous Foods to Try in Jaipur
The most popular food in Jaipur is the chawal ki bhaji, a dish made with rice, lentils and vegetables. Dhokla is another popular dish that's made from besan or gram flour. It's steamed until it becomes light brown, then fried in oil or ghee until it turns crisp.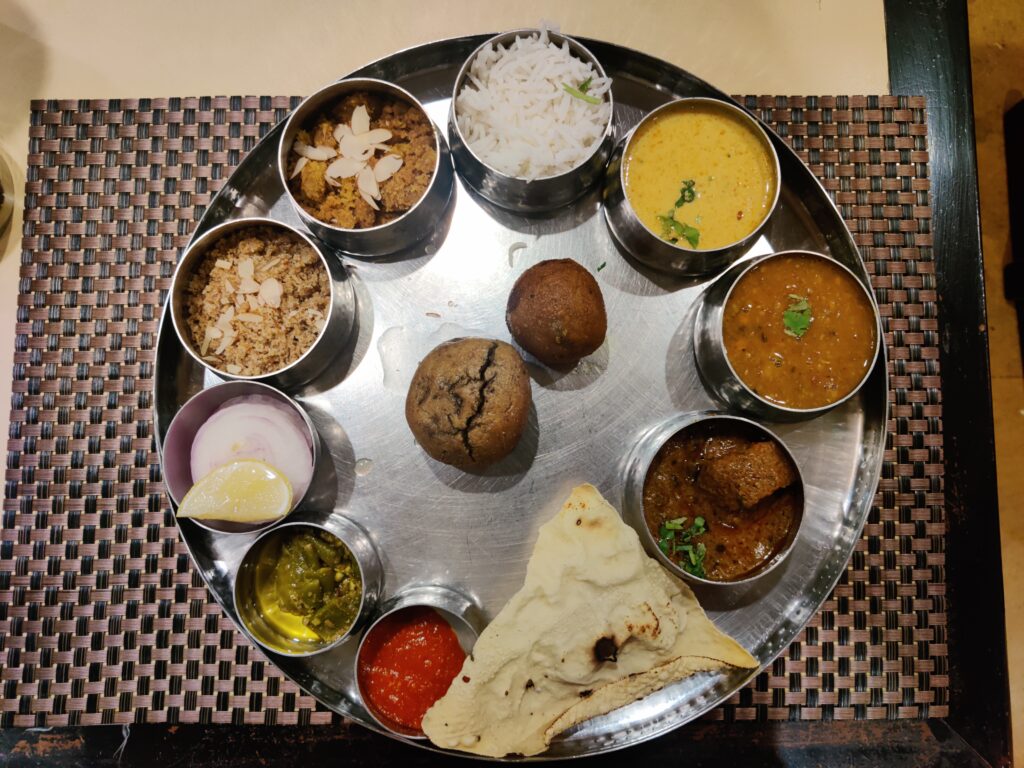 Kachori can be served with sweet mango pickles for an added flavour. If you're looking for something sweeter, try one of the many desserts such as malpua (deep-fried dough soaked in sugar syrup) or laddoos (sugar balls). 
The city is also known for its regional varieties of sweets, including peda and kheer. Other dishes to try are Dal Bati Churma, Chole Bhature, Gathiya and Malai Wala Papdi Chaat. You should avoid spicy foods while travelling, as they can cause stomach issues. Eat mostly fresh fruits and drink plenty of water!
Conclusion
The rich cultural heritage, the vibrant festivals, and the historical monuments are just reasons Jaipur is such a must-visit destination. And when you're done exploring, indulge in a well-deserved vacation at one of the many luxurious resorts in Jaipur.
With so much to see and do, your Jaipur getaway will be an unforgettable experience! If you have any other recommendations on places to visit in jaipur, stays & famous food to try please do comment.