Places to Visit in Himachal Pradesh During Winter: Himachal Pradesh is famous for it's scenic beauty and picturesque landscapes. The Winter season in Himachal Pradesh brings snowfall to the region and makes for an amazing landscape to explore. Snow adds an extra shine and beauty to the forests and mountains in this region, making it worthwhile to visit Himachal Pradesh during this time of the year.
Most Beautiful Places to Visit in Himachal Pradesh During Winter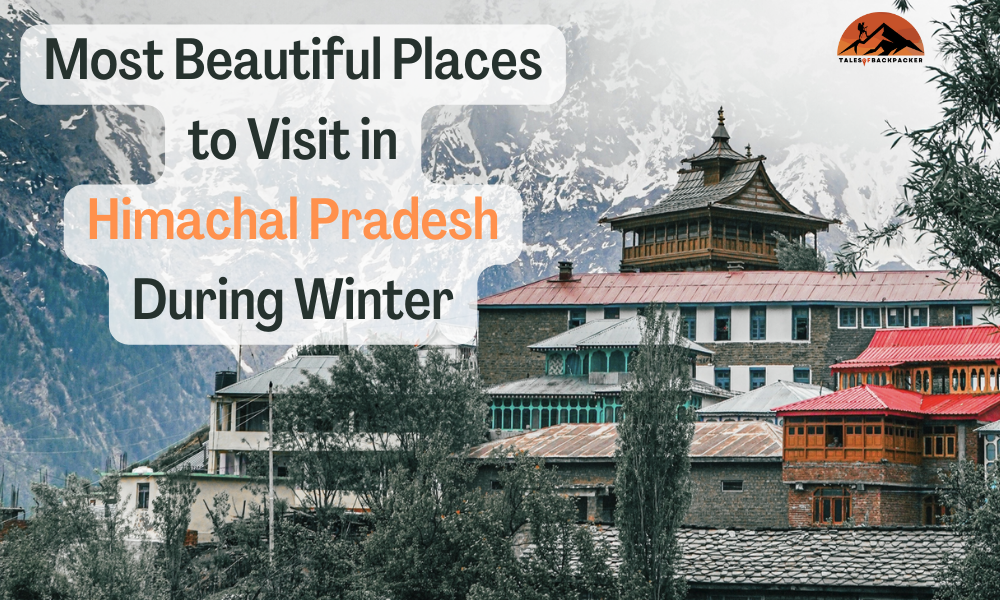 Here are the most beautiful places to visit in Himachal Pradesh during the winter season that are bound to leave you mesmerised.
Shimla
Himachal Pradesh is a beautiful region with breath-taking landscapes and a rich cultural heritage. Shimla is the capital of the state and one of its most popular destinations. With its many attractions, it has been nicknamed the Queen of Hills. Shimla has a year-round pleasant climate and there are plenty of sights to explore at any time of the year, but wintertime offers an especially delightful experience. 
From December to February, the whole city comes alive with preparations for Christmas. The tourist season begins with celebrations for New Year's Eve on 31 December and ends with a grand New Year celebration on 1 January. 
The snowfall from mid-December to mid-January brings everyone together as they enjoy tobogganing and skiing at places like Kasauli, Dharamsala and Chail; or simply go for long walks through the picturesque countryside around Shimla.
Dharamshala
This region is home to the Dalai Lama and his Tibetan followers. It's a short drive from Dharamshala, with its many temples and monasteries, up into the mountains, where you will find McLeod Ganj, also known as Little Lhasa. This is where you'll find plenty of hotels, guesthouses and restaurants.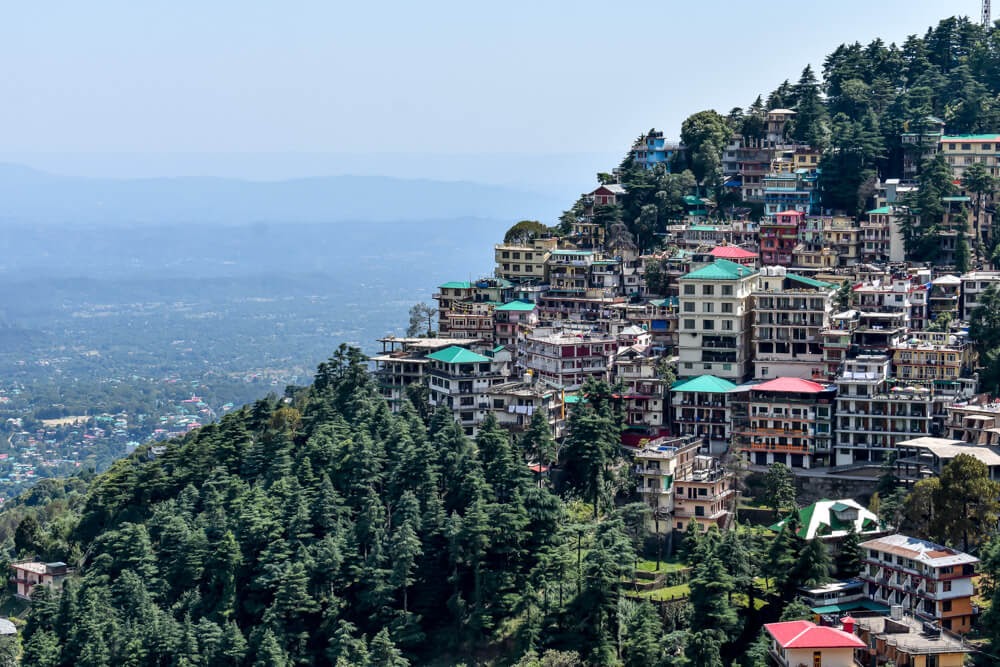 You can explore the area on foot or by horse-drawn carriage. For those who are more inclined to do some shopping, this is one of India's best regions for arts and crafts. The town has several markets selling items like woollen blankets, mountain caps and shawls woven from silk.
Manali
Set on the foothills of the Himalayas, Manali is a hill station famous for its scenic beauty. Located at an elevation of 2,050 metres (6,730 feet), it is one of the most popular tourist destinations among Indian travellers.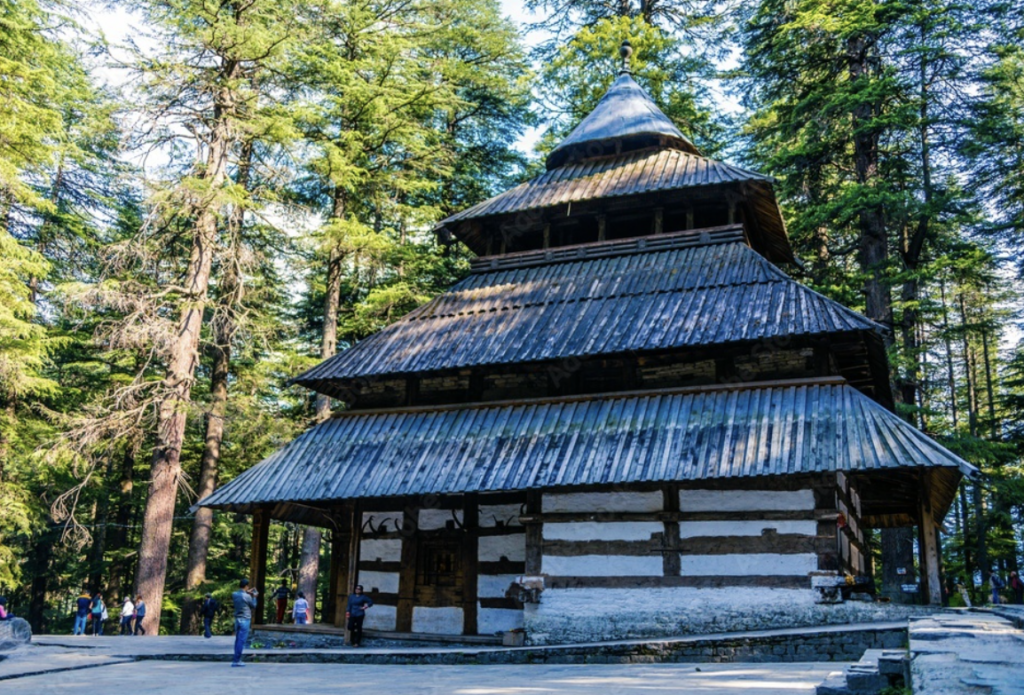 Every year, Manali sees many visitors from all over India and abroad. It has many appealing features that attract tourists; snow-capped mountains, dense forests with diverse flora, fauna, and fresh air. The town provides adventure sports such as paragliding, parasailing and skiing for those looking for fun during their stay. 
There are also various other outdoor activities like hiking, trekking, river rafting and more which can be done in this hill station during the winter season. One can go mountain biking or hire bikes and explore the beautiful valley. Those who love history would enjoy visiting places like Old Manali and Hadimba Temple, both of which have been witness to the region's rich cultural heritage.
McLeod Ganj
In a place as steeped in spirituality as this one, it is no wonder that many people believe that it is where Buddha himself was born. This quaint little town has a certain charm that cannot be denied and is regarded by many as the most beautiful place in India. It's so popular that Tibetan refugees from all over the world come here seeking peace and tranquillity.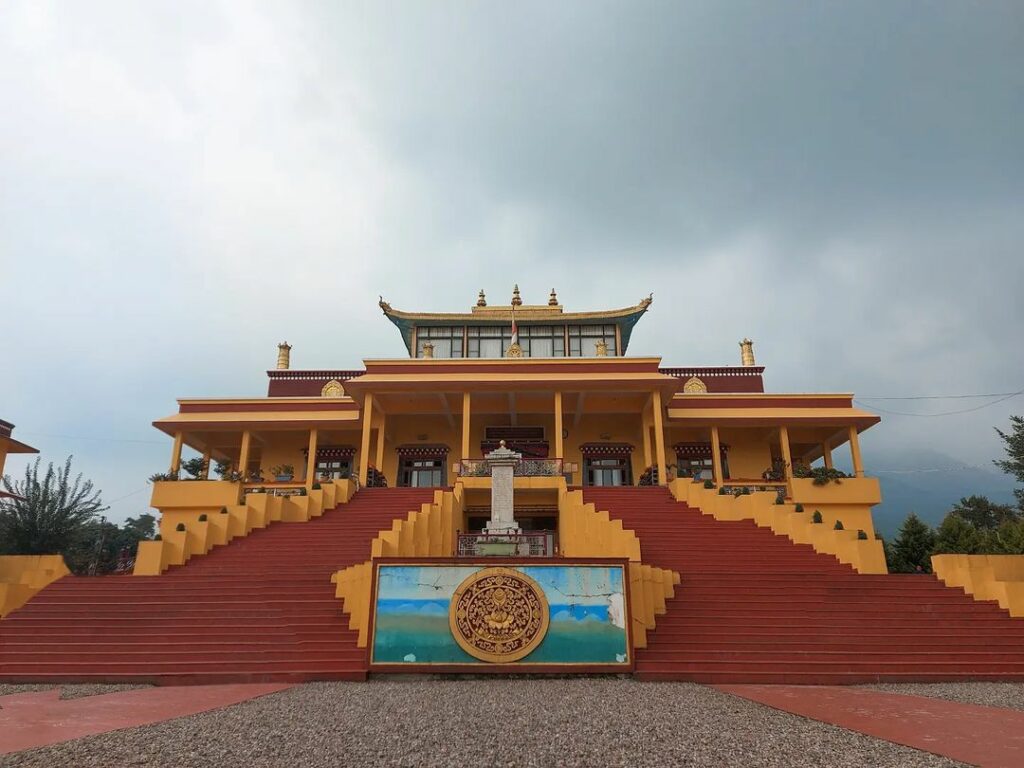 It doesn't take more than a couple of hours on foot to see everything; it is worth seeing here, but if you want to take some time for yourself, then the Himalayan Institute of Medical Sciences offers free daily yoga sessions by monks from Ladakh. You will also find plenty of cafes with excellent chai and boutiques selling handicrafts and other souvenirs. Simple restaurants also serve delicious Tibetan food like dumplings and momos at very reasonable prices.
Kasol Hamlet in Himachal Pradesh
It's winter so it's time to think about packing up your essentials and heading up north! With its lovely mountain ranges, crisp air, and soothing environment, it's no surprise that Kasol is such a popular destination for trekking enthusiasts. Surrounded by the snow-clad peaks of Himalayan range, Kasol is a picturesque village with panoramic views of the mighty mountains. 
What better way to experience the freshness of this place than taking a trip into the mountains during this winter season? And while you're at it, why not explore some other destinations in Himachal Pradesh as well? 
Be enthralled by the untouched beauty of Shimla at night, take an exhilarating ride on a cable car across Chini Lake in Kaza, or enjoy sightseeing trips around Kullu Valley.
Also Check Out: Kasol 1st Timers Guide & Top Attractions to Visit in Kasol
Spiti Valley
Spiti is a beautiful valley, in the Himalayas of the state of Himachal Pradesh, India. It is one of the most remote regions and also one of the least densely populated areas in Asia. You will find spectacular mountain ranges, valleys and wide open spaces here.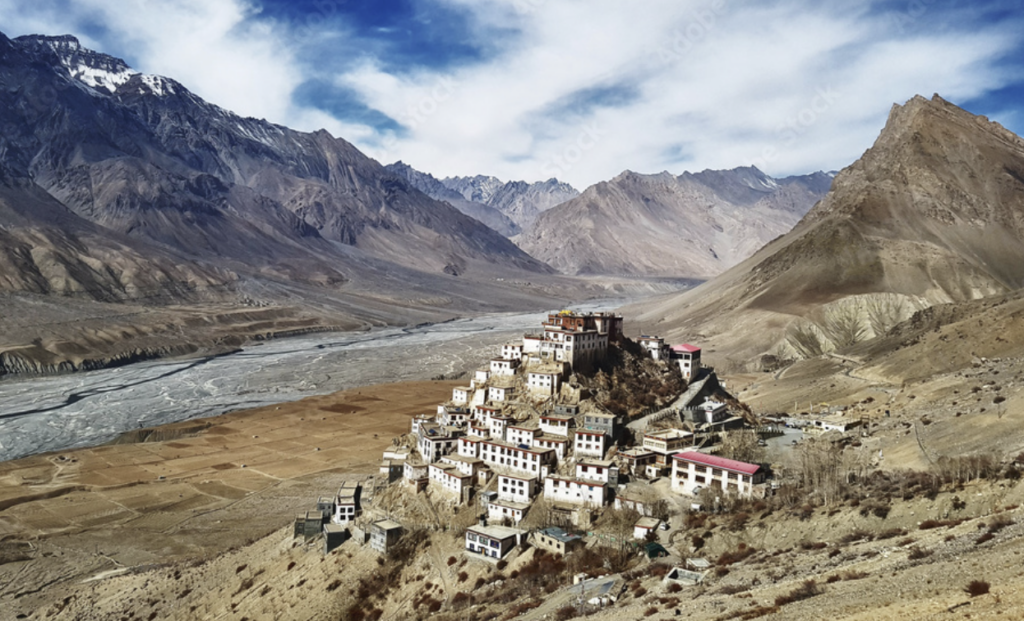 In winter this place becomes very cold with temperatures dropping below freezing point. Hence you need to be prepared for it before visiting this place during the winter season. 
You can visit this place between October to April to experience its natural beauty at its best. The cold weather conditions make the area snow covered, which makes it even more enchanting. So if you are someone who loves winter destinations then make sure to include Spiti Valley on your list of places to visit in Himachal Pradesh during winters.
Solang Valley
Solang Valley is one of the most popular hill stations in Himachal Pradesh. It is situated at an altitude of 5,048 metres (16,478 ft) and receives heavy snowfall during winter. It can be accessed via a seven-kilometre-long jeepable road from Jari village near Paonta Sahib. 
The valley is surrounded by dense pine forests, which provide shelter for Himalayan black bears and red pandas. A trekking route also passes through this region. There are many hotels and resorts available in the area. One can enjoy skiing on a nearby ski slope between 3600mts and 4000 mts above sea level. 
One may enjoy different modes of winter sports like cross-country skiing, skate skiing, sledging and so on. To make your visit more memorable, rent a toy train for short trips around the valley or take up snowshoeing expeditions.
Narkanda
Situated on the way from Shimla to Kinnaur Valley, Narkanda is surrounded by snow-capped peaks and valleys. The town offers great landscape views along with spectacular sunrises and sunsets. It's famous for apples and cherries, harvested from September to October, as well as apricots, strawberries, pears and plums.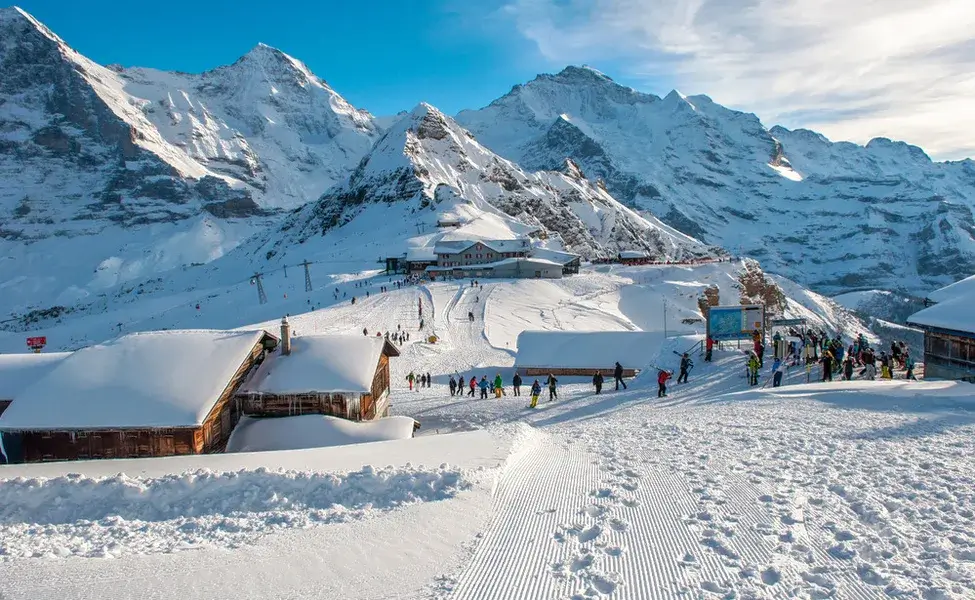 Tourists should be prepared for chilly evenings, but Narkanda has plenty of places where visitors can enjoy traditional Punjabi fare like shahi tukda (a dessert made with bread soaked in milk), stuffed parathas (breads) and a variety of curries. 
The town also hosts annual festivals, including the Thandai Festival during Navratri, when visitors drink Indian wine mixed with sugar or molasses. Other attractions include an old cemetery that overlooks the hills below while hosting 100 years old graves commemorating British soldiers who died fighting local tribes during skirmishes over the region.
Kalpa
The most beautiful place is Kalpa, a small town in the Kinnaur district. The famous tourist attraction is the scenic valley of Malana. The region's rich culture and tradition add to its beauty. It is a very popular destination for tourists visiting India during winter.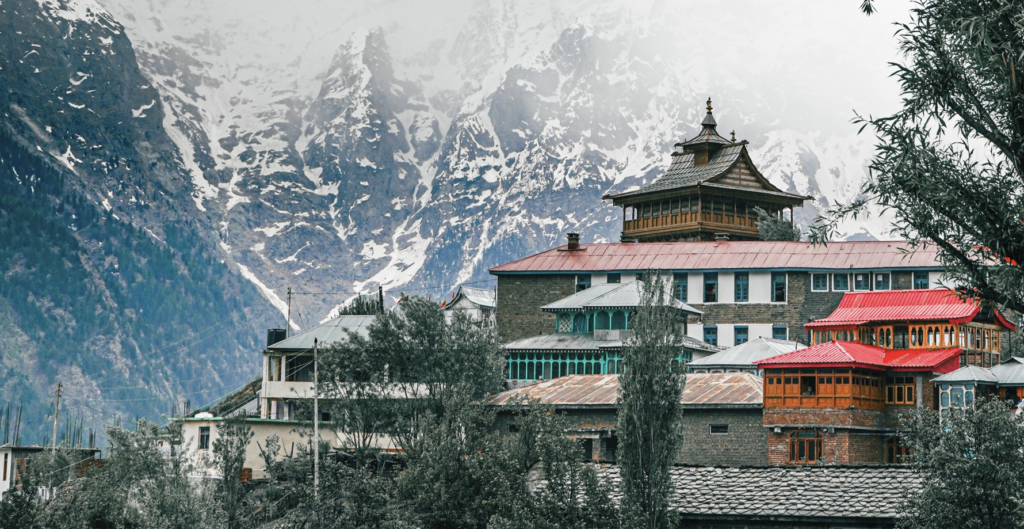 Another important site worth exploring is Ki Bari village near the state capital Shimla. Many waterfalls in this region attract tourists from all over India, like Jhiri Dhara Falls, Raksha Jhula Falls and Khoksar Falls. Another interesting site is Kheerganga Springs at Kangra Valley. 
This trek is difficult at an altitude of 3,750 metres above sea level, but it offers you breathtaking views. If you have time left after visiting these places, head to Dharamsala, where you can see the Dalai Lama's temple.
Khajjiar
Khajjiar is situated amidst the lower Himalayan mountain ranges on the outskirts of Dalhousie town, about 13 kilometres from Dharamsala city. The place offers spectacular views of snow-capped mountains, lush green fields and cascading waterfalls during the winter.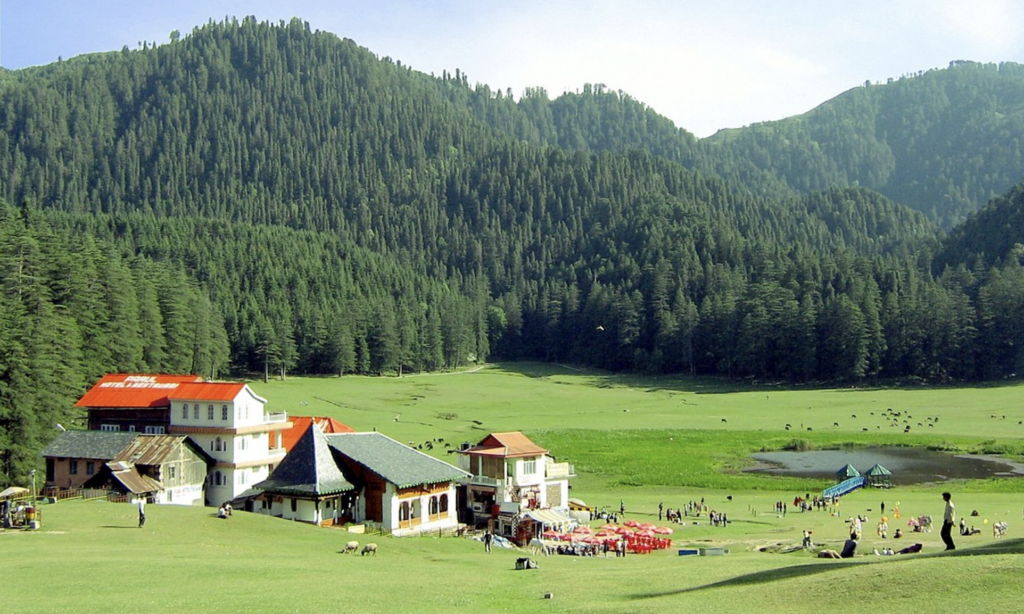 The place has a beautiful waterfall that falls from 40 metres (130 ft) and offers a good view of Chamba Valley during winter with its thick snow cover. One can enjoy skiing, ice skating, trekking or horse riding at this destination during the winter.
Chamba District
Chamba is a district of Himachal Pradesh. It is one of the districts which shares its borders with Punjab. The scenery here is beautiful, and it has a lot of lakes and hills. Chamba town, situated close to Dalhousie, is also known for its natural beauty. One can find many waterfalls in this district, such as Patrakharuni Fall, Chandrabhaga Fall, Naina Devi Temple, etc. 
Several temples around Dharamshala, like Jwalaji, Lakhani Mata Mandir and Khir Bhawani mandir. In the winter season, snowfall is a common occurrence. And people visit places such as Rohtang Pass, Manali-Leh Highway and Kullu Valley, where there is a good amount of snowfall. 
Himachal's winters are very cold, with an average temperature ranging from 2 to 10 degrees Celsius. So if you're planning a trip during winter, then be prepared with warm clothing, hot tea and steaming curries!
Parashar Lake
This crystal clear lake is located on Parashar Hill and is surrounded by lush green forests. It is a place of pilgrimage and an important stop for tourists visiting this beautiful state during the winter season. There are two temples near the lake, Shesh Narayan Temple and Lord Raghunath Temple, which locals and tourists highly revere.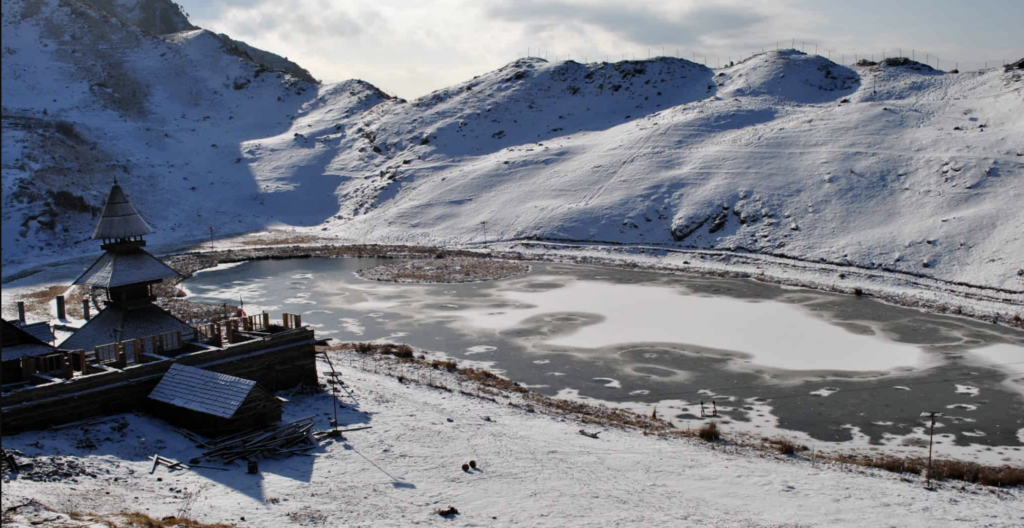 Moreover, there is also a temple dedicated to Mahadev Shiva. The views from atop the hill are breathtaking, and one can enjoy spectacular views of snow-clad peaks like Nanda Devi Peak (6856 metres), which towers over the region and gives it its name: Nanda Devi. One can also get splendid views of the Himalayas from here. A little ahead lies the Mukteshwar Temple, perched on top of a cliff overlooking the valley below.
Conclusion
The most beautiful places to visit in Himachal Pradesh during winter are Shimla, Kufri, Narkanda, Dalhousie and Manali. These places have been influenced by cultures worldwide, making them a rich tourist experience. So if you are planning a trip to this part of India during winter and want to enjoy some good weather and taste its rich cultural heritage, these destinations should be at the top of your list. With so many attractions and different flavours for everyone, there's no way anyone can say that they didn't find something here.
People who come to explore this region will be impressed with the diversity and delighted by how lovely it is during the winter season. It is best advised to go between December and February when the weather is still cold enough to keep you warm without being unbearably chilly or rainy. Make sure to carry an extra layer because even though winters are milder than summers, you might be shivering in areas where the air gets colder.