Research a Travel Destination: There are a lot of decisions to make when planning a trip, from what type of accommodation you want, to what activities you'll do, and even what food you'll eat. But one of the most important decisions is deciding where to go in the first place. If you don't do your research, your chances of ending up in a location that's not right for you are pretty high. Tales of Backpacker blog is giving some important tips on researching a place before traveling there so that your trip is perfect!
Researching a Travel Location
We all know the feeling. You've been dreaming about that perfect beach vacation for months, and now it's time to start planning your trip. But where do you even begin? Researching and planning a trip can be pretty fun, but it can also be overwhelming.
It doesn't have to be overwhelming, though. The dreaming stages can get out of hand, but it helps to have a set of steps to get you from a dream to a plan to book your trip.
Do You Plan Your Trips, or Are You Completely Spontaneous?
I spend considerable time researching and planning before going on vacation. It wasn't always like this, though. I went to various locations without doing much research, and although I had a great time, I felt terrible for not being better prepared.
For example, when I arrived in Goa a few years ago, I had little knowledge of what to expect. If only I had done some research beforehand! Researching your travel destination before you go can help you make the most out of your trip by avoiding common pitfalls and learning about all the best places to see and things to do.
So, where do you start? Here are a few tips on how to research your travel destination before you take off:
Start With a Basic Google Search: This is always an excellent place to begin when you're researching anything new. For example, a simple Google search of your travel destination will give you a good overview of the place and what it offers.
Check out travel blogs: Travel bloggers are an excellent resource for travel information and can give you an insider's perspective on a destination.
Look up the local tourist boards: These websites are packed with information on things to do and see in a particular destination. They can also be an excellent source for discounts and deals on attractions and activities.
Read guidebooks: Guidebooks can be incredibly helpful in getting to know a new place. They often have detailed maps and information on all the best sights and attractions.
Talk to Friends or Family Who Has Been There Before: If you know someone who has already been to your travel destination, they can be a wealth of information. They can tell you about their experiences and give you great tips on what to see and do.
Also Check Out : Essential Tips to Know While Travelling Alone
Researching before you travel can help you make the most of your trip. By learning about your destination, you'll be able to avoid common mistakes and ensure you have a truly fantastic experience. So don't wait until the last minute to start planning to get started on your research today!
How To Research a Travel Destination Before Visiting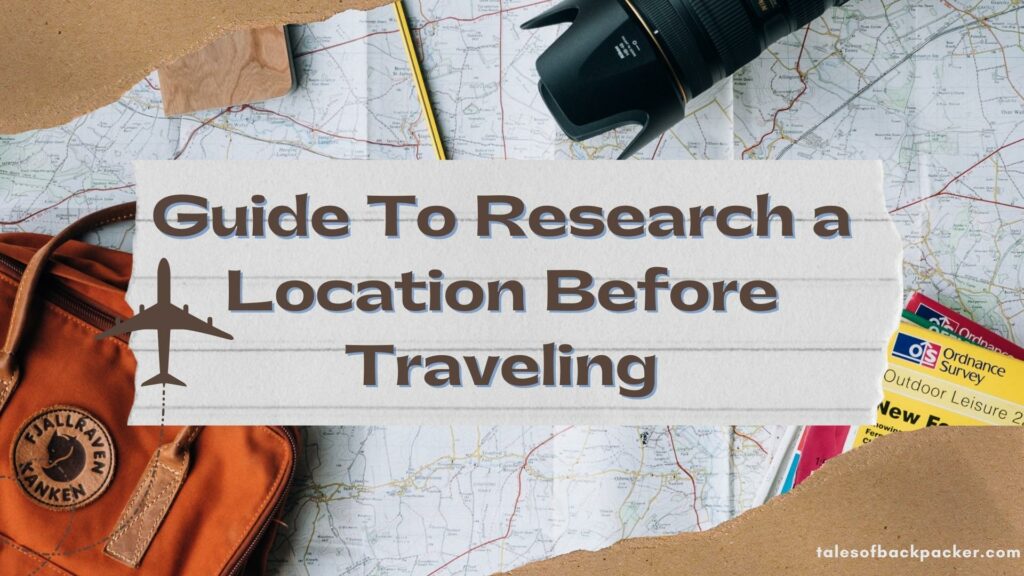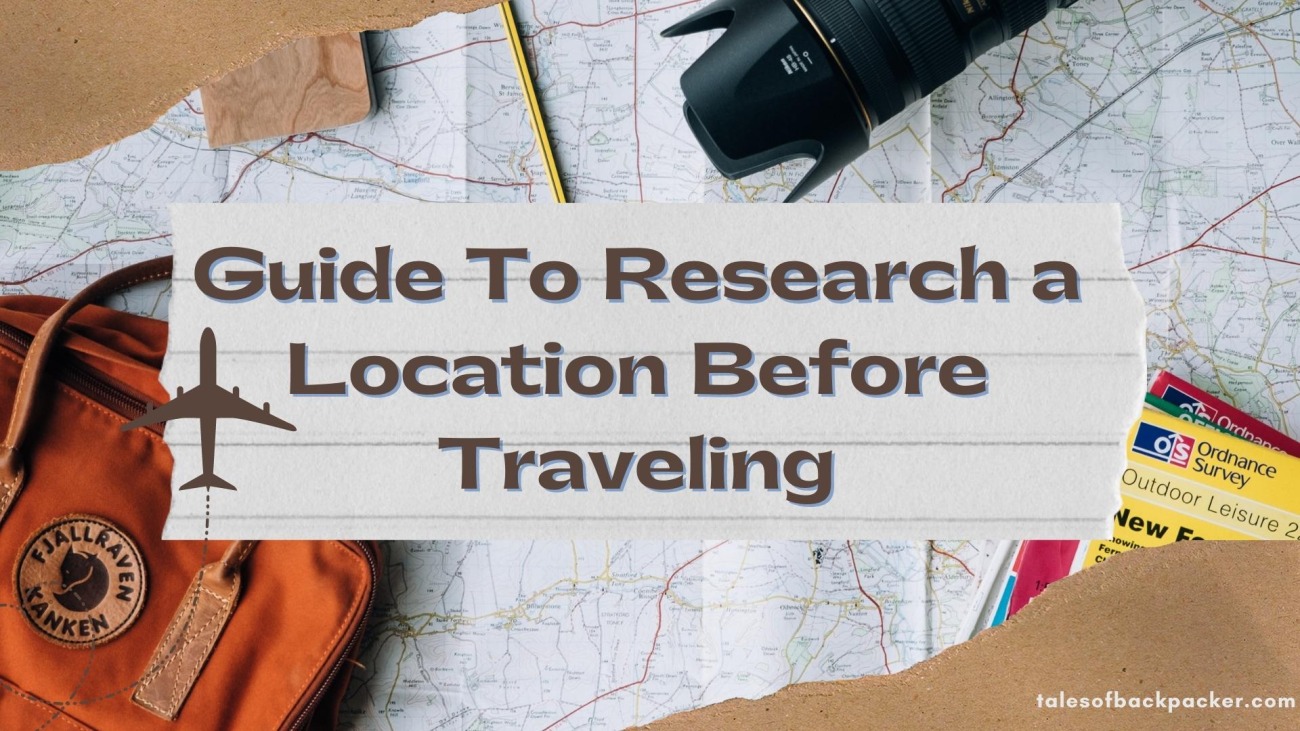 The internet has made it easier to research a travel destination before you go. Here are ten ways to get the most out of your research and plan the perfect trip.
Please Start With the Basics: Google Maps is your friend when getting an overview of a destination. Look at where the main attractions are located about each other, as well as transport links and any potential hazards.
Check Out Travel Bloggers: Travel bloggers are a fantastic source of information and can give you an insight into what it's like to visit a place. Look at some top travel blogs for inspiration and tips on specific destinations.
Read Guidebooks: Guidebooks might seem old-fashioned, but they can be instrumental in getting an overview of a destination and some practical tips. The Lonely Planet series is excellent.
Look for Hotel and Restaurant Reviews: Once you've decided where you want to stay, look at hotel and restaurant reviews to help narrow down your options. TripAdvisor is an excellent website for this.
Local Transport and Facilities: If you're renting a car, make sure you research the local roads and parking situation in advance. And if you're relying on public transport, check out the timetables and routes to help you plan your trip.
Check for Must-Visit Places: Every destination has its own unique attractions, so make sure you research the must-see sights in advance. This will help you plan your trip and make the most of your time.
Offbeat or Unexplored Places: Once you've ticked off the main attractions, take some time to explore some of the less well-known places. This is often where you'll find the real charm of a destination.
Travel Itinerary: Once you have an idea of what you want to do, start putting together a travel itinerary. This will help you make the most of your time and ensure you don't miss anything important.
Weather: It might sound obvious, but it's worth checking out what the weather is likely to be like during your stay. You don't want to be caught out by unexpected rain or snow!
Budget: Make sure you know how much things will cost at your destination so that you can budget accordingly. Look up the exchange rate in advance and withdraw some cash if necessary.
Search for Deals: If you're looking to save money, it's worth researching deals on accommodation, flights, and activities in your chosen destination. Sign up for travel deal websites like Travelzoo or JetSetter, or follow airlines and hotels on social media for the latest offers.
Get Travel Insurance: This is an important one! Make sure you get travel insurance before you go so that you're covered in case of any accidents or illnesses.
Pack Light: Research what the weather will be like and pack accordingly. You don't want to be lugging around a heavy suitcase if you don't need to.
Learn Some Key Phrases: If you're traveling to a place where English isn't the first language, it's helpful to learn some keywords in the local language. This will help you get by and make locals feel more comfortable around you.
Check Visa Requirements: If you're traveling to a country with a different visa system than your own, make sure you do your research and get the correct visa before you go.
Please Get To Know Local Emergency Numbers: Knowing the area's emergency numbers is critical, especially since you never know what may happen or require them.
Also Read: Important Tips to Know For Solo Female Traveler
So there, you 16 ways to research a travel destination before you go. So get planning and enjoy your trip!
Phew, that was a lot of information! Researching for a trip can be pretty daunting, but following these simple steps should help make the process less overwhelming. So what are you waiting for? Start planning your next adventure today!
Is It Essential To Research A Place Before Visiting It?
I think it is essential to do at least some research about a place before visiting it. There are a few reasons why I believe this to be true.
One reason is that it can help you avoid potential culture shock or surprises. If you know what to expect from a place, you can mentally prepare yourself for anything different from your home country.
Another reason researching a destination is essential is that it can help you make the most of your trip. If you have an idea of what there is to see and do in a particular place, then you can plan your itinerary accordingly and make sure that you don't miss out on anything during your visit.
Finally, research can help you avoid potential dangers or risks when traveling to a new place. By reading up on the local customs and laws, you can ensure that you don't accidentally do anything that could get you into trouble.
So those are just a few reasons why I think it is essential to research a destination before traveling there. Do you agree? Let me know in the comments below!
Researching a destination before traveling there is vital for many reasons: it can help avoid culture shock, make the most of your trip, and avoid potential dangers. What are your thoughts? Let us know in the comments below!
Importance Of Reading & Researching A Place Before Traveling there?
There are a few reasons why I think researching and reading about a place before traveling there is essential.
First, it can help you avoid travel mishaps or disasters. Knowing what to expect regarding weather, terrain, and the local culture makes you much less likely to run into any problems.

Secondly, researching beforehand can help you make the most of your trip. If you know what sights to see and what activities are available, you can plan your trip to make the most of your time.

Finally, researching a destination before traveling there can make the whole experience more enjoyable. When we know more about a place, we tend to appreciate it more. We notice the little details that make it unique and special.
So, if you're planning a trip, take some time to read up on your destination first. It could make all the difference to your trip!
What Do People Look For When Traveling?
Some people want to get away from it and relax on a beach somewhere. Others are looking for adventure and want to go hiking, camping, or rafting. And others are still interested in culture and want to immerse themselves in the history and traditions of a new place.
No matter your travel style, there are some basic things you should always research before traveling to a new destination. Here is a list of the most important things to look into before you book your next trip:
Visa requirements

Vaccinations

Currency

Language

Weather

Accommodation options

Transportation options
There are different types of travelers. Some like to be completely spontaneous and book a flight without knowing anything about the destination. For other people, planning and researching are part of the fun. And then some fall somewhere in between.
One important note: don't get too caught up in the planning! Researching can be fun, but it can also be overwhelming. The most important thing is to enjoy the process and not get too stressed out. After all, you're supposed to look forward to your trip, not dread it!
Do you have any tips to Research a Travel Destination before traveling there? Could you share them in the comments below?