Places to Visit in Andhra Pradesh During Winter: Andhra Pradesh, the nation of the Nizams, pearls, and opulent natural treasures, is a traveler's paradise. This is a place that encourages you to explore and take in its joys because of its friendly people, rich cuisine, and fascinating culture. Throughout the state, including in its culture, forts and palaces, art forms, and even gastronomy, the state's long and rich past has given it a regal air.
In Andhra Pradesh, eating is its own subculture. The delectable flavours create a delightful interaction on your taste receptors thanks to the delicious blend of spices. The culture of Andhra displays this interaction in many facets. The modernization of traditions makes them more approachable to younger generations. By changing over the decades, art forms like Ikat and Pearl Kalamkari have been able to keep up with the times. Because of this, Andhra Pradesh is referred to as the "Rice Bowl of India. There is a lot of rice farming here. As you may learn more about its history, architecture, heritage sites, beaches, temples, mosques, shrines, and limitless natural beauty, it is a visitor's paradise.
The climatic conditions in Andhra Pradesh are directly impacted by its varied and large geography. In order to fully experience a setting as vibrant as this one, you need take your time exploring it. The state has a tropical climate and, like all of India, has the summer, monsoon, and winter seasons. With so much to discover, the winter season, which is the state's shoulder season for tourism, is the perfect time to visit Andhra Pradesh. The greatest time to visit Andhra Pradesh is in the winter, from November to February, due to the beautiful weather. Both the days and the nights are chilly. Without being constrained by the heat or rain, this is the ideal time of year to travel throughout the state.
Winter in Andhra Pradesh
In Andhra Pradesh, the winter season begins in the month of October. At the beginning of the season, it rains in various areas of the state. During this period, the state's weather gets incredibly nice. This wonderful season lasts through February. Visitors swarm to the state during this season to explore the natural beauty and its illustrious heritage.
Many locations in the state become incredibly lovely. Due to the extensive coastline, the winters are not too chilly and the weather is nice all year long. Minimum and maximum temperatures are 13 and 28 degrees Celsius.
Why You Should Visit Andhra Pradesh in Winter
Despite the fact that this is not Andhra Pradesh's busiest time of year, the pleasant weather will make your vacation more enjoyable. You can spend the entire day exploring and not feel worn out at the end of it. You'll enjoy being here in the winter if you want to stick to a schedule. You won't encounter any unforeseen delays caused by the weather while doing your explorations.
The state's festivals also showcase the diversity of its culture. The festivities are extravagant, and the zeal is astounding. Participate in neighbourhood festivities to experience a surge of joyous exhilaration. Attend a performance of regional dance and music. It is said that Carnatic music is where the folk music got its start. Winter in Andhra Pradesh is a veritable feast for culture enthusiasts.
Best Places to Visit in Andhra Pradesh During Winter Season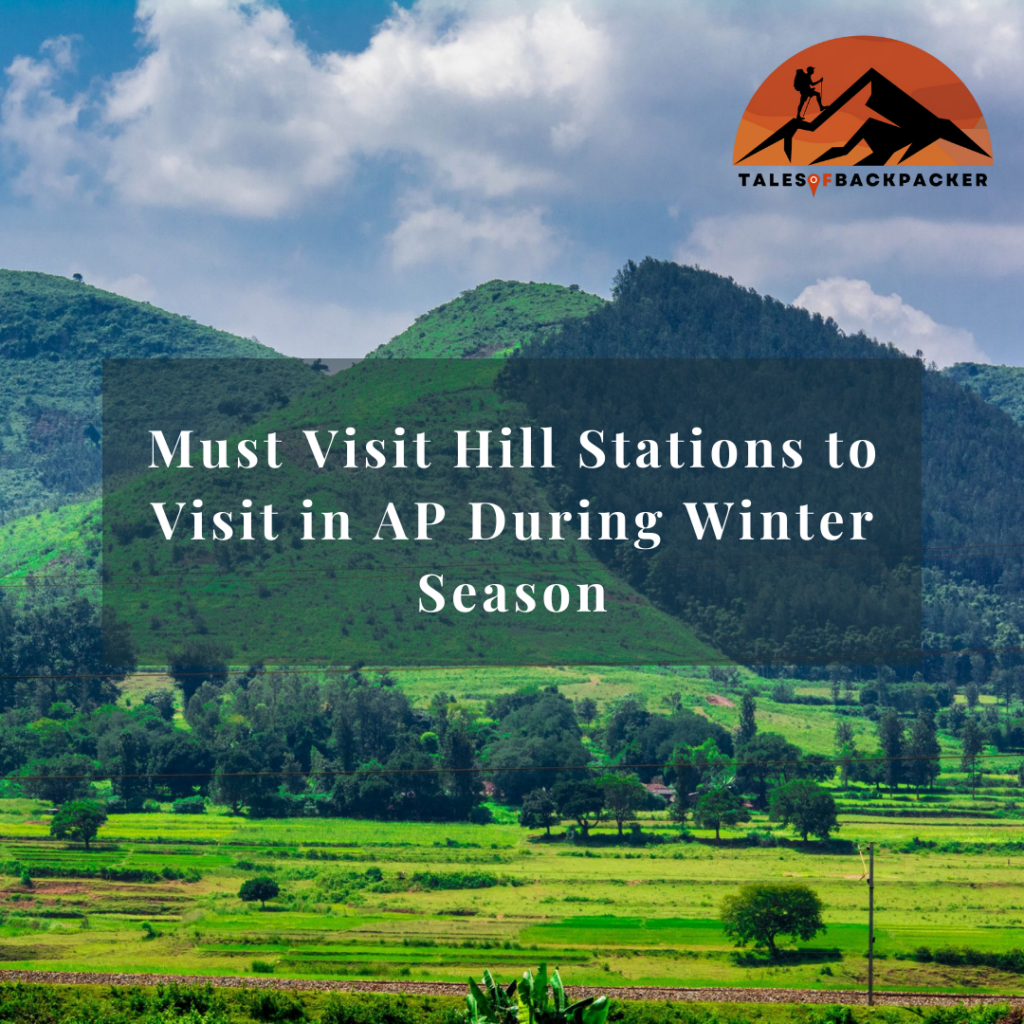 Because the state of Andhra is home to so many different places, it is easy to become confused when making travel plans there. In order to help you solve this conundrum, here are some of the top places and some tourist spots you must think about visiting to make your winter holiday in Andhra unique.
GANDIKOTA – Places to Visit in Andhra Pradesh in Winter
Gandikota is a tiny village in the Kadapa district of Andhra Pradesh, located at distances of 15 km from Jammalamadugu, 94 km from Kadapa, 155 km from Kurnool, 233 km from Tirupati, 280 km from Bangalore, 386 km from Hyderabad, and 391 km from Chennai. It is one of the most well-known historical sites in Andhra Pradesh and one of the weekend gateways from both Hyderabad and Bangalore.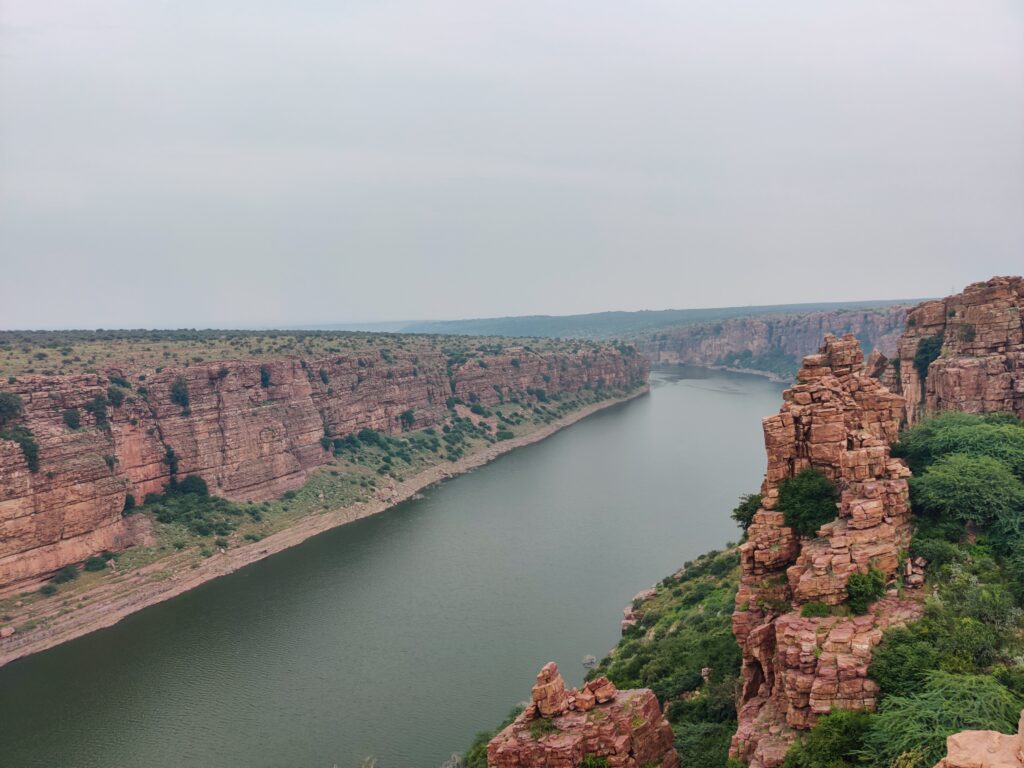 It is located on the banks of the Pennar River. The old Gandikota Fort is surrounded by a little settlement called Gandikota. According to history, Kapa Raja, a subordinate of Ahavamalla Someswara I, the Western Chalukyan monarch of Kalyana, first discovered and fortified the Gandikota area in 1123 CE. He was from the adjacent village of Bommanapalle. After the Kamma monarchs, who controlled Gandikota for more than 200 years, emerged, the settlement was turned into a significant fort.
In 1650 CE, the Qutub Shahis of Golconda captured the fort. The nearby gorge, which in Telugu is known as gandi, inspired the name of the mediaeval fort of Gandikota. Additionally, Vemana, a Telugu poet, is thought to have spent a brief time in the Gandikota area.
HOW TO REACH
The closest airports to Gandikota are Tirupati Airport in Renigunta (226 km) and Bengaluru International Airport (255 km). The closest railhead is Jammalamadugu Railway Station, which is about 17 km from Gandikota and has good train service to Kadapa, Nandyal, Dharmavaram, and Vijayawada. Kadapa is the closest significant railway station to Gandikota.
The closest bus station to Gandikota is Jammalamadugu Bus Stand (15 km), which also offers good bus service to Kadapa, Kurnool, Hyderabad, Bangalore, Proddatur, Tadipatri, Anantapur, Vijayawada, and Tirupati. From Gandhi Statue Junction (Jammalamadugu Old Bus Stand), buses go to Gandikota.
PLACES TO VISIT IN GANDIKOTA
The city of Gandikota is home to many stunning locations that are perfect for sightseeing and natural wonders that will enliven your eyes. A few of these locations are listed below. 
Pennar River Gorge Viewpoint
 The Erramala hills, also known as the Gandikota hills, are cut through by the Pennar River, which creates the Pennar Gorge. A gorge is a deep depression between two hills or mountains, frequently with rocky walls that are steep and a stream that flows through it. In actuality, over a long period of time, rock erosion is what creates gorges. Nearly 300 feet of the Pennar River's gorge are below the cliff.
Though it is difficult to understand how the Pennar River in Gandikota could have carved such a vast valley, the river's constant flow finally carved a deep trench through the surrounding area, revealing numerous rock layers and resulting in the breathtaking sight we see today. Travelers who visit and are mesmerised by its beauty often refer to this magnificent example of nature's design as the Hidden Grand Canyon of India because of its striking resemblance to the Grand Canyon of Arizona.
You feel as though you are on another planet because of the nearly vertical valley and varied granite formations. Sunset and sunrise provide the most beautiful views of the enormous gorge.
 Madhavaraya Temple
Madhavaraya Temple is a historic Hindu temple located inside the Gandikota fort complex in Andhra Pradesh, 1 kilometre from the Gandikota Bus Stop. It is a must-see attraction in Gandikota and is situated to the west of the settlement.
Sri Krishna Deva Raya of the Vijayanagara Kingdom is thought to have erected the Lord Vishnu-dedicated Madhavaraya Temple. The largest building in Gandikota, if not the entire area, is this one. The Madhavaraya temple features an intriguing architectural design with numerous sculptures of Hindu deities and depictions of regular people's daily activities etched onto its pillars and walls.
The five-story Madhavaraya temple tower, which is visible from every boundary of the town, dominates Gandikota's skyline. The life and culture of the long-lost monarchy are preserved in the granite walls of this superb example of art. The sanctuary was once a sacred site dedicated to Mahavishnu, as evidenced by the carvings of fish and tortoises inside the temple door.
Belum Caves
Belum Caves, the second largest and longest caves in India, are located at a distance of 45 kilometres from Yaganti, 70 kilometres from Nandyal, 82 kilometres from Ahobilam, 95 kilometres from Mahanandi, 109 kilometres from Kurnool, and 318 kilometres from Hyderabad. The 3229 meter-long caves are situated between Nandyal and Tadipatri in the Kurnool area. Long tubes, large cha mbers, fresh water galleries, and syphons can all be found in these caves. The caves' deepest point is 120 feet above entrance level.
The limestone deposit in the area was eroded by the Chitravati River over the course of millions of years, creating the caverns. The Chitravati River is currently located about 30 kilometres south of the caves. Near the caverns, there is a big Buddha statue. Buddhist monks once used this location as a meditation hall. For simple cave access, AP Tourism has built bridges and paths. Near the caves' entrance, AP Tourism manages a resort.
Mylavaram Dam
Mylavaram Dam is a medium irrigation project located across the Penna River in Mylavaram in the Kadapa district of Andhra Pradesh, 10 kilometres from Gandikota. It is a stunning reservoir on the River Pennar and one of the top tourist attractions in Gandikota.
The reservoir is made up of two main canals, the MR South Canal and MR North Canal, which have respective acreages of 25,000 acres and 50,000 acres. When Srisailam Right Bank Canal is finished, this reservoir will receive Krishna River water from Srisailam Dam.
Amazing views of the dam and a museum may be seen nearby. A beautiful sunset can be seen there if you go there in the evening. Near order to draw tourists, AP Tourism recently established a boat club in the Mylavaram Dam's backwaters. Visitors can participate in a variety of water sports, including kayaking and speedboating.
Raghunathaswamy Temple
Raghunatha Swamy Temple is a historic Hindu temple located inside the Gandikota fort complex in Andhra Pradesh, 500 metres from the Gandikota Bus Stop. It is one of the top attractions in Gandikota and is situated next to the Jamia Masjid. A complex network of pillars, passageways, and corridors makes up the Raghunatha Swamy Temple in Gandikota. Although there isn't a statue inside the shrine, photographers will love the temple's remains.
Although the temple, which is made of red granite, is small, it has Vijayanagara-style architecture and sculptures throughout. You may take a leisurely stroll around the temple grounds and even see some boulders that still have readable inscriptions to complete the picture of the current remains of Gandikota Fort. You may enjoy a panoramic view of the hills on one side and Penna valley on the other by ascending the crumbling outer walls.
MAREDUMILLI – A must Place to Visit in Andhra Pradesh in Winter
Maredumilli is a village located on the Bhadrachalam-Rajahmundry highway in the East Godavari district of Andhra Pradesh, at a distance of 85 kilometres from Rajahmundry, 112 kilometres from Kakinada, 118 kilometres from Bhadrachalam, 233 kilometres from Khammam, 241 kilometres from Vizag, 245 kilometres from Vijayawada, and 432 kilometres from Hyderabad.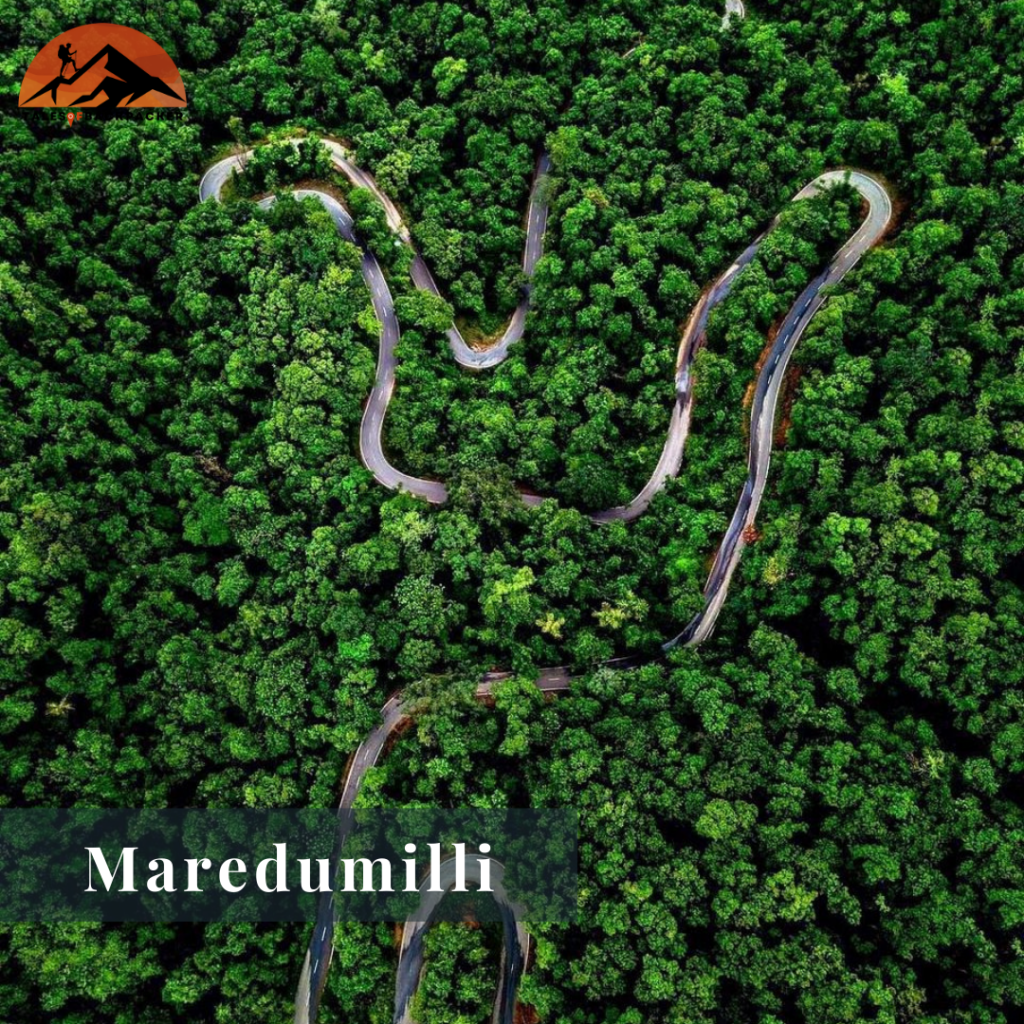 It is one of the best locations to visit near Rajahmundry and among the best places to visit in Andhra Pradesh, nestled within semi-evergreen forests. One of the main sites you absolutely must include in Vizag travel packages is Maredumilli. The Forest Department has created this charming tiny community as an eco-tourism centre in the thick forests of the Eastern Ghats. Maredumilli is home to native tribes, wildlife, and the natural world. The indigenous people who have lived on these territories for many years have preserved and developed this woodland area.
The entire area is breathtakingly beautiful, with lush grasslands surrounding by hills and several streams meandering over sloping rocks. Maredumilli is one of the most picturesque places in southeast India because of the peace, the vegetation, the river, and the starry night skies. The most well-known tourist attractions in Maredumilli are the Jalatarangini and Amruthadara waterfalls, Manyam and Sokuleru viewpoints, Bhupathipalem Reservoir, and Rampa Falls. Post-monsoon is the best time to visit Maredumilli since the forest turns green and the waterfall is wet.
HOW TO REACH MAREDUMILLI
Rajahmundry Airport is the nearest airport which is about 69 km from Maredumilli. It has limited domestic services from Chennai, Madurai, Vijayawada, Bangalore and Hyderabad. Rajahmundry Railway Station is the nearest railhead and is well connected by trains with Hyderabad, Vijayawada, Vizag, Chennai, Bangalore, Mumbai, Bilaspur, Trivandrum, Kochi, Kakinada, Nagercoil, Bhubaneswar, Tirupati, Puri, Kolkata, etc. Situated on Bhadrachalam – Rajahmundry Highway, Maredumilli is well connected by road with Rajahmundry, Kakinada, Bhadrachalam, Kunavaram, Kothagudem and Vizag.
PLACES TO VISIT IN MAREDUMILLI 
In Andhra Pradesh, Maredumilli is home to a number of stunning landscapes bordered by dense channels of bamboo and lush green palm palms. Despite being a less well-known tourist destination, the town is home to some of the state's most complex and beautiful animal and plant species. A trip to this charming small town is essential if you have a passion for seeing tribal and rural life in its purest form. Here are some of the must-see areas in Maredumilli, a town surrounded by the most breathtaking natural beauty.
Jalatharangini Waterfalls
Jalatharangini, a stunning waterfall in Maredumilli hamlet, is located on the Rajahmundry and Bhadrachalam route seven kilometres from the Maredumilli Bus Stand. It is situated in Andhra Pradesh's East Godavari district. It is a waterfall that runs throughout the year and is a popular spot in Maredumilli. A waterfall cascade that travels across mountains and forests is called Jalatharangini Waterfall.
The multi-tiered waterfall is magnificent. Anyone who appreciates nature will find the small waterfall to be an incredible delight during the rainy season when it is filled with the sound of a gush. You may swim in the crystal-clear water that flows beneath the waterfall since it is so clear. From the entrance point, a 150m walk is required to get to the falls. The stroll lasts about 30 minutes. The trek is challenging and muddy.
The local tribes construct steps and wide walkways through the jungle with barricade posts on either side to restrict the flow of the water. There is plenty of room for parking cars.
Amruthadhara Falls
Amruthadhara is a stunning waterfall located on the Rajahmundry and Bhadrachalam Highway, 15 kilometres from Maredumilli Bus Stand. This roadway is adjacent to Maredumilli, which is in Andhra Pradesh's East Godavari district. It is a seasonal waterfall and one of Maredumilli's most popular tourist destinations.
Amruthadhara is bordered by steep cliffs and woods, and it is produced by the seasonal flow of a stream. This little waterfall will be the ideal location for nature enthusiasts during the rainy season. There are two components to the waterfall. Although not the best location for bathing, sliding is possible there. Before you can access the waterfalls near the entrance, you must hike for about a kilometre up a hill.
To visit the waterfalls, it will take around an hour. The path leading to the falls is hazardous and challenging. Tribes from the area who are of tribal descent oversee this waterfall. They create a simple woodland trail with support bars on either side and erect steps to govern the area. There is plenty of room for parking cars.
Rampa Waterfalls
The stunning Rampa Waterfalls are located in the Andhra Pradesh state's East Godavari district, four kilometres from Rampachodavaram hamlet and 29 kilometres from Maredumilli. It is one of Maredumilli's most popular attractions and one of Andhra Pradesh's most stunning waterfalls. The waterfall, also known as Rampachodavaram Falls, cascades down from a height of about 50 feet.
The village of Rampachodavaravillage lies nearby. There are no other coastal falls in Andhra Pradesh; this is the lone one. Enjoy the waterfall's descent amidst the dense foliage. It is energising. This waterfall and the brook down below are both swimmable year-round. Jeeps are needed to go to the waterfall, which is located in a dense jungle. A fascinating excursion into the jungle is possible.
Residents maintain the area along the road that leads to the water feature. From the point of access, there is a short hike to the waterfall. The stream of water and a few smaller waterfalls can be found to your left as you climb, adding to the hike's enjoyment. A 20-minute trek will bring you to the main water feature. Near the Rampachodavaram waterfalls, there is an ancient Shiva shrine called Sri Neelakanteswara.
Bhupathipalem Reservoir
Bhupathipalem Reservoir is an earthen dam located in Bhupathipalem near Rampachodavaram town in the East Godavari district of Andhra Pradesh, four miles from Rampachodavaram Bus Stand and 21 kilometres from Maredumilli. It is one of the most well-liked tourist destinations in Maredumilli.
This medium-sized irrigation project, called the Bhupathipalem Reservoir Project, was built in the Seethapalli Vagu, an aquifer and hill stream that flows into the Godavari River. The goal is to provide drinking water for 32 villages in the Rampachoadavaram and Gangavaram Mandals in the East Godavari district as well as irrigation services covering an area of 11,526 acres, including tribal ayacut. Beautiful coniferous and pine trees line the reservoir.
There are tall mountains in the distance and a small island in the reservoir. Every bend in the lake offers a different view of the surroundings. Visitors can park their cars and use the boating area. At this spot, only paddle boats are accessible. The river is calm because there are no mechanical boats in it, and the mountains' reflections resemble a huge natural mirror.
Gudisa Hill station
 The finest place to decompress is at Gudisa Hill Station, a stunning adventure location. On bikes or in cars, groups of people travel here and then stay to enjoy the scenery. Rent a tent for the duration of your visit.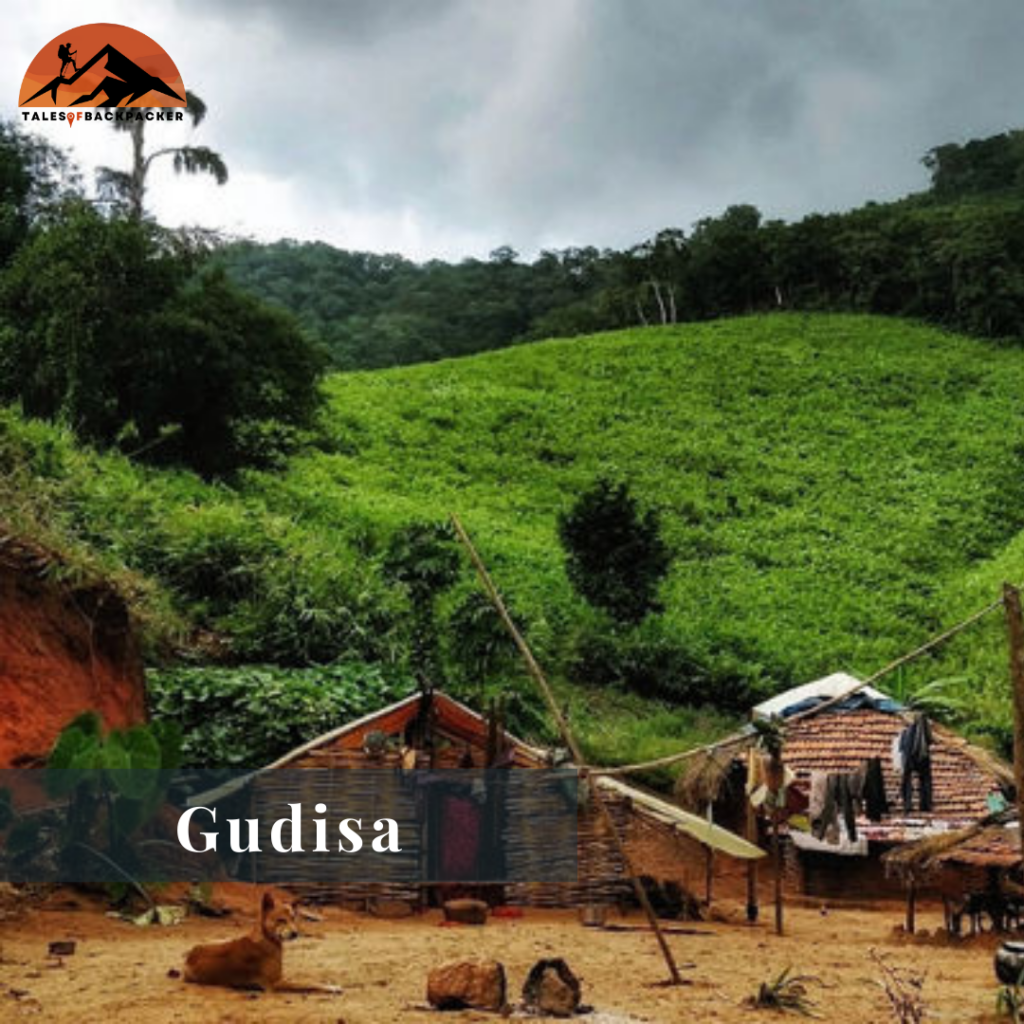 Another option would be to build a campfire at the summit of this hill. 40 kilometres from Maredumilli and 120 kilometres from Rajahmundry separate Gudisa Hill Station. Reaching Gudisa Hill station takes roughly two hours. There are about 100 people who live there. The village has about 20 residences.
The station at Gudisa Hill is situated on 32.1237 acres. Don't forget to get water and food before starting your journey to the gudisa hill station because food is not accessible at Gudisa. Additionally, you can get cooking essentials like sticks, stove water, and other things.
LAMBASINGI – Must Visit Place in Andhra Pradesh During Winter
Lambasingi, also known as Lammasingi, is a small hamlet in the Visakhapatnam district of Andhra Pradesh that is located 20 km from Chintapalle, 77 km from Ankapalle, 92 km from Araku Valley, 115 km from Vishakhapatnam, 136 km from Kakinada, 176 km from Rajahmundry, 240 km from Bhadrachalam, 325 km from Machilipatnam, 333 km It is also referred to as Korra Bayalu, and it is one of the most well-liked tourist attractions in Andhra Pradesh.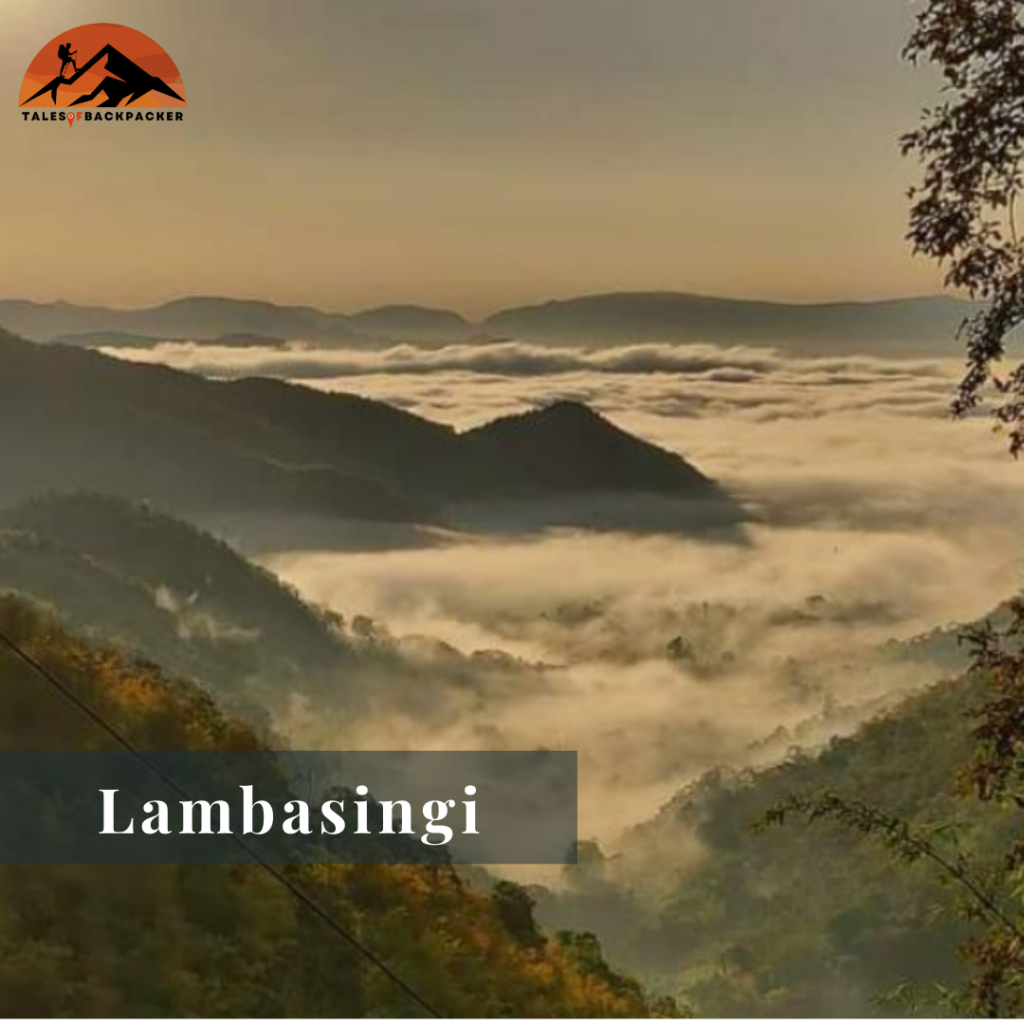 The little hamlet of Lambasingi, affectionately known as the "Kashmir of Andhra Pradesh," is located at an elevation of 1025 metres in the stunning and densely forested Eastern Ghats of Andhra Pradesh. The little village, one of Andhra Pradesh's best-kept secrets, is renowned for its gorgeous hills, charming valleys, and chilly temps. As the temperatures drastically drop, this village is the only site in all of South India to receive snowfall. Lambasingi also goes by the name Korra Bayalu, which in the local dialect means "If someone stays out in the open they will freeze like a stick.
Lambasingi is well-known for its small apple and strawberry fields, along with its tea and coffee plantations. Moreover, the place is abounding with a variety of wildlife, flora, and fauna. The area used to be heavily forested and was thought to have once hosted tigers. The area is renowned for the variety of birds that live there. An isolated tribal community resides in the little hamlet of Lambasingi. This charming town, which is removed from the bustle of the metropolis, is currently being promoted as an ecotourism attraction by the Andhra Pradesh Tourism Development Corporation (APTDC). Lambasingi is mostly covered with plantations for tea and coffee as well as thick woodlands. For lovers of the outdoors, this location is special.
HOW TO VISIT  LAMBASINGI
The closest airport, Vishakhapatnam International Airport, is 105 kilometres from Lambasingi. Direct flights from Hyderabad, Bengaluru, Chennai, Delhi, and Kolkata have good connections. The closest rail station to Lambasingi is Narsipatnam, which is 61 km away. There are frequent trains from Narsipatnam to Hyderabad, Narasapur, Machilipatnam, Kakinada, Guntur, Tatanagar, Dhanbad, Tirupati, Vishakhapatnam, Alappuzha, Rajahmundry, and Vijayawada. With regular bus service from Vishakhapatnam, Narsipatnam, Ankapalle, and Chintapalle, Lambasingi has good road access.
 PLACES TO VISIT IN LAMBASINGI
For adventure seekers, the town also opens up a world of thrilling activities. Trekking, mountain biking, hiking, and camping are all excellent activities nearby. In Lambasingi, which has a lovely appeal, one can also just stroll along the foggy roads and follow the fog to enjoy nature at its best. Even if the entire hamlet looks like a painting, Lambasingi has some breathtakingly gorgeous and fascinating places for you to explore. Some of the locations are listed below.
Thajangi Reservoir 
Thajangi is a tiny reservoir in Lambasingi, Andhra Pradesh, which is 6 kilometres from the Lambasingi Bus Stand. It is one of the well-known attractions in Lambasingi and is situated on the Narsipatnam-Paderu Road. When returning from Lambasingi to Vishakhapatnam, a lovely place to stop is Thajangi Reservoir.
The most popular tourist destination in Lambasingi, it is surrounded by gorgeous hills and a strong river. The location draws a large number of tourists, including hikers, photographers, nature lovers, and shutterbugs. A trip to Thajangi Reservoir completes your weekend adventure and instils a love of nature in your soul.
Even though there are many lakes and reservoirs, this one's location amid foggy meadows and dewy mountains offers a particularly beautiful vista. Additionally, visitors are welcome to go boating on the reservoir's tranquil waters. This picturesque location, which is surrounded by hills and has a blue sky as a backdrop, is ideal for picnickers who want to spend time with their friends and family in the midst of nature.
Kothapalli Waterfalls
Kothapalli Waterfalls is a stunning waterfall situated in Kothapally hamlet in Gangaraju Madugula Mandal in Andhra Pradesh, 30 km from Paderu, 37 km from Lambasingi, and 72 km from Araku. It is one of the top attractions in Lambasingi and one of the waterfalls that must be seen as part of Vizag tour packages.
This waterfall, which has the name of the nearby town of Kothapally, was discovered by villagers in 2012 and is currently being developed by the Integrated Tribal Development Agency (ITDA). The cascading waterfall is formed over the Ghostani River and is situated at the base of a hill, roughly 500 feet deep in a thick forest. It tumbles down over a number of rocks and into a pool. It is a well-liked picnic location for both locals and tourists. This is unquestionably one of the nicest waterfalls close to Vizag and has grown to be a must-visit destination, drawing lots of visitors each year from all walks of life. Additionally, one can go to the surrounding strawberry farms to see the large, organic strawberries that are grown there.
Additionally, visitors will discover various sellers selling strawberries for fair prices. Take a quick stroll through Madugula on the way there to experience the complex flavours of Halwa. The Halwa at Madugula is made traditionally, without the aid of machinery, and is well known for its flavour. With parking for automobiles and steps reaching all the way to the bottom, it is a very lovely and tranquil waterfall. The falls are located in one of the region's deep sections of woodland, so visitors must hike 2 kilometres from the parking lot to get there. You can't help but notice the vista of the coffee fields on each side of Kothapally Waterfalls.
ARAKU VALLEY
Araku Valley, which is around 120 kilometres from Vishakhapatnam, is a relatively unknown hill area that people primarily use as a weekend escape. Take the Vistadome train, which departs Vishakhapatnam at 6:50 AM and travels through 58 tunnels and 84 bridges while traversing the stunning terrain to arrive at Araku in about 5 hours, if you're a tourist seeking seclusion and tranquilly.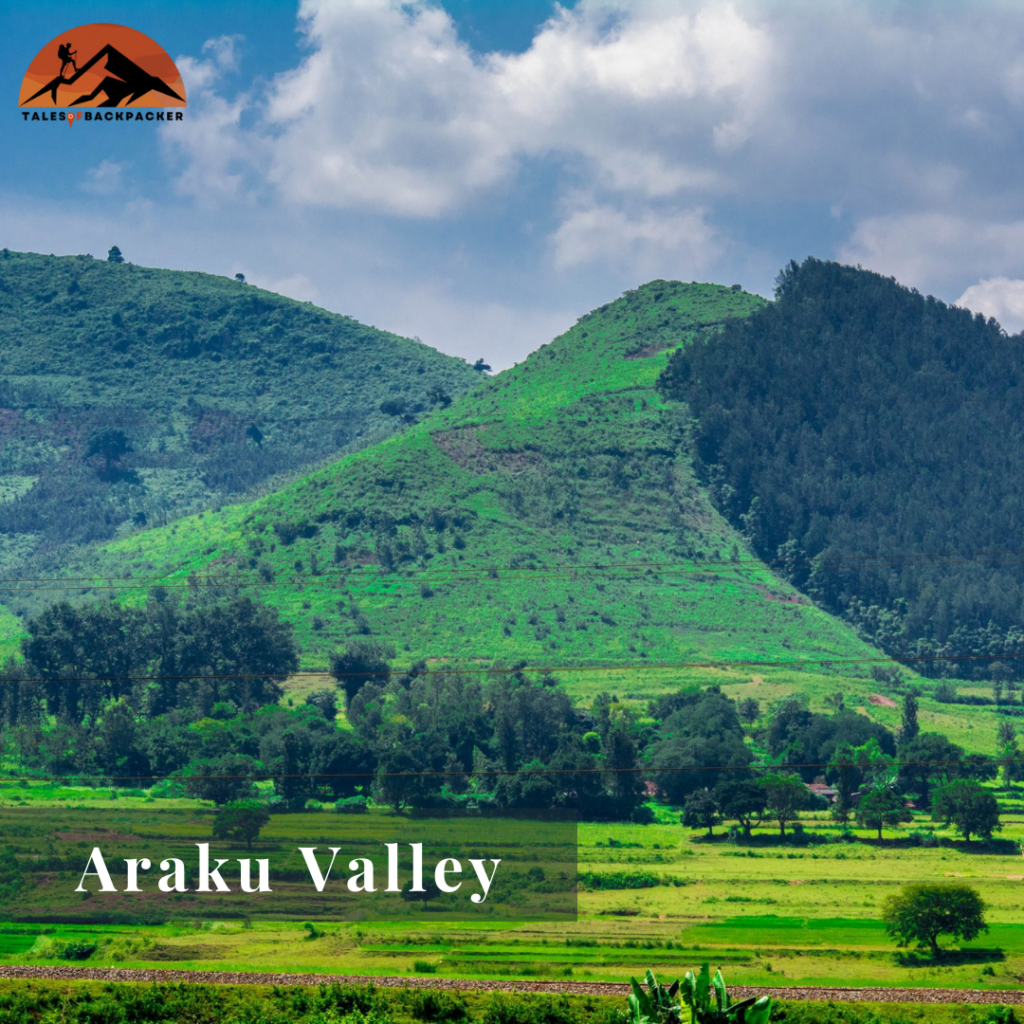 A number of tribes also call Araku Valley, which is situated in the moderate hills of the Eastern Ghats, home. A few tribal caves and the Museum of Tribal Arts are also located in this valley, both of which are fascinating on their own. This place is well known for its fine coffee, whose seductive aroma will make you yearn for a cup.
This location offers a range of adventure sports, including swimming and walking, in addition to being a stunning vista point. If a trip to the hills is calling to you but you feel like you've seen them all, you might want to hold off until you see this one.
HOW TO REACH ARAKU VALLEY
Araku Valley is only 115 kilometres from Vishakapatnam, therefore getting there is not at all difficult given its proximity to that city. It is reachable by all three types of transportation: air, road, and rail. If you choose to travel to Araku Valley by air, Vishakapatnam is the location of the closest airport. After arriving, one can take a bus or a taxi to get to their destination.
Vishakapatnam, one of the state's major cities, has excellent connectivity to other cities throughout the nation, including Mumbai, Kolkata, Hyderabad, Patna, Tirupati, and many more. If you choose to go by road, Vishakapatnam has a wide selection of frequent buses that can take you to Araku Valley.
The city has excellent transportation to the state's major cities, and from here, one may board a frequent bus to Araku Valley. Many tourists from across the country visit Araku Valley because of its nearby railway station. The hill town's railway station has excellent connections to Vishakapatnam, making it simple for travellers to get here in a highly upscale manner.
 PLACES TO VISIT
 Araku Valley, sometimes known as the "Food Bowl of South India," is Andhra Pradesh's Ooty. This magnificent hill town is located in the Eastern Ghats 115 kilometres from Vizag. You can observe the alluring land of the coffee plantation as you travel through the magnificent valleys of lush vegetation and animals. There are 19 separate tribal communities living in this lovely area, and visiting this location is the only way to learn about their cultures and way of life. Let's talk about some of Araku Valley's top tourist destinations.
 Borra Caves
 The magnificent Borra Caves are a creation of nature close to Araku. One of the biggest tourist attractions in Araku and Vizag is the Borra Caves, which are located about 34 kilometres from Araku.
These caves are said to be exceedingly old—one million years old. They are India's deepest limestone caves, standing at 1400 metres above sea level. William King George found this natural wonder in 1807. Local legend has it that a cowherd who had lost one of his cows discovered these caves. He discovered a linga inside the cave after realising the cow had fallen. So, outside the caverns, the people erected a modest Shiva shrine.
According to legend, the Gosthani river, which once flowed through the limestone region between the formations, is what caused the caverns to appear. You will view various stalactite and stalagmite formations here, including the Mother-Child, Human Brain, Tiger, Cow's Uterus, Crocodile, Shiv-Parvathi, and Rushi's Beard. Furthermore, you can eat at the nearby eateries outside the cave and learn about the religious importance of these structures.
Ananthagiri Hills
Anantgiri Hills, a small but lovely hill station, is located about 26 kilometres from Araku. It can be reached by train and is located halfway between Vizag and Araku Valley. It's not only one of the top attractions in Araku, but it's also among the best hill resorts in Andhra Pradesh.
Anantagiri, a well-liked weekend getaway destination at an altitude of 1168 m, is well-known for its multiple waterfalls and substantial coffee plantations. Anantgiri's most notable feature is a unique vantage position on the major road. It provides a stunning view of deep valleys on one side and a coffee plantation on the other. You'll fall in love with its breathtaking scenery and wonderful climate.
Ananthagiri is an utopia for you if you love coffee and enjoy the natural world. The settlement is surrounded by coffee plantations that emit the delicious aroma of coffee, and the breathtaking waterfalls that erupt from the nearby hillocks would astound anyone. Tyda Nature Park and the well-known Borra Caves are close by. You will only be able to enjoy the majestic sunrise, dense forest, sunset, and mountain ranges in Ananthagiri.
Matsyagundam
A stunning lake called Matsyagundam, or "the fish pool," is situated in the Matham town 35 kilometres away from Araku Valley. This area essentially consists of a rock wall that spans the Machkund River. The stream evaporates after falling into a hole. To your surprise, the stream returns at a lower elevation of around 100 yards. A puddle filled with several fish of all sizes is formed right where it reemerges under the barrier.
The municipal administration has now built steps so that anyone can access the pool directly. People remark that the fish are well tamed and allow you to stroke them on the back. You may feed the fish with your hands. The fish are revered by the local tribal population and other people. You can go to the Shiva temple, which is situated beside the Machkund River, if you're interested. Therefore, it's a great and interesting area to be that is well known to travellers.
Tadimada Waterfalls
Another well-known tourist destination in the Araku region is the Tadimada waterfall, which is only 3 km from Ananthagiri hamlet and around 30 miles from Araku. Anantagiri Waterfall is another name for this wonderful location. The Tadimada waterfall offers the finest view right after the monsoon season, much like the Araku waterfall does.
You now know when to go there for the best chance to see the water fall from a height of roughly 100 feet. The easiest way to get to this waterfall is via trekking or walking for 1-2 kilometres from Ananthagiri to the main road. The path to the falls is fairly winding and uneven. Because of this, only automobiles like SUVs can navigate the rough terrain.
Therefore, if you don't have an SUV, it is advised that you walk the 20 minutes to the falls from the main Anantagiri-Araku road. A word of caution: Because the rocks are constantly immersed in water, they are highly slippery, so use caution when stepping onto the rocks. Swimming is possible but not advised due to the slightly unclean water in this area.
Tatipudi Reservoir
The final location on our list of the top attractions in Araku is a little outside of Araku Valley. When tourists travel to Araku, they frequently stop at the Tintatipudi reservoir in Srungavarapukoda, popularly known as S Kota, which is located around 65 kilometres from the city. In order to supply drinking water to the city of Vizag, this reservoir was built on the Gosthani River in 1963. The surrounding landscape is breathtakingly lovely, with mountains covered in thick greenery on all sides.
Additionally, you have a chance to see some migratory birds here, especially in the months of April and May. Consequently, you can take some lovely photos of these exotic birds. Additionally, you can spend time boating on the water stream with your loved ones. On your way back from Araku to Vizag, you might stop by this location. To get here, it is advised that you take a private taxi from S Kota town. 
CONCLUSION
This is everything you need to know before planning a trip to this beautiful state if you are planning a trip this winter. There are also many places (talesofbackpacker.com) to go rejoice its friendly people, rich cuisine, and fascinating culture . Let me know through comments if the blog has helped you plan your trip in a better way or in case I missed any places that you know are a must visit.