Places To Visit In North India During Summer: North India has it all. North  is a place where diverse culture ,history coexist. North India offers a wide or diverse range of Travel locations to experience during summer vacation. However, despite the heat, there are many places in North India that are worth visiting during the summer months.
Best Places To Visit In North India During Summer (April, May, June)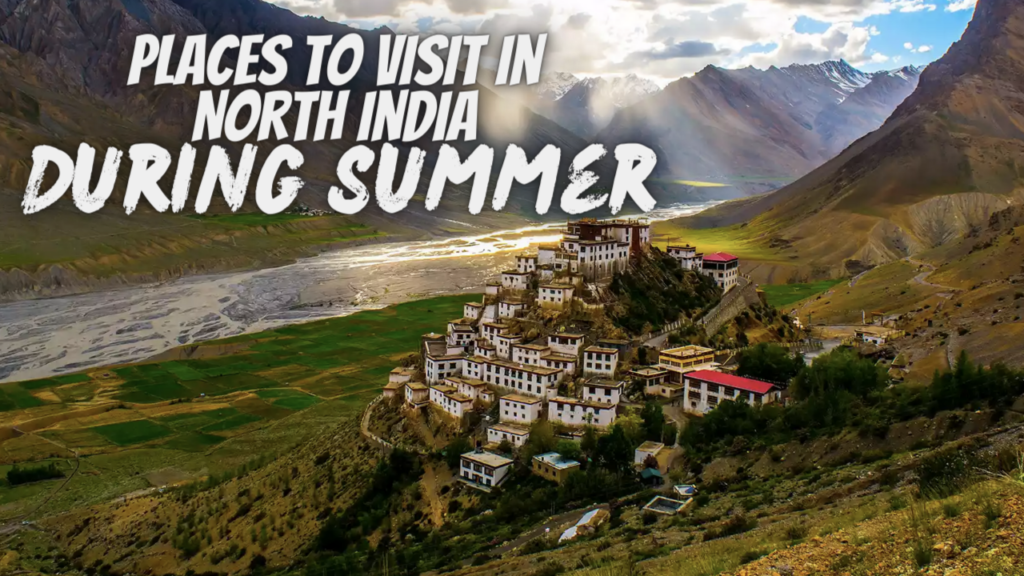 Starting from Majestic and Big Mountains of Kashmir to Green Valley of Himachal and Uttarakhand , literally North India has it all. During summers, North India comes alive with vibrant festivals, colourful markets, and exciting adventure sports. Here are some of the best places to visit in North India during summers.
Nubra valley
Nubra valley is also known as valley of flowers. this picturesque beautiful place is situated in Jammu and kashmir.it is india's amazing places for backpacker offering them beautiful and serene natural views, Buddhist monasteries and thrilling adventures.
How to visit nubra valley
Going to nubra valley is a thrilling experience in itself. The  valley is located in beautiful UT Jammu Kashmir at an altitude of 10,000 feet.in order to reach there is only one way that is through khardung la pass the world highest motorable road.
Note: before embarking on this beautiful journey its is important to accommodate yourself according to weather.
Must place to visit in Nubra valley
Here is some list of some of best place to visit in nubra valley.
Dikit Monastary :

this is one of oldest and the largest monastery in nubra valley. Here maitreye buddha statue is situated which remain major attraction of visitor.
Hunder Sand Dunes

– this is also one few places in nubra valley that every visitor must vist .these are rolloing sand dune along with them river is flowing surrounded by snow capped mountain. These stunning sand dunes offer a unique experience of camel rides and camping under the stars.

Yarab Tso Lake

– this lake is one of famous tourist spots in nubra valley. This serene lake surrounded by mountains offers a peaceful landscape and is perfect for camping and picnics.
Ladakh
Leh Ladakh is one of The most beautiful location in North India. It is situated in the state of Jammu Kashmir . This place is Quite famous for its jaw dropping natural Beauty such as Buddhist monasteries, Bike Riding to one of highest motorable roads in the world and various other adventure sports. During summers, Ladakh weather is pleasant, and the snow starts to melt, making it an ideal time for trekking, River rafting, and mountain biking. 
How to visit Ladakh
There are two ways to reach the beautiful place called ladakh.one is by road via Manali or Srinagar and the other way is by air with a flight to Bakula Rimpochee airport located just 4 km far from Leh city.
Must place to visit ladakh
Pangong lake :

this is one most popular tourist place of ladakh .it is landlocked beautiful situated between the snow capped mountains of ladakh.it is the same spot where

the Bollywood movie "3 Idiots" was shot.
Magnetic hill :

Nested on snow capped mountain at an altitude of 14000 m above the sea level.you just simple need to go through leh kargil highway.it is situated 30 km far from leh city.

Zanskar valley :

this beautiful valley is situated in kargil district which is 105 km away from center ladakh.it is a semi desert region which is surrounded by snowcapped mountains.
Srinagar
Srinagar is located in a beautiful place called Jammu Kashmir that offers a plethora of breath-taking places to visit . From beautiful lakes to Big snow-capped mountains and lush green valleys. Srinagar is known for its traditional handicrafts like papier-mache, copper and jewellery, and Beautiful shawls.
The city also offers wide range of Thrilling adventure sports such as trekking, skiing, and paragliding, allowing visitors to explore the natural beauty of the nearby mountains and valleys. Srinagar is truly a great place to visit for its scenic views, handicrafts, and thrilling adventure sports.
Place to visit in srinagar
DAL lake :

dal lake is one of the key tourist spots in sringar.this lake is nested between the beautiful peaks of pirpranjal mountain.the cheif attraction of this place is Houseboats and shikaras.
Indira gandhi memorial tulip garden :

it is one of largest tulip garden in asia.here the famous tulip festival is conducted which remain chief attraction spots for tourist.
Nishat bagh :

This garden is second largest mughal garden in kashmir.that's reason this remain the top attraction spots for visitors during summer.it has a splendid waterspring at the center of Bagh. 
Floating Vegetable market :

srinagar is not just famous for its beautiful picturesque located but also for its floating vegetable market where vegetable and fruits are sold.its is one of unique thing that worthseeing in srinagar.

Salim ali national park:

visiting national park is always great fun and full of adventure.this park is great habitat for various exotic endergered animals and bird.
Shimla
Shimla, the capital city of Himachal Pradesh, is a popular hill station that is visited by many tourists throughout the year. The city's colonial charm, picturesque surroundings, and pleasant weather make it a perfect destination to visit during summer. 
How to visit shimla
Endowed with the natural beauty Shimla is well connected to kalka and its takes around 6-7 hour to reach shimla from the palce kalka.
Must place to visit
Here is Some of the top attractions in Shimla 
Jakhu Temple

Mall Road

Christ Church

 Shimla State Museum.
Spiti Valley:
Located in Himachal Pradesh, Spiti Valley is a hidden gem that is known for its picturesque landscapes, beautiful monasteries, and adventurous treks. It is a perfect place for nature lovers and adventure enthusiasts. 
Must place to visit in spiti Valley, Himachal pradesh
Some of the must-visit places in Spiti Valley are 
Key Monastery

Kibber Village

Pin Valley National Park

stunning Chandratal Lake.
Dharamsala:
Dharamsala is a beautiful hill station that is home to the Dalai Lama and the Tibetan community in India. It is located in the Kangra Valley and is known for its scenic beauty, spiritual atmosphere, and trekking trails. 
Must places to visit 
Some of the must-visit places in Dharamsala a
Tsuglagkhang Complex

Namgyal Monastery

Bhagsunath Temple

 Triund Trek
Kullu – Manali – Kasol
 Kullu- Manali – Kasol is a popular tourist spot for backpackers and trekkers seeking stunning views of snow-covered peaks, the Beas River, and lush forests of deodar and pine trees.
It's a great escape from the stresses of city life. Shimla, with its pleasant climate, is a top draw for domestic tourists seeking a summer getaway. Dharamshala is another fantastic destination, boasting attractions such as Kareri Lake, Strawberry Hills, and vast tea gardens that are sure to captivate and rejuvenate visitors, making it as enchanting and rewarding as any other spot in Himachal.
How to visit Kullu Manali Kasol
As there is no airport in manali but there is one airport at kullu which is approximately 50 km far way from manali.however the manali is well connected through roadway 
Check out Complete Details of Kasol Here
Must places to visit in kullu manali
Rohtang pass :this place is located at height of of 3,978m above sea level.it is high altitude mountain pass located in pirapanjal himalayan range that connects the Kullu Valley with the Lahaul and Spiti Valley of Himachal Pradesh.
Manikaran sahib :

its great pilgrimage place to visit during any season of the year.it is quite famous for its hot spring and langar.
Solang valley :

this valley is famous for its adventurous sports and activities especially during the summer season various thrilling sport such as paragliding, parachuting are conducted for travellers.

Parvati valley:

its is one of most beautiful part of manali .its is one of captivating destivation to vist during summer season.

Sethan Valley – Igloo Village : Considered as the Hidden Gem of Manali, this place will give you literal chills. Check out full details here – Igloo Village in Manali
Agra
Haven't seen any of the Seven wonders of the world. So this summer North India is providing a great chance to visit agra. Agra is home to the marvellous Taj Mahal, one of the Seven Wonders of the World. The city's rich history, Beautiful Mughal-era monuments, and delicious cuisine make it a popular tourist destination during summer. 
Must palce to visit in agra
Itmad-ud-Daulah's Tomb, Taj Mahal, Agra Fort and Fatehpur Sikri. 
Mussoorie
Mussoorie is beautiful destination situated at foothills of Himalayas and surrounded by Beautiful green valleys. Mussoorie's known for providing tranquil landscape for travellors. Towering Snow capped shivalik mountain Ranges along with beautiful flora funa. Mussoorie is literally great place for Visitor during summers. Mussoorie is great place for adventure enthusiasts providing various activities such as trekking, camping, and paragliding .These adventures thing makes mussoorie all in all place to visit. 
Nainital
Located in Uttarakhand, Nainital is a beautiful hill station that is known for its serene lakes, lush green forests, and stunning views of the Himalayas. It is a perfect place for a relaxing summer vacation. 
Must place to visit
Some of the must-visit places in Nainital are
Naini Lake

Tiffin Top

Naina Peak

Eco Cave Gardens.
Rishikesh
Rishikesh is a holy town located in the beautiful state Uttarkhand.it is a widely popular  yoga destination in India. Rishikesh is a great place to visit for those who are seeking adventure, serenity, and spirituality.
The town is situated on the banks of the Ganges River and is surrounded by lush green forests and hills. A sense of peace and calmness imbibe you as you sit by the banks of the mighty Ganges or stroll amidst the breath-taking natural scenery. And on top of it religious ceremonies are carried out at the Ganga ghat  in the ancient temples will captivate you.
For the thrill-seekers, rafting experience on the raging Ganges is an absolute must. Rishikesh is undoubtedly one of the most sought-after summer destinations in North India, offering travellers across India a multitude of unique and diverse experiences. It's worth noting that the nearest airport is located in Dehradun, making Rishikesh easily accessible for those planning to spend their summer exploring this magical city. With adventure, serenity, spirituality, and more, Rishikesh is the perfect summer getaway for all.
Must visit places in Rishikesh
Triveni Ghat

Laxman Jhula

Neer Garh Waterfall

Rajaji National Park.
Conclusion
Undoubtedly North India heaven for those who want to visit stunning travel destinations . From the peaceful lakes and beautiful snow-capped mountains of Srinagar to the adventure and spirituality of Rishikesh, the North India offers you a diverse range of experiences to satisfy every traveller's taste. Whether you're a culture enthusiast or an adventure seeker, North India has something to offer.
So, pack your bags, prepare to be captivated by the north India 's natural beauty, immerse yourself in the rich history and culture, and make unforgettable memories that will last a lifetime. A trip to North India is sure to be a journey of a lifetime.