Hi folks, and welcome to another one of our escapades in Tales of backpacker. In this article we are going to take you through the Sethan valley the Igloo village. Considered as the hidden gem of Manali this place will give you literal chills.
Sethan Valley Igloo Village – Hidden Gem Near Manali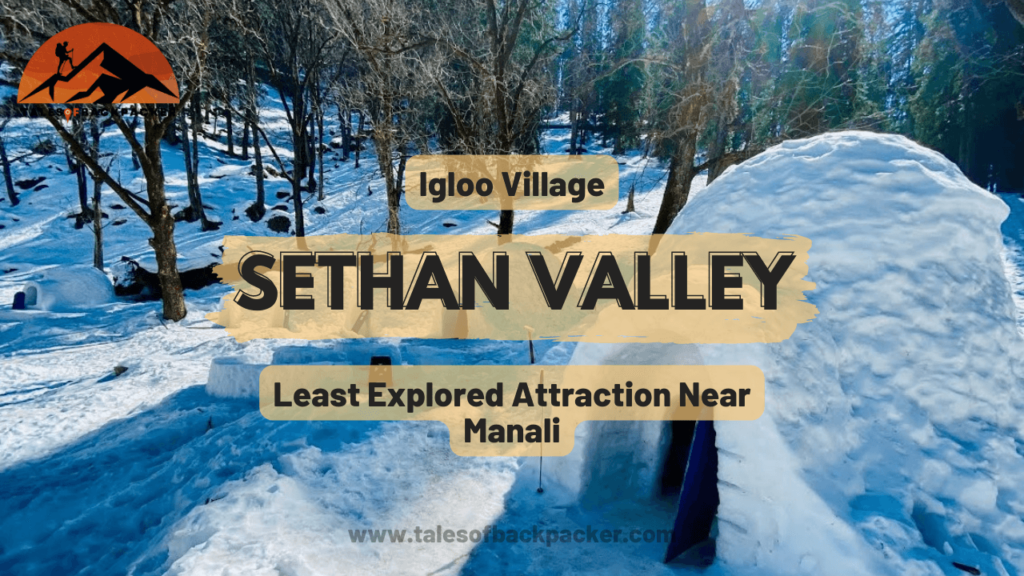 Sethan is a small village located about 14.1 kms  from Manali. This Buddhist village is a tiny hamlet that oversees the Dhauladhar range. Covered in snow during winters, Sethan Village is a great place to try out skiing and snowboarding. Among the many spots which are famous among tourists surrounding Manali, This one takes the cake. Being one of the least explored places in Manali makes it more attractive.
The ever so white Sethan village is a sight to behold and sits like a pearl among the valleys  but also does come with it's fair share of roadblocks as you can't just grab your vehicle drive up here, So Let's take a look at the key considerations while visiting this gem.
Sethan Valley – The Igloo Village
Have you ever wondered what it is like to stay in a Igloo in a small village covered with snow. When the moonlight makes it look like you are in heaven with the snow shining in the distance. Imagine sleeping in a Igloo as you see this scenery around you. well if it sounds good to you then guess how it will feel like once you are there and actually doing it.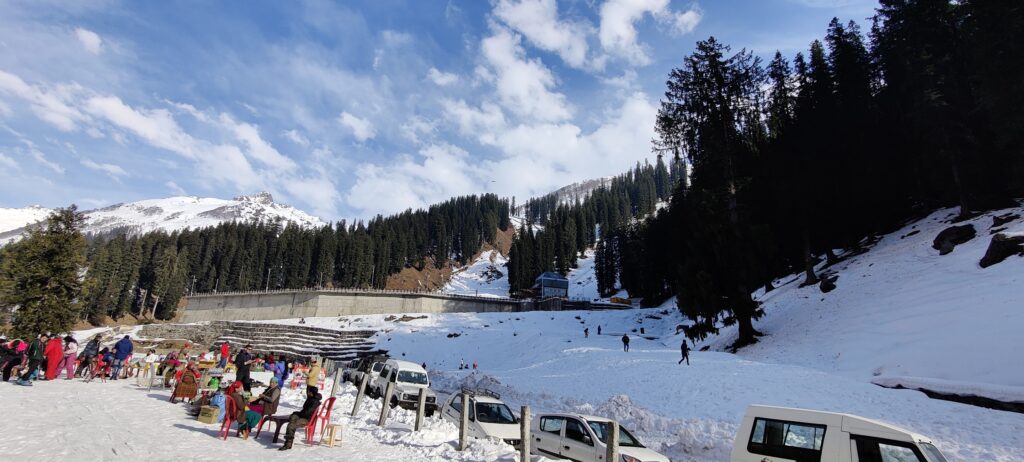 There are many Igloo stays present in this Igloo village and the locals can be seen teaching the handful of tourists skiing and snowboarding. This is your only chance to have a Igloo stay in Manali or near Manali.
Igloo stay
The Igloo's in themselves are a vibe and you can create some really wonderful memories her that will last for a long time. It is because of these Igloos that sethan is called an Igloo village.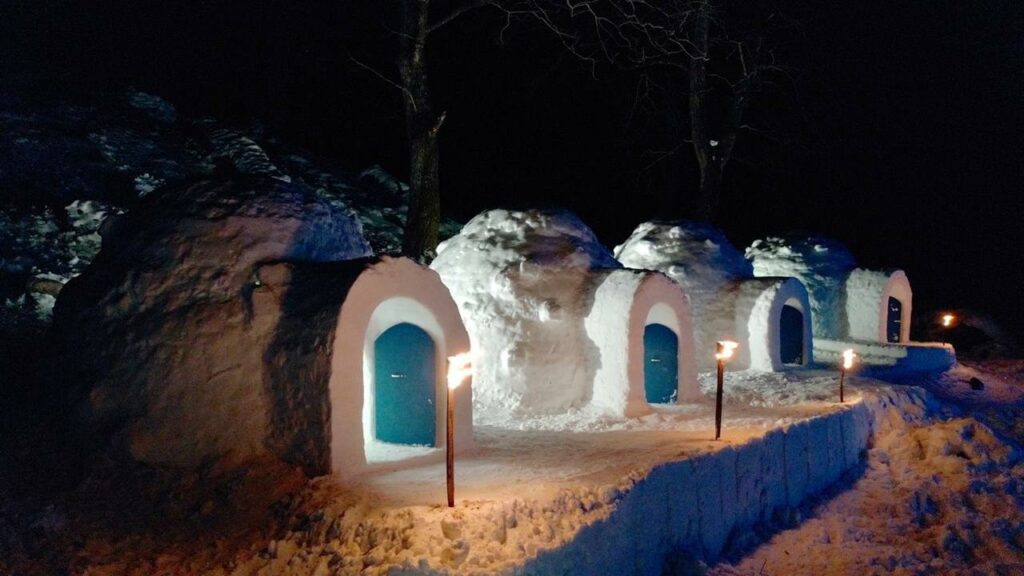 Igloo stays may not be a 5 star affair but its an experience that definitely shouldn't be missed. All igloo stays offer warm sleeping bags, good mattress etc., for a comfortable experience.
How to Reach Sethan Village :
By Road
Distance: About 12 to 15 km's from Manali. Go uphill on the right towards Hamta Valley. Continue on this road for 12 km to reach Sethan Village Manali. This is one way of how to reach Sethan village.
Permit: One needs a permit to reach the valley which is available at Hydro Project check post in Prini for INR 100.
By Bus 
Options: HRTC bus
Distance: 45-minute drive away from Manali.
Cost of hired Car or Taxi: From Manali to Sethan, NR 1200 or INR 1500 per person depending on the season. This is your another how to reach Sethan village answer.
Cost of Government bus journey: INR 150 per head, Private Volvos – INR 1100 per head
Activities to DO at Sethan Valley  
Apart from it's scenic view, Sethan village is famous for it's snow sports and activities. Being covered with heavy snow the village provides space for some really exciting snow sports. So let's take a look at the activities on play here.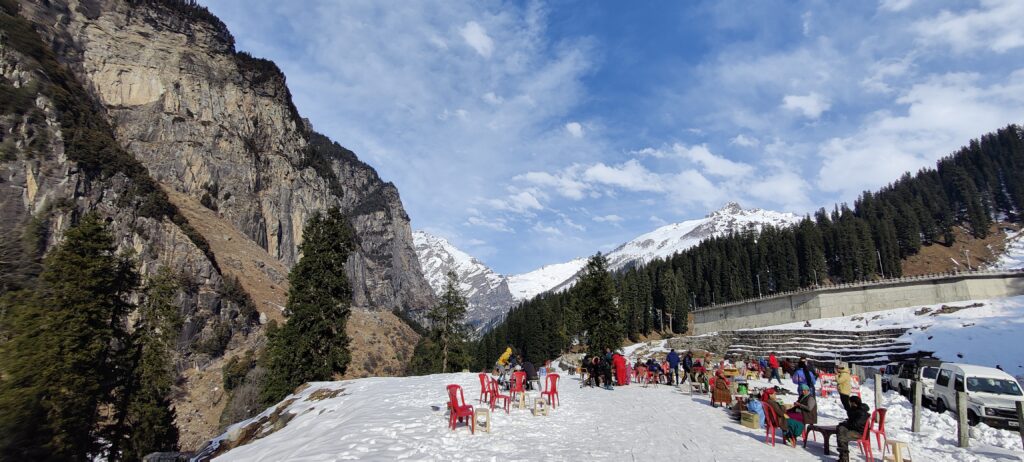 Skiing and Snowboarding
When one thinks about skiing in India, the first name that comes to mind is Auli and its perfect slopes. You can get the same thing in Sethan but with way lesser crowd. Here, you can learn skiing and snowboarding as there are many people to teach you that here. Lesser crowd means you don't have to wait for long for your turn. So if you are looking to get your skiing lessons without the hurry and hastiness of places like Auli, Sethan is your destination.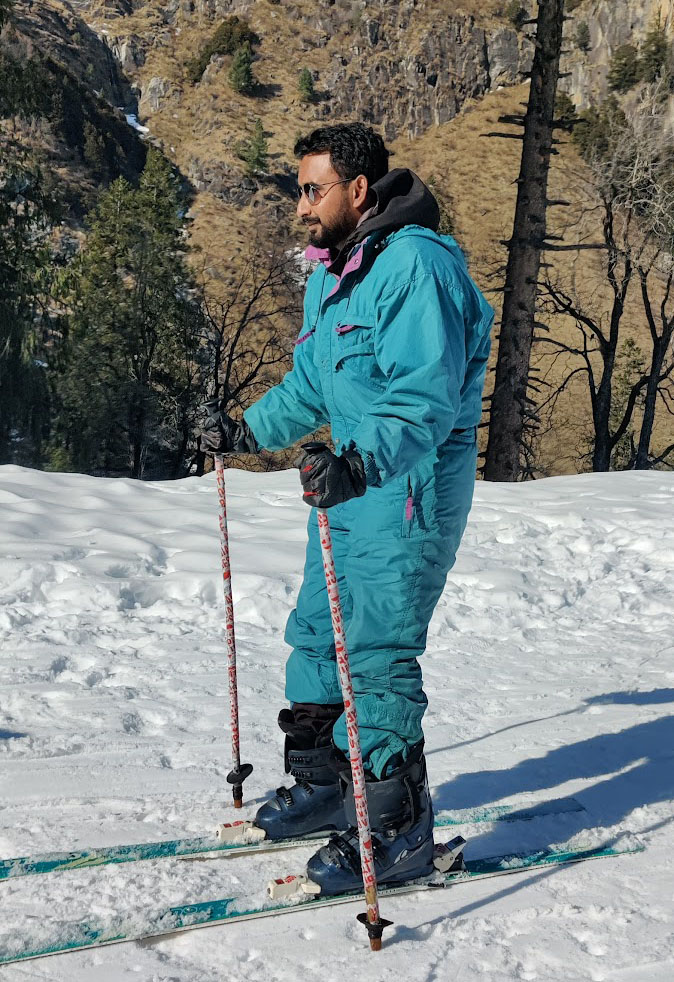 Bouldering
Bouldering is another activity which is very popular in sethan, particularly June to October, the boulders in and around Sethan are really a task . With different sized boulders, Sethan provides ample space for the beginners and the experts to learn and and to grow their skillset.
Camping
Sethan is a perfect place for camping. the views of the mountain really sets up the setting for this activity. You can will have a gala time here after being done with the other activities and spending the night with your buddies in the camp. The surroundings really enhance this experience and it is something which will stay with you.
Hikes and treks
Sethan is a place worth hiking. Hiking or trekking a places one of the better ways to explore it. Sethan offers numerous day treks that are ideal during summers and right before winter season (June to November). One of the more popular and a multiple day trek is the Hampta Pass Trek. Hampta Pass Trek has Sethan as its base camp. But hiking this place during the winters is different experience altogether as the place is laden with snow and makes up for a incredible view.
Best time to visit Sethan
Sethan is accessible throughout the year. It depends on the individual as to what they might be looking for.  what do you prefer more or what you are looking for when you visit Sethan. January to May is the best time time for snow related  activities like, skiing, snowboarding or the snow treks (like Hampta Pass during winters).
June to November is the best time if you are interested in exploring the forests and trek the nearby hills and do other one-day treks. Bouldering is another popular activity during these months.
In December the slopes will not be ready for skiing, snowboarding and the like, but you will surely feel the chills and the picturesque views will make your trip worth it. The snow fall would be starting around this time but you will have to wait further till January to experience the snow related adventure sports.
Instructions
While this Beautiful Igloo village is a fun ride for many, It can go the other way if you are not well equipped. So you should be vary of the clothes and shoes that you are carrying here. The place can get really cold so you need to pack as many warm clothes as you can to safeguard yourself from the cold.
Also since the place is laden with snow in winters you need to get the  shoes which work in these conditions and are not slippery.
keep the snow jackets with you as well as it will be easy to move in those instead of wearing the many layers of wool.
Conclusion
So this concludes our travel guide for Sethan village. Sethan being one of the least explored places in Manali is a good place to find some solace away from your hectic life.
Since the winters are here you should start packing your bags for this place and grab the opportunity of ending your year on high (literally). With that we bid adieu until next time. keep clicking for more such articles, ciao.