Chikmagalur Tourist Places : The lovely district of Chikmagalur is located in western Karnataka. Its environment and coffee plantations are the main draws to this location. The Bababudan Giri ranges are another well-known feature in Chikmagalur. Despite being one of the less travelled places, Chikmagalur hill station has drawn a lot of attention from travellers worldwide because of its beautiful scenery and lush surroundings. Chikmagalur's literal translation is "Land of the Younger Daughter."
If you are a beach lover then chikmagalur beaches are something you should not miss out. There are many reasons why you should this beautiful hill station. In this blog I will share the information about chikmagalur hill station and the nearby attractions that you can plan to visit. We will see in detail about the places you need to visit during the stay, the activities that you can plan in the trip and also different tips to make your trip more exciting. Let us dive into the topic without any delay.
About Chikmagalur Hill Station:
The origin of the term Chikmagalur hill station is steeped in history. According to mythology, this district's territory was formerly given as a dowry to the younger daughter of a mythical chief named Rukmangada who governed Sakrepatna, and so it received that name.
Chikmagalur has lowlands as well as rocky terrain and breathtaking mountain ranges. This is a place you must visit because it is surrounded by stunning vistas and unspoiled surroundings. Locals also hold the opinion that Chikmagalur was the birthplace of coffee. Those who live here would tell you that Babu Budan, a Muslim saint, brought coffee seedlings from Yemen and planted them here in 1670.
From that point forward, the plantations continued to expand, with a significant contribution from the British. The Central Coffee Research Institution is also located here and in addition to all of this, this area's waterfalls have drawn tourists. This area is home to numerous waterfalls, including the well-known Hebbe and Shanti waterfalls. Many eminent philosophers, poets, politicians, and independence fighters were born in Chikmagalur. Chikmagalur hill station was once represented in the Indian Parliament by Indira Gandhi.
How to Reach Chikmagalur:
In case you are staying in Bangalore, Chikmagalur hill station  is a good place to visit during the weekends as it is nearby, even if you are travelling form other places the most preferable way to travel to this place would be by train. The nearest station to Chikmagalur is Kadur. Train is economical as well as convenient means if you are planning to visit Chikmagalur. 
Best Time to Visit Chikmagalur :
Chikmagalur is famous for fog and the cool climate so usually people prefer to visit this place mostly during the winter season, so November and December is the best time to visit the Chikmagalur hill station. You can visit this place even during the other seasons as it gives a good scenic view full of greenery but in have to do proper homework on what the best chikmagalur tourist places before packing your bags.
Chikmagalur Tourist Places – Places to Visit in Chikmagalur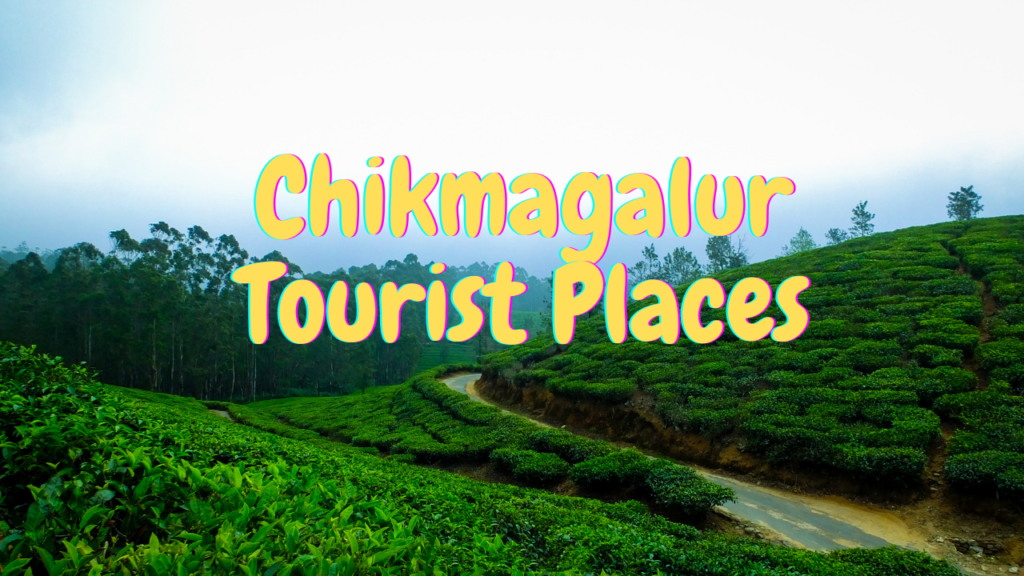 Image Credits – Hill station photo created by KumarPrem – www.freepik.com
There are many amazing places you can visit in chikmagalur. It is greenery everywhere and in case you visit during the right time, you can experience the scenic beauty that chikmagalur offers to its visitors. Here are few places you would not want to miss when you visit Chikmagalur 
Baba Budangiri Mountain

Ratnagiri Bore

Kadambi Falls

Manikyadhara Falls

Mullayangiri
 Baba Budangiri Mountain – Chikmagalur Top Tourist Attraction
In this charming area, the Baba Budangiri mountain range is another fantastic sight. You must travel to the Baba Budangiri range, sometimes referred to as the Chandra Drona Parvatha, to escape the madness and bustle of the city and get some much-needed tranquility and relaxation. The mausoleum for the Sufi saint Hazrat Dada Hayat Khalandar that was constructed on this gorgeous mountain is well recognised.
Check out : Places to visit in Bangalore
The intriguing aspect of this shrine is that it is intended for both Muslims and Hindus.One of the main draws is that three distinct caves where three siddhas were interred are located here. In these caves, people hold a festival each year. Therefore, you must undoubtedly visit these magnificent caverns anytime you intend to tour the Baba Budangiri range. The beauty and intrigue of these ranges and caverns outweigh their historical significance. It is understandable why so many people frequent this location.
Rathnagiri Bore: 
Rathnagiri Bore is another name for Mahatma Gandhi Park. It is one among top Chikmagalur tourist places that this lovely town boasts of and is situated on the northern side of Chikmagalur. This natural park was formerly a forest that was later transformed. It and the Mullayanagiri site shared the forest. This park has undergone a great deal of study and preparation to ensure that it is well created and designed. You'll see that the efforts have paid off when you visit the Mahatma Gandhi Park.
The park features expansive meadows and lovely pavements. Two separate entry points have been used to split this park. The first entrance is just for pedestrians, and the second is for automobiles to enter the park. The park is visually energising to its attractive plants and brilliant, colourful blooms. Additionally, there is a bridge for kids to use and a lotus pond. Along with the Nehru Rose Garden, the Gandhi Park also boasts a spectacular amphitheatre where 250 different kinds of rose bushes are on display.
This park will wow you if you appreciate the wonders of nature, such as the lovely flowers. Throughout the year, the amphitheatre also presents a number of artistic and musical cultural events. If you can participate in these events, your trip to this location will be more exciting.
Kadambi Falls:
 The stunning Kadambi falls are another site that you ought to visit. This waterfall has succeeded in capturing the neighborhood's authentic vibe. This is where you should be if you want to spend some silent and tranquil time with nature. These factors have caused the Kadambi falls to draw visitors from all over, and we advise you to check them out. You will be given stunning sights as well as an unforgettable impression.Due to the Kadambi Falls' location within the Kudremukh National Park, you can see multiple attractions in a single day.
 Manikyadhara Falls – Places to Visit in Chikmagalur
The Manikyadhara Falls are yet another fantastic attraction and one of the most popular. The perfect time to go to this waterfall is with family and friends. There are exhilarating hiking trails near the Manikyadhara waterfalls. You must see the views of the water cascading, which are in Shola Forest.
The best thing about this waterfall is that it is always possible to see the falls. You will undoubtedly have a great time here because of the abundance of greenery and the pristine surroundings. It will undoubtedly have an impact that lasts. The Manikyadhara Waterfalls are the subject of an intriguing narrative, according to which Hazrat Dada Hayath Khalandar, a Sufi saint, allegedly travelled through this area. He was travelling with four disciples, and they were looking for water. When they prayed to God for help, they were unable to locate water for a considerable amount of time. Thankfully, a waterfall started to fall after their prayers were heard.
And for this reason, so many people revere the waterfall. People who come here, particularly Christians, frequently pray to this saint. According to the locals, having a swim in these waters is also said to have relaxing effects because it is known to have healing properties. The fact that the water at this waterfall is chilly year-round, even in the summer, is another incredibly intriguing feature. Visit the waterfall in the summer if you enjoy cooling off in cold water on a hot day. It will make you feel refreshed.
Mullayangiri – Top Among Chikmagalur Tourist Places 
One of Chikmagalur's top tourist destinations is Mullayanagiri. It rises to a height of 2000 metres and is Karnataka's tallest summit. This location is a favourite of many hikers because it includes some incredibly difficult and beautiful hiking trails. Those who don't particularly enjoy adventure activities may want to think about going on nature hikes. Additionally, there is a stunning temple to Shiva at the crest of the mountain.
Out of pure devotion and trust, many followers make the ascent to this temple. It is located approximately 12 km from Chikmagalur and trust when we say it is going to be one the best experience when you visit this beautiful hill station. A pleasant impression is given to you by the beautiful hills and the fresh breeze. There are many places in this area that provide breath-taking views.
The spring is the greatest season for hiking on this peak because the summers are too hot. Since this area experiences moderate to heavy rains during the monsoon, trekking during this time is also not advised because the risk factor rises. You definitely don't want to hike while jeopardising your personal safety because the heavy rain is dangerous. The weather is good in the spring, which makes for one of the best trekking experiences.
Things to Do in Chikmagalur :
There are many exciting things you can do in Chikmagalur. Some of them include
River Rafting

Jet Ski

Night Camping

Jeep Safari

Mountain Trekking
River Rafting:
One of the thrilling things to do in Chikmagalur is river rafting. The Bhadra River offers rafting trips over distances of 8, 16, 22, and 40 kilometres. It is perfect for rafting on the Bhadra River while taking in nature because it has a less wild section of the river. There is always safety gear and guidance accessible to you. Try to avoid missing out on this exciting opportunity because it will make your subsequent visit to this Western Ghats hill station even more charming.
Jet Ski:
If you consider yourself to be a true daredevil, you must experience this exhilarating adventure in the Yagachi Dam. Your jet skiing is made more beautiful by the lovely scenery and the mountains in the riverbank background. While visiting Chikmagalur, indulge in Belur's water sports with your loved ones and enjoy a view of the beautiful natural surroundings. Prepare to have fun in the water during this hour-long exercise and beat the heat while enjoying Chikmagalur's pleasant climate. 
Night Camping:
Bonfires and camping go together. Imagine yourself camping in the middle of the wilderness, with a roaring bonfire and some calming music to brighten the night. It sounds fantastic, doesn't it? That might be the next-best thing you can do when visiting Chikmagalur.You will never cease to be amazed by Chikmagalur, whether you choose to camp beside the Hemavathi River, the Sakleshpur River, or the slopes of Kyatamakki Hill. 
Jeep Safari:
One of the enjoyable things to do in Chikmagalur is take a Jeep Safari through the tropical forests and coffee fields. Take a Jeep safari journey to discover the splendour of the Bhadra Wildlife Sanctuary, Kudremukh, Kyatanamakki, Hebbe waterfalls, and other picturesque locations in Chikmagalur. When you are in the Chikmagalur district, you can experience nature's warmth in its purest form. You may easily hire one of these rides and explore most of the tourist attractions in Chikmagalur because they are readily available everywhere.
Mountain Trekking 
The best-known adventures of Chikmagalur are its hiking paths and coffee plantations. It can therefore be frustrating to hear from anyone who visits Chikmagalur and does not take to the hiking paths, especially from adventure seekers. With its thrilling trekking trails, Baba Budangiri's mountain range will astound you. The tallest peak in Chikmagalur, Mullayanagiri, is home to some breathtaking hiking trails amid thick vegetation and flowing waterfalls.
Along with these exhilarating experiences, nature offers a tranquil setting with gushing waterfalls. In Chikmagalur's temples, the Hoysala Kingdom's elaborate architecture is clearly visible. You can plan your journey to Chikmagalur tourist places and take in a once-in-a-lifetime encounter with nature.
Conclusion: 
This is all you need to know before packing for a trip to Chikmagalur hill station. As the place is cold, you have to make sure to carry your clothing accordingly. There are many restaurants nearby so stay wouldn't be a problem. I have covered almost all the places to visit in chikmagalur, there are few other places in and around this hill station which you can explore throughout the trip. I hope this blog was helpful for you to identify the spectacular Chikmagalur tourist places. In case you think I missed any places or if you want to share your experience, please let me know through the comment session.