Top Places to visit in Uttarakhand during Winter: When most of India shivers through the Winter, Uttarakhand welcomes it with open arms, as nature in this Himalayan state goes into full bloom during the cold season.
The stunning snow-clad mountains of Nanda Devi, Trishul and Bandarpoonch, the picturesque landscape of Binsar Wildlife Sanctuary, and the waterfalls of Goriganga, Kali Ganga and Bhyundar Valley are some of the most famous sights that Uttarakhand has to offer to visitors during the winter months.
Explore these and other top 10 places to visit in Uttarakhand during Winter in this article by Tales of Backpacker.
Places To Visit In Uttarakhand During Winter (November to February)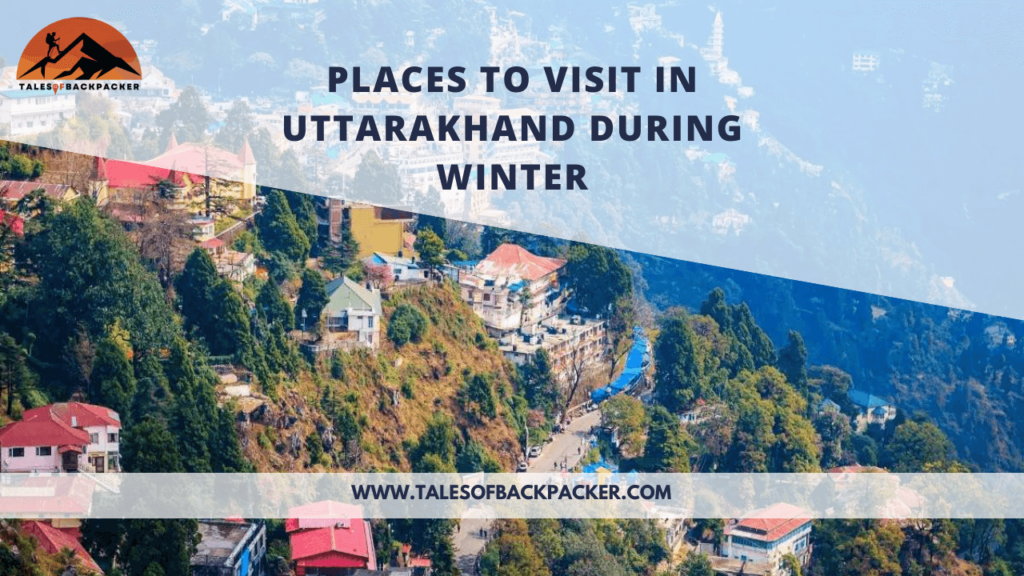 Mussoorie
Mussoorie is a hill station and a municipal corporation in the Dehradun District of Uttarakhand, India. It is located approximately 100 kilometres northeast of Delhi, on Mussoorie's eastern edge. Its temperate climate (about 2,200 feet above sea level) makes it famous for walks and picnics among day-trippers from North India. Known as The Queen of Hills, it offers views of either the Himalayas or the Doon Valley. Its location gives striking views of sunrise, sunset and moonrise.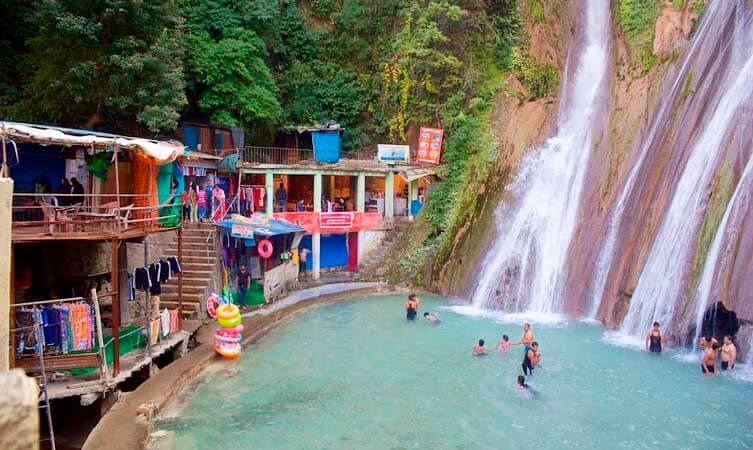 Mussoorie provides the setting for several Indian films such as Lamhe, Dilwale Dulhaniya Le Jayenge and Hum Dil De Chuke Sanam. Other tourist attractions are Camel's Back Road, St Mary's Church, Kempty Falls & Nehru Peak. Mussoorie is home to many boarding schools accommodating students from all over India.
Nainital
Nainital is a hill station and cantonment town in the Kumaon region of Uttarakhand, India. It lies at the foot of the Naina mountain and is surrounded by three lakes – Naini lake, Bhujia Tal and Bhimtal. Nainital was founded by James Tod in 1825, who discovered this place while on a hunting trip.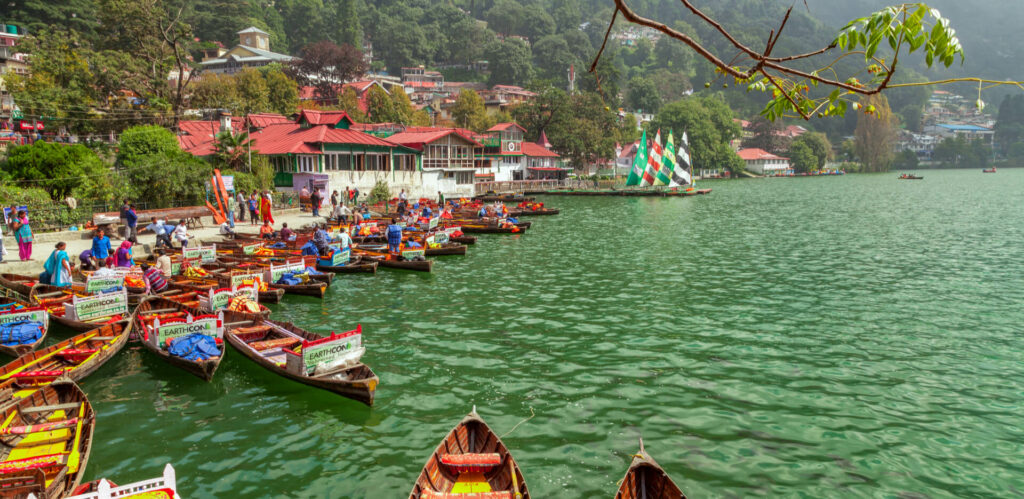 The Garhwalis call it Nayina, which means snow, hence the name Snowy Place or Nainital. The Maharaja of Tehri Garhwal started developing the area as an alternative summer resort because his palace had been damaged due to an earthquake that occurred in 1834. 
Today, people come to Nainital for fishing and horse riding in Winter. Many tourists come here for picnics, boating, bird watching etc. Tourists can also trek here if they have time left over from sightseeing.
Almora
Almora is a small hill town famous for its beautiful views. You can see the snow-capped peaks of Nanda Devi and Trishul. Almora has a fort built by King Kalyan Chand Katoch and houses a museum, art gallery, library and an ashram.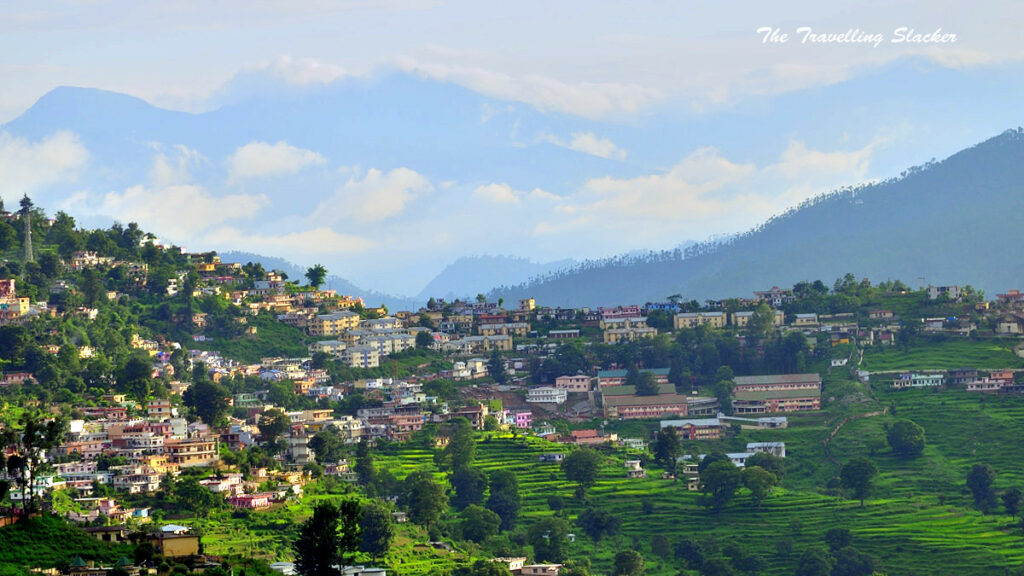 The town is surrounded by apple orchards and is home to many Hindu temples, including the Kaleshwar Temple, which overlooks the town. One of the most important festivals celebrated in Almora is Kali Chaudas. The festival celebrates with much gaiety the victory of goddess Durga over evil forces led by Mahisasura (demon). 
It falls on the 13th day of the dark half of the month of Kartik, according to the Vikrami Samvat calendar. Villagers perform puja rituals and make offerings to gods. It is also said that if one performs kali chaudas pooja, they will be blessed with good fortune, wealth and prosperity.
Ranikhet
This hill station is one of the most popular destinations in the state. Ranikhet is 2,415 metres above sea level and has a population of about 18,000. The town offers pleasant weather throughout the year, but it can get pretty chilly when it snows.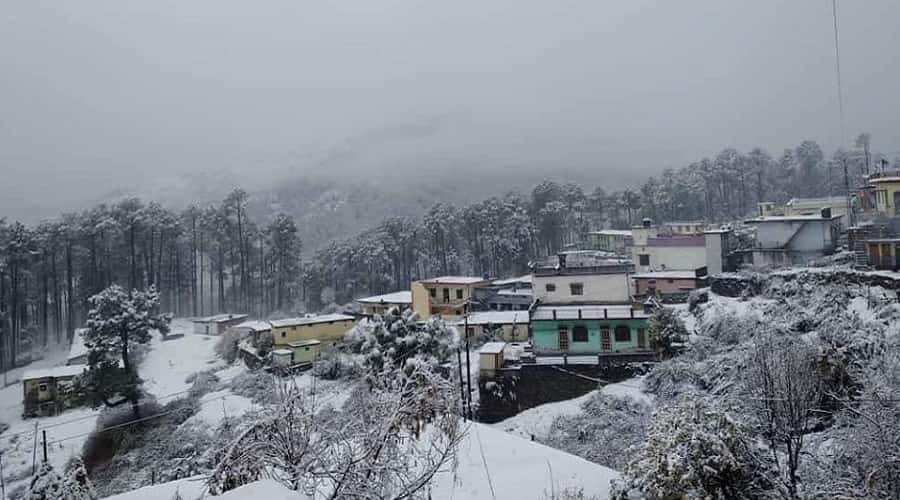 To get to this place from Delhi, you must take the route via Bareilly or Meerut. If you are heading for Mussoorie after visiting Ranikhet, make sure you plan well, as Mussoorie gets very crowded during Winter. 
There are many treks in the region which can be done by those who like walking. One such trek is to Mount Kailash and Mansarovar Lake, which starts from Ukhimath and takes five days to complete, while another is called Pindari Glacier Trek, which takes three days to complete.
Kausani
Kausani is a small village in the Almora district of Uttarakhand. It is located at an altitude of 2,095 metres. It has a good climate and pleasant weather conditions throughout the year. Kausani is known for its scenic views and greenery. The hill station also offers adventure activities like skiing and trekking.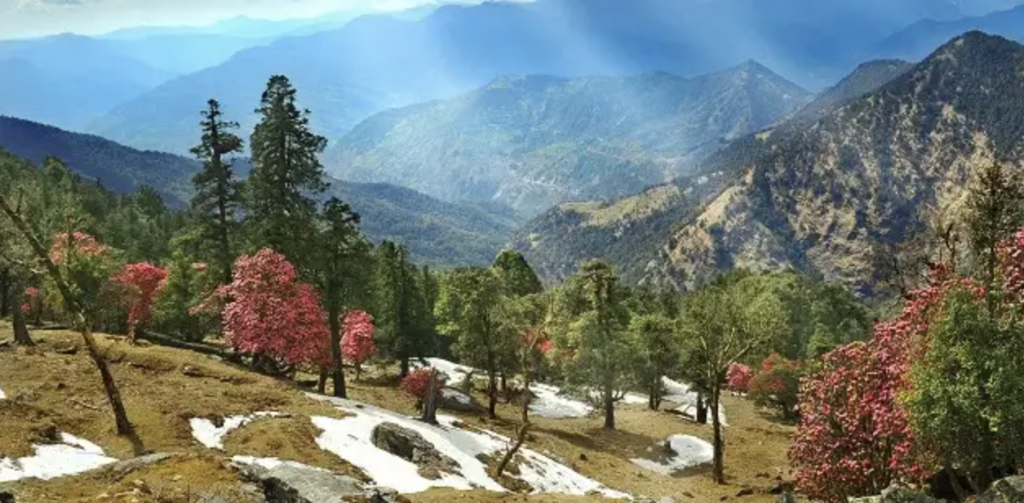 It's also a perfect destination for those who want to enjoy religious pilgrimages, such as Ganga Aarti on the banks of River Bhagirathi. There are several temples dedicated to different Hindu gods and goddesses. Some well-known ones are Ram Mandir, Shiv Temple, Vishnu Temple, Devi Mandir and many others. 
In addition, tourists can also find shops selling traditional products made by local artisans, such as hand-woven carpets and clothes made from wool and homespun fabrics. 
Tourists can reach this place either by road or by rail. One should take a bus from Dehradun or Haridwar to Almora by road. From there, one should hire a taxi or other mode of transport which will take them to Kausani. Alternatively, one can travel by rail and get down at Kathgodam Railway Station, followed by hiring a transport service that takes them to Kausani.
Bhimtal
Bhimtal is a picturesque hill station situated at the Himalayas' foothills in the Kumaon region. One can find the majestic Nanda Devi and Trishul peaks from here. You can also enjoy some adventurous activities like skiing and snowboarding or try your hand at fishing.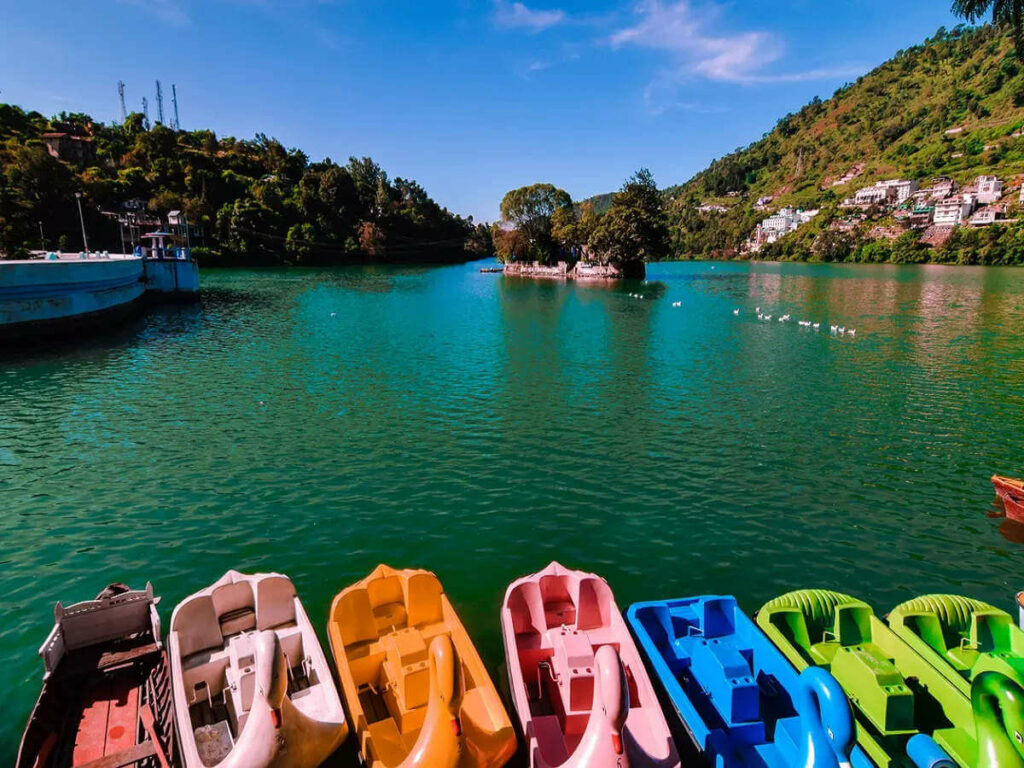 On full moon days, the place is lit with a stunning array of lamps that line all its pathways and add to its beauty. However, it's important to note that this spot has no electricity because they're powered by solar power. Furthermore, there are only three guesthouses here, so you'll need to book early. 
Apart from these things though, the place does live up to its name as it's one of the most beautiful places you'll ever see! It's well-known for its charming landscape consisting of emerald forests and lakes surrounded by mountains. It will be tough for anyone not to fall in love with this place when they visit it for the first time.
Mukteshwar
Mukteshwar is a town and a municipality in the Nainital district of Uttarakhand, India. It is situated at 2,000 metres (6,600 feet) above sea level. Mukteshwar is about 120 km from Nainital and 14 km from Kaladhungi.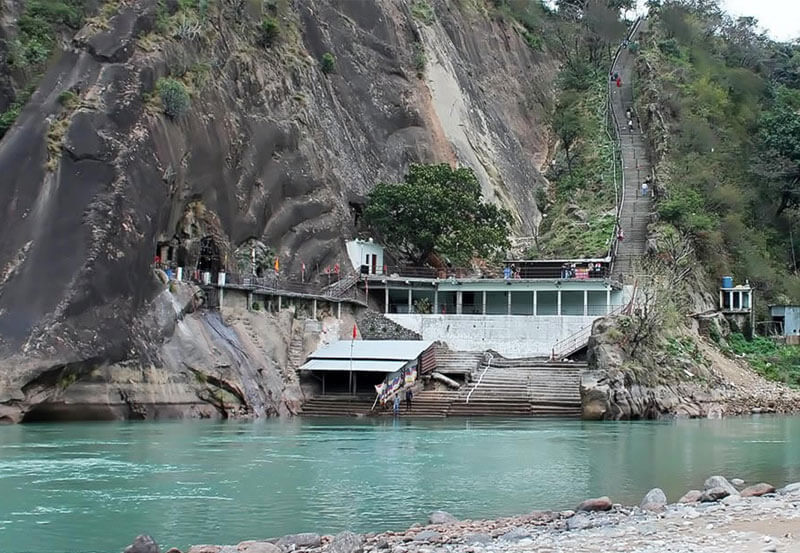 The nearest airport is Pantnagar Airport, which is located 45 km away from the city. A tourist can go trekking or mountaineering here. Some religious sites like temples dedicated to Lord Shiva, Durga Devi and Kali Devi are worth visiting here. 
Some attractions near Mukteshwar are Chandratal Lake, Lakshman Jhula and Ram Jhula which can be visited. An artificial lake called Chandratal Lake lies on the eastern side of the town. On its banks, there is a small garden named 'Moonlight Garden'. 
Prahlad Singh Seth built Ram Jhula, or Rama's Bridge, to connect Uttarkashi with Tehra valley across the Ganga River near Tarika village in Garhwal district. The bridge is made up of stones only. Located nearby is Lakshman Jhula, which connects Tehra valley with Gopeshwar town.
Chopta
Chopta is a hill station that is located in the Garhwal region of the state of Uttarakhand, India. The town is set at an elevation of 2,300 metres and attracts many tourists. It has several attractions, such as the Chopta peak, natural waterfalls, ancient temples and shrines. The area also has a rich wildlife population with many birds like the golden Eagle and snow pigeons.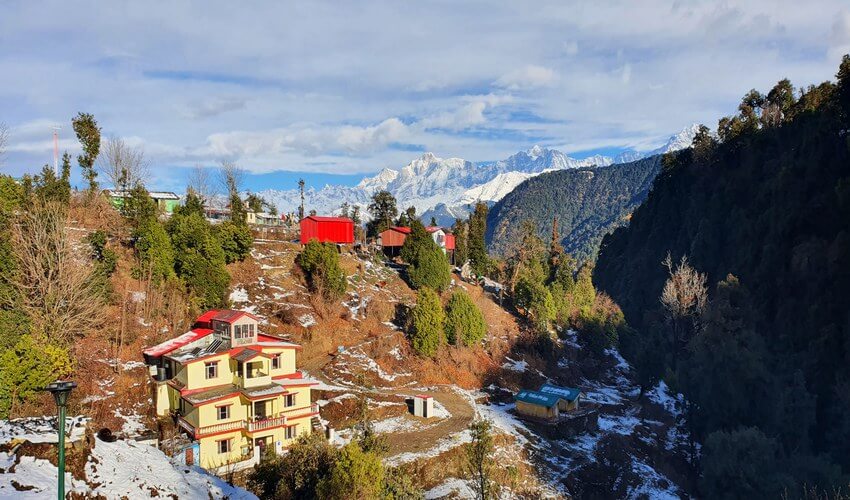 There are also many rare species of plants that only grow in this part. You should head to this place for some serenity if you want peace. You can find lush green meadows and towering hills all around. 
For adventure seekers, there are also options such as trekking, mountain biking or horseback riding. The trek to the Chopta peak offers panoramic views of surrounding valleys from various vantage points on the way up and is perfect for hikers who want a challenging climb.
Tungnath
Tungnath is one of the most important Hindu shrines in Northern India. It is located at a height of 3,680 m (12,072 ft) from sea level. There are many legends associated with the temple. One such legend says that when Shiva and Parvati were travelling through this region, they came upon a demon called Tundra living here who terrorised all the people around. So Lord Shiva beheaded him and handed his head to his consort. 
The Goddess Parvati felt sorry for the demon's death and asked her husband to put life back into it. Lord Shiva agreed but only on one condition – that he would become her devotee forever after that. And since then, Tundras have been worshipping the goddess Parvati as their kuldevi (family deity).
Auli
Auli is a small town located at an altitude of 3,575 metres. It is situated near the Pindari Glacier and offers incredible views of the landscape and mountains. The best time to go skiing here is from December to March. Skiing here can be done on either artificial snow or natural snow. Artificial snow is the best option for beginners, as it's much safer. 
Experienced skiers should go for natural snow. Places like Dhangarhi are good for experienced skiers. Besides skiing, you can also indulge in activities like ice skating, tobogganing, hiking and more. Do not forget to stop by Tiger Hill Viewpoint, which offers a spectacular Himalayas view.
Conclusion
This list of the top ten places to visit in Uttarakhand during Winter. All these locations are unique and beautiful, and you won't regret spending time exploring these spots during the cold weather season. There is so much beauty to see! So pack your bags and get ready for an adventure-filled trip this Winter. 
Bring along friends and family, too, because there's no better way to spend time with loved ones than on an outdoor adventure. Get out there and explore all that nature has to offer. Make sure you bundle up, though, it might be cold outside, but it'll be worth it. You're guaranteed to have an unforgettable experience when visiting Uttarakhand during wintertime!