Hi everyone and welcome to another edition of the tales of backpacker. In this blog we are going to take you through the ancient village of Hampi which is one of India's best kept secrets, So join us on another one of our expeditions.
Hampi Tourist Places- Travel Guide, 3 Day Itinerary & Budget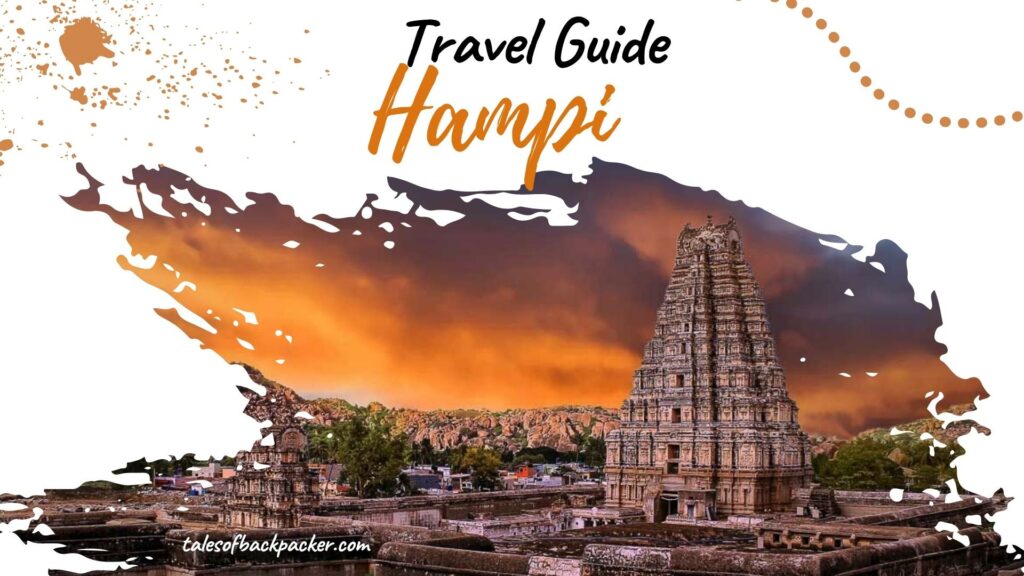 One of the most fascinating chapters of Indian history is the Vijayanagar empire. The the empire was one of the pillars of the southern India, The empire and it's rulers stood against many conquests and ruled for many centuries. Hampi is a testament to the very same Vijayanagar empire.
This ancient village still has the ruins of the old temple's dating back to the 7th century which tell the tales of that period and take you back in that period. We will also take you through some of the best hampi tourist places. We will also tell you about the Hampi hotels or the resorts that you might consider for staying in Hampi.
Where is Hampi Located ?
Hampi is situated in the modern town of Hampi in the Vijayanagar district of the Karnataka state in Southern India. it sits about 350 km from Bengaluru.
How To Reach Hampi
Airways – The nearest airport is at Bellary, about 60 km from Hampi. The nearest international airport is at Bengaluru, about 350 km away.
Railways – The nearest railway station is at Hospet; located around 13 km from Hampi.
Roadways – You can fine buses from bangalore and bellary for Hampi and also from other nearby towns.
Check Out: Places to Visit in GOA
Best Time to Visit Hampi
Although the weather is not much of a concern in the region, Still winter season is the best time to visit Hampi as there is a lot that you can catch up on during this season. You can enjoy the Hampi festival which is a major tourist attraction at this place and is held annually in the month of november, also the weather is very good here during the winters.
Hampi Tourist Places (Places To Visit in Hampi)
In this segment we shed light on the Hampi tourist places.
Virupaksha temple
One of the better Hampi tourist places is The temple of Virupaksha .with  its main entrance facing east and having two courtyards. No sooner you enter the temple, As soon as you enter the temple you will see a nandi statue with three heads. There is a pillared hall in the center which is reckoned as the Ranga Mandapa.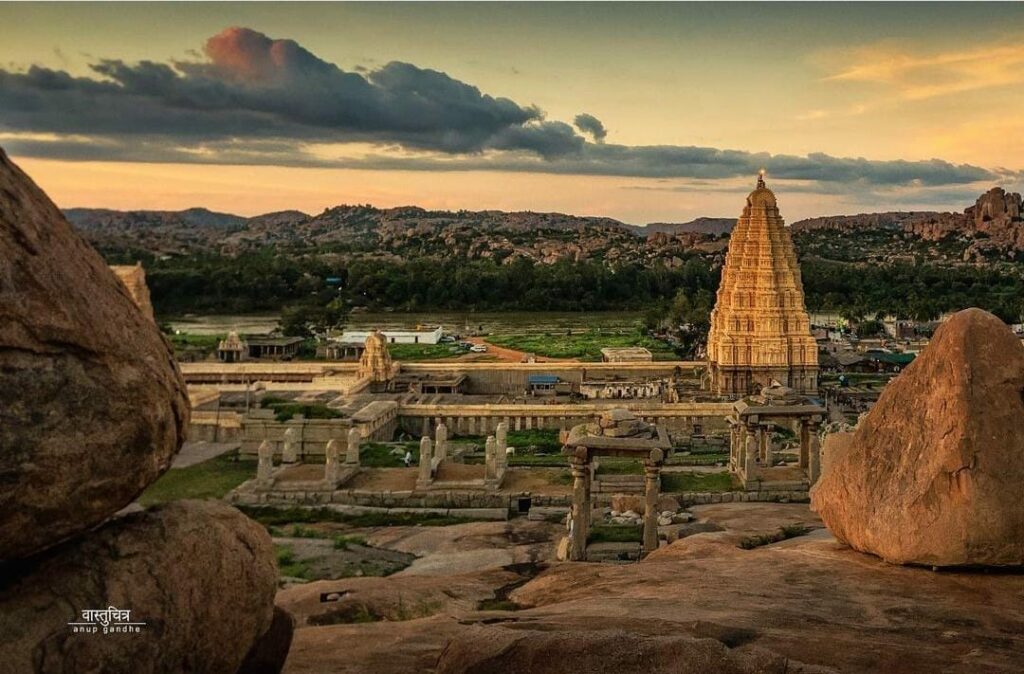 For international traveler, you have to register yourself at a police outpost with all your essential details. Mostly, this temple remains crowded in December; whereas it celebrates its annual festival in February and it is one of the better hampi places to visit.
Timings: Virupaksha temple is open for the visitors from morning 9:00 am to 13:00 pm. After about 4 hours, again the doors are open visitors from 17:00 pm to 21:00 pm.
Vijaya Vittala Temple
Vijaya Vittala Temple is one of the oldest temples located in Hampi and one of the most famous Hampi tourist places. the stone structures all over the place are marvelous, and the pillars are a piece of architecture to marvel at. The architecture of this temple tells about the mastery of the Dravidian artisans and give you a glimpse of the ancient times.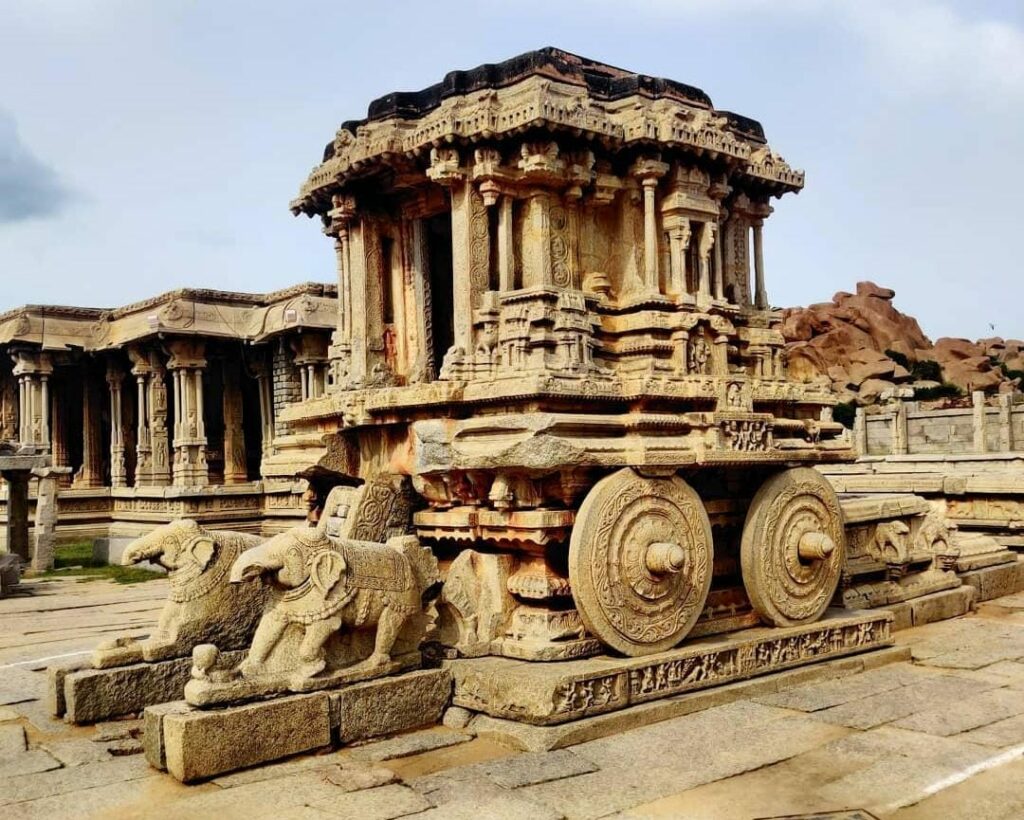 Three towering gateways are encircling the temple along with high compound walls. Maha Mantapa, Stone chariot, musical pillars are amongst the  attractions of this Vijaya Vittala Temple. So keep it in your list of hampi places to visit.
Timings: The doors of Vijaya Vittala Temple are open from morning 08:30 am to evening 18:00 pm.
Hippie Island
One more in the list of hampi tourist places is Hippie Island, As the name suggests the vibes of this place are hippie and you will find more foreigners hanging out here than the locals. Virapapur Gadde is a small island located across the Tungabhadra River. A well known destination among the backpackers, this island is a delight and is popular amongst the locals as well as tourists for its laid back ambience and cosy lodges.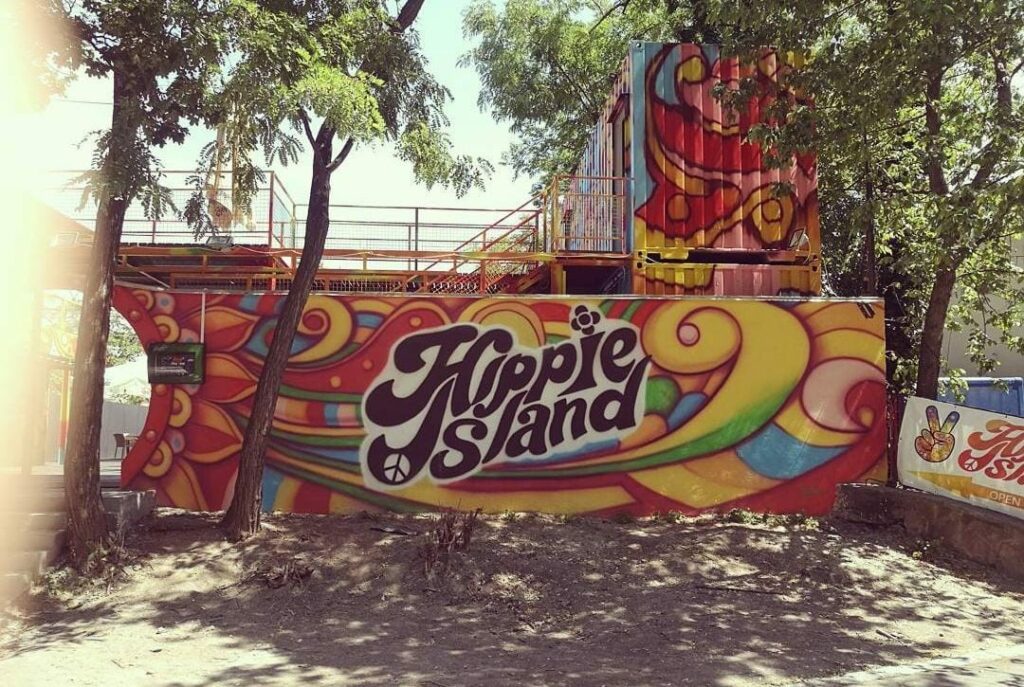 Tourists can spend their time relaxing at one of the many cafes and shacks, like Green Garden Restaurant, Laughing Buddha Café, etc. while gorging on great food, and soaking in the view of beautiful rice paddies. This location is also known to be a centre for people to conduct sunset jam sessions with musical instruments for a fun party-like atmosphere. This definitely should be in your list of Hampi places to visit if you have the hippie vibe. You will also find many Hampi hotels serving great food here.
Location: Virupapurgaddi, Hampi Island, Sanapur post, Hampi
Daroji Sloth Bear Sanctuary
The next on the list of Hampi tourist places is the Daroji sloth bear sanctuary. Hampi is famous for this species of the sloth bears. You are going to find a lot of Indian Sloth Bears here at Daroji Sloth bear Sanctuary. The Sloth bear count here goes to around 120. There are also other spcies which are present here at the sanctuary so you should definitely keep it on your list of Hampi tourist places.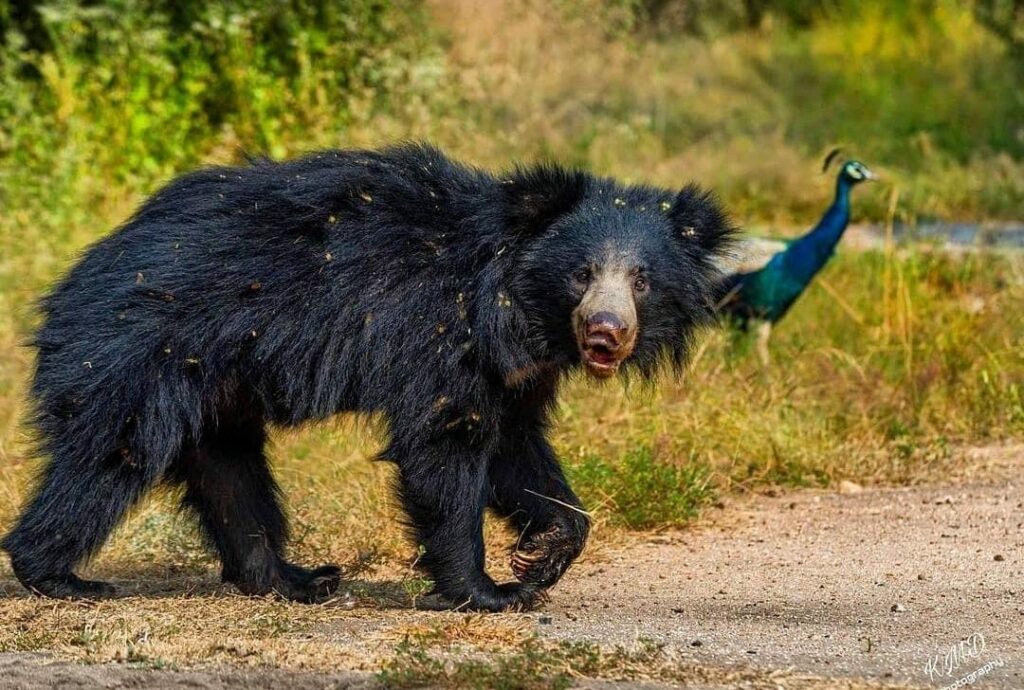 Tiger, Leopard, Mongoose, Pangolins, Star Tortoise, and Spotted Deer are the other animals that you can see here. This sanctuary alone exhibits around 90 bird species, 27 butterfly species, and a watch tower at the center.
Timings: Daroji Sloth Bear Sanctuary is open from 04:00 pm to 06:00 pm throughout the week.
Note: The entry fee for Indians is Rs. 25 while the foreigners have to pay 100 Rs for entry.
Old palace (Gagan mahal)
The Gagan mahal is one of the most fascinating sites in here and should be on your list of Hampi tourist places.  The palace  dates back to the 16th-century and Although significant portions of this palace are currently under ruins, it is still a visual spectacle and will take you back to the 16th century.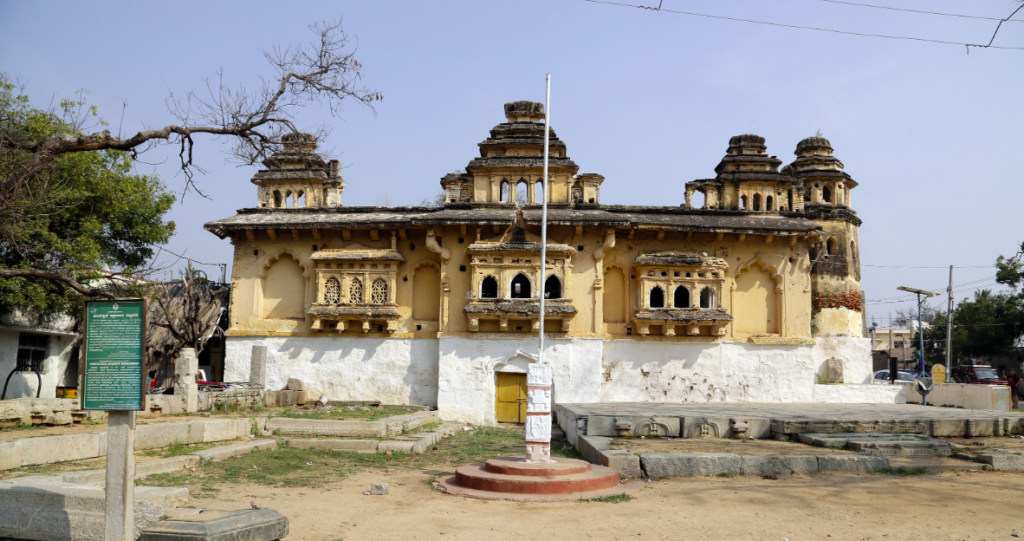 The palace is small and yellow in color with decorated windows and encircled all over by four beautiful towers. Once here, you can march towards Sarovara Laxmi Temple, Sabari Caves, Nava Brindavana, Durga Temple, and other nearby religious places of importance.
It is best to visit here anywhere between October to March. However, take care that there is no public transport here to ride around.
Timings: This Gagan Mahal is open for all 24 hours. It takes approximately one to one and a half hour to complete your visit here.
Hampi Bazaar
Hampi bazaar is a must visit while you are in Hampi. You should take your time out to go around the market and you will find ample amount of things to take back as souvenir. It spreads more than a kilometer and the road that passes through this market exhibits pavilions on both roadsides.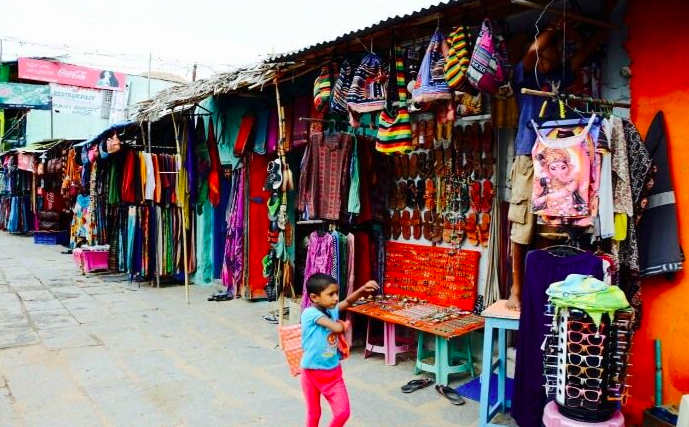 Alternatively, this shoppers stop is known as Virupaksha bazaar which is already mentioned above so you can also cover the temple while you're at it. Towards the eastern side, you can find a street to be occupied by the local villagers. There is a large Nandi bull statue at the east end of this Hampi Bazaar street. You can see visuals of the ancient hampi as the pictures depict it on the pavillions.
Hampi Resorts
So now that we have discussed the places to visit in Hampi, Let's take a look at the resorts where you can plan your stay in Hampi. Listed below are the resorts with there price ranges.
Kishkinda Heritage Resort Hampi
Kishkinda Heritage Resort Hampi is spread over 8 acres of land which makes it a huge property in scale. It also located very close to many tourist attractions such as Anjanadri Hills, Which is Known as the birth place of lord Hanuman and draws a huge number of devotees.
The resort also arranges cultural activities and yoga classes upon request. It offers all basic facilities which ensure that its guests enjoy their outing and have a memorable experience. Various local dishes can be enjoyed at the in-house multi-cuisine restaurant that serves vegetarian and non-vegetarian food. There is also a nice bar here where you can enjoy the drinks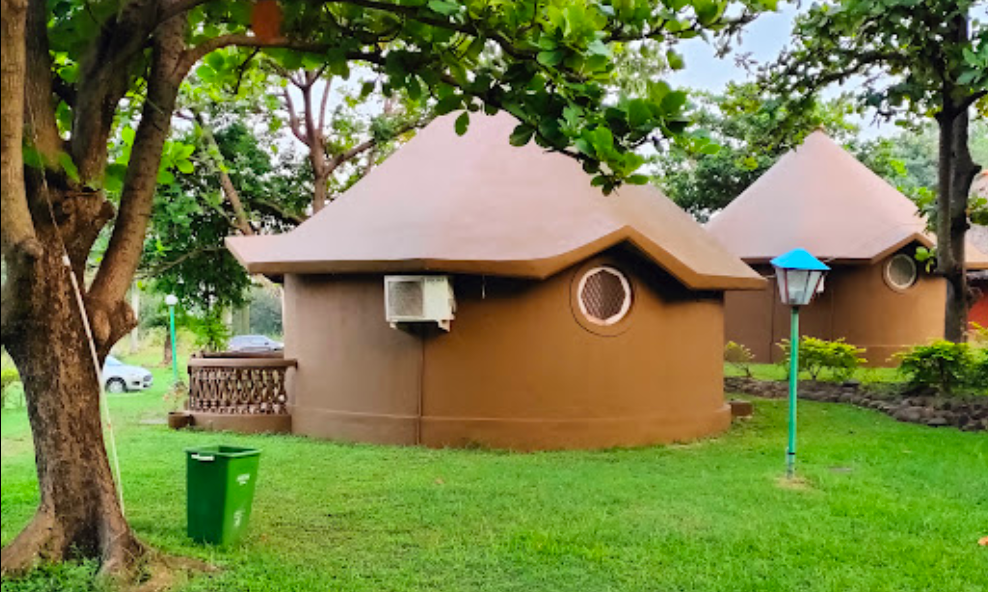 Check in: 12 pm
Check in: 11 am
Location:Anegudi, Hampi
Price range: This is one of the more affordable Hampi resorts and the price ranges here start from 3200 and upwards
Vijayshree Resort & Heritage Village, Hampi
The second on the list of resorts to stay in Hampi is the Vijayshree resort. One of the most scenic resorts that you can find around this area, This resort boasts of having around 60000 trees within its vicinity, Which sets up the great view from your balconies.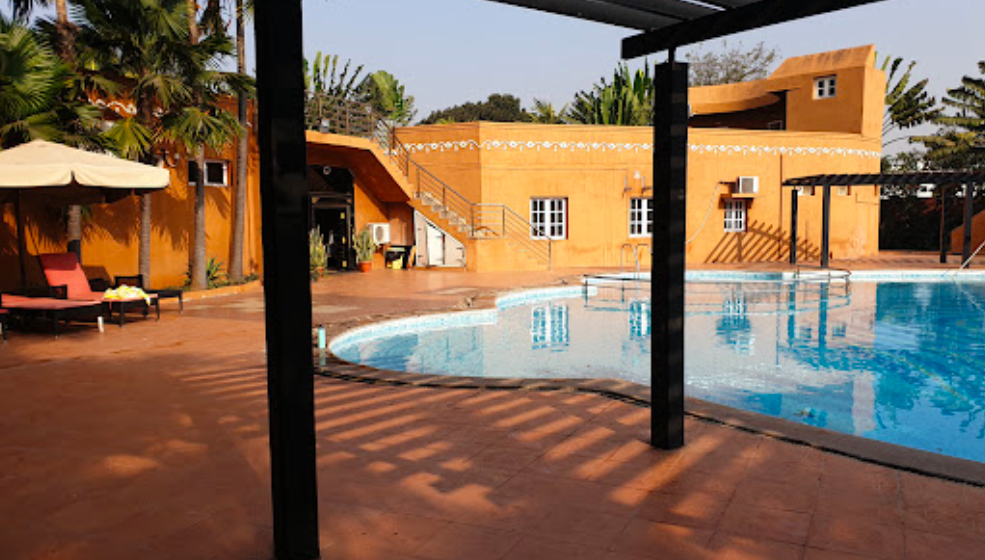 The resort offers many fun activities which includes horse riding and bycycling among many. The price range here is pretty affordable and gives you great deal luxury and comfort. This is one of the better Hampi resorts and will give you an Exotic experience.
Check in: 12 pm
Check out: 11 am
Price range: The price range here starts from around 4249 and upwards depending on the packages.
Location: Hampi, Karnataka
Heritage Resort
Third on the list of resorts to stay in Hampi is the Heritage resort. This is one of the best resorts to stay in Hampi. Heritage resort is inspired by the craftsmanship of the Vijayanagar empire which makes it stand out. There is a nice pool and bar as well to keep you dizzy.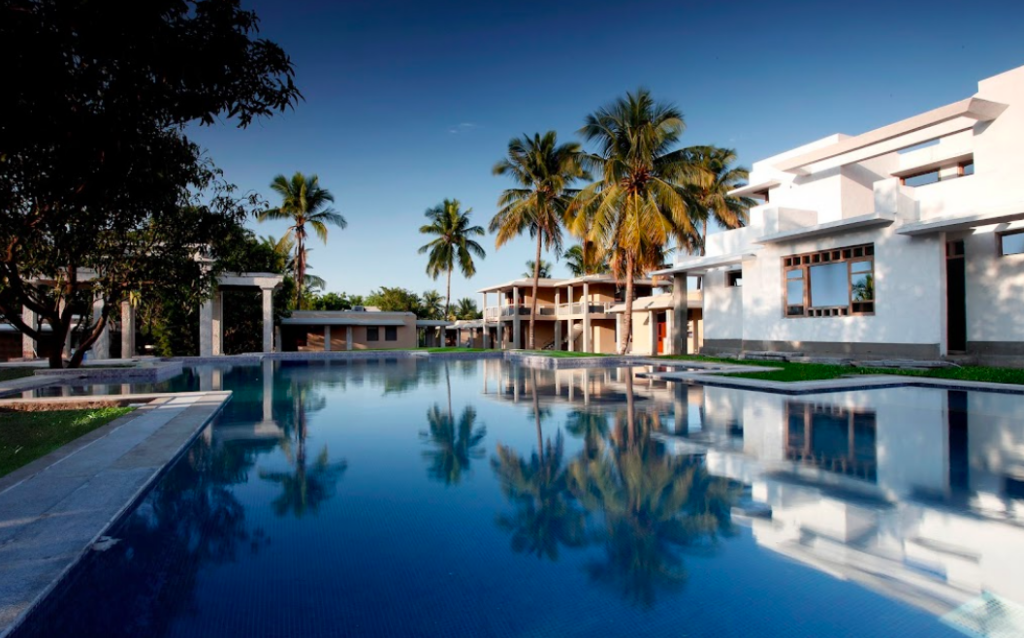 The resort presents many activities such as bird watching, cycling and ayurvedic spa. spread across 8 acres of land this resort will soak you in its glory and offers you luxury along with comfort.
Check in: 1 pm
Check out: 11 am
Location: Hospet Taluk, Hampi
Price range: The price range here starts  from 6299 and upwards depending upon the package that you choose.
Hampi Itinerary
Having covered up the places and resorts in Hampi now let's look at the itinerary that you can plan for your visit here.
Hampi Travel Plan Day 1:
For the first day you have to check in to any of the Hampi hotels that you find affordable and get set for the first few visits. You can reach in the morning and check in and the head for breakfast. For the first day you can head to the different ancient temples in Hampi and explore the architecture.
You can pay the visit to the vittala temple first and then follow it up with the oher temples in the area.
Day 2 Travel Plan at Hampi :
On second day in Hampi you take the bicycle tour around different locations as the cycling services are in abundance here, After a good few hours of cycling you can have your lunch and head the anjanadri hill, Which is another famous tourist and pilgrim attraction.
Once done with these two you can visit the sanctuaries here where you can see some local species of animals, The sloth being the famous one. Along with this you can also manage to cover up few monuments of ancient times and of the British raj as well, If only you are managing your time correctly.
Hampi Day 3 Travel Plan:
On day 3 after covering all the monuments and hills around Hampi, You can take time out to chill at the Hippie island during the day, As described above, The vibe of the place is eccentric and you will love to spend your time at the cafes in hampi, Mainly on this island.
You can then head to Hampi market in the evening to get some souvenirs for yourself and then head to the bars that are present in the city at night to bid adieu to this great place.
So That sums up our blog for hampi, Hope you have enjoyed it and wishing you happy journey to this beautiful place, You will really make some great memories here as it is a place for people of all kind.
If you have enjoyed our content, please leave your feedback in comments and also tell us about the destinations that you want us to cover in future, Also you can follow us on our pages on instagram, Facebook and twitter.
So see you in our next blog and until then farewell.