Must visit places in Singapore: Southeast Asia's Singapore is a tiny island city-state. It is one of the most developed and wealthy nations in the world despite its tiny size, with a strong economy and a diversified and cosmopolitan society. Singapore is well-known for its famous monuments, like the Merlion statue and the Marina Bay Sands hotel, as well as its top-notch food and shopping options. Here are the must visit places in Singapore city. 
Must Visit Places in Singapore – All You Need to Know Before Visiting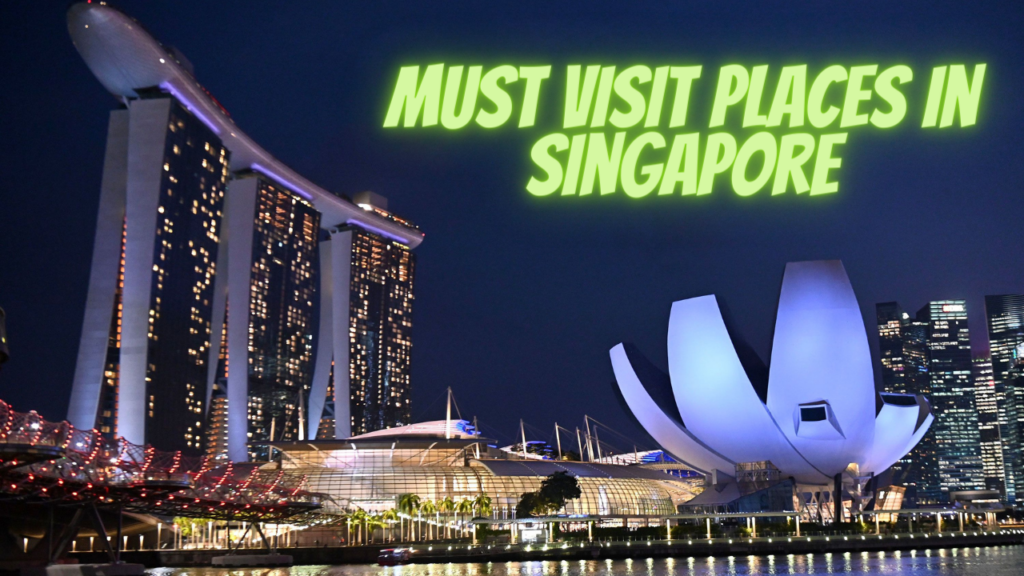 Garden by the Bay
The futuristic botanic gardens of Gardens by the Bay, located in the heart of Singapore, are home to futuristic Super trees groves, high-tech space domes, and bizarre sculptures. Gardens by the Bay, which is home to around 400,000 plants, is renowned for its breath-taking modern architecture and the mesmerising Garden Rhapsody light and sound display.
The 250 acres of reclaimed land along the shoreline are home to the large and colourful mega park conservatories. As one travels the skywalk over the gardens, one is treated to a mesmerising view of its famed Supertree constructions, which are futuristic botanical marvels connected by a towering Skyway.The most expansive glass greenhouses in the world and a replica of a frigid alpine climate is Gardens by the Bay's enormous greenhouse, known as the Flower Dome.
The garden is separated into three areas: Bay East, Bay South, and Bay Central, a garden created along the coastline that connects to the other two. The largest of these subdivisions is Bay South. Another noteworthy location is the Cloud Forest conservatory, home to the highest indoor waterfall in the world. A stroll through Gardens by the Bay also provides access to the spectacular Supertrees and climate-controlled greenhouses.
Marina Bay Sands
One of Singapore's most recognisable sites is the integrated resort known as Marina Bay Sands. The resort, which has a luxurious hotel, a convention centre, a shopping centre, a museum, a theatre, restaurants, and bars, is situated right in the middle of the city.
It also has the renowned SkyPark, which has a spectacular rooftop infinity pool with sweeping views of the city skyline. The hotel in Marina Bay Sands has more than 2,500 rooms and suites, each with a modern style and cutting-edge services. With more than 120,000 square metres of adaptable meeting space, the convention centre is one of the biggest in Asia.
An extensive selection of high-end fashion brands, jewellery, watches, beauty supplies, and accessories are available at the Marina Bay Sands retail centre. The mall also has a canal that runs through it, where guests may take a gondola ride or take advantage of the many restaurants that are offered.
Numerous exhibitions and activities fusing art and science are presented at the Art Science Museum at Marina Bay Sands. The museum's distinctive lotus-shaped structure is in and of itself a piece of art. The incomparable Marina Bay Sands offers a special fusion of luxury, entertainment, and culture.
Madame Tussauds
Madame Tussauds lets you explore more than 60 wax replicas of well-known actors, cricketers, politicians, and historical personalities from Singapore and around the world with Madame Tussauds Singapore tickets. Wax sculptures of well-known people, like Lady Gaga, Barack Obama, and the Queen Elizabeth II, are available for visitors to snap pictures with.
The museum also provides interactive displays like 4D movies, virtual reality exhibits, and other multimedia exhibits. The Spirit of Singapore boat trip, which takes guests on a tour of the nation's history and culture, is one of the key draws at Madame Tussauds Singapore. this is a must visit place in Singapore city. 
Singapore zoo – Mandai Zoo
The Mandai Zoo, sometimes referred to as the Singapore Zoo, is a well-known animal park situated in Singapore's northern region. Over 2,800 animals from over 300 species, including numerous rare and endangered species, call the 26-hectare zoo their home.
The Singapore Zoo's open-concept layout, which enables visitors to interact closely with the animals in their natural habitats, is one of its best features. Animals like lions, tigers, elephants, orangutans, and many more can be seen by visitors as they wander freely in sizable enclosures. 
Sentosa Island
Sentosa Island, a small resort island off the southern coast of Singapore, is home to amusement parks, sun-kissed beaches, lush jungles, amazing spas, and a few well-known resort hotels.
Sentosa Island is crammed with tourist attractions, including amusement parks, a stunning aquarium (Underwater World), beach clubs with vibrant music, an ethnic village, and the island's main feature, a massive Merlion Statue. 
Fort Siloso, the sole intact fort in Singapore, is situated on Sentosa Island. For those seeking solace at the beach with volleyball, there is Siloso Beach.