Amesterdam offers a wholesome list of several activities that can make an outing mesmerizing. A tour of the bloomed tulips ladden garden with Keukenhof tickets and an Amesterdam Canal Cruise ride, undoubtedly wins the list. The enchanting garden of Keukenshof is spread over 200 acres and known popularly for more than 20 varieties of flower bulbs.
The quiet canals of the city are 100 km long accessible through different kinds of cruise rides such a day cruise or evening cruise. Renting a boat to sail through the canal route of Singlegracht is an endearing choice..
Guide To Tulips of Keukenshof and Canals of Amesterdam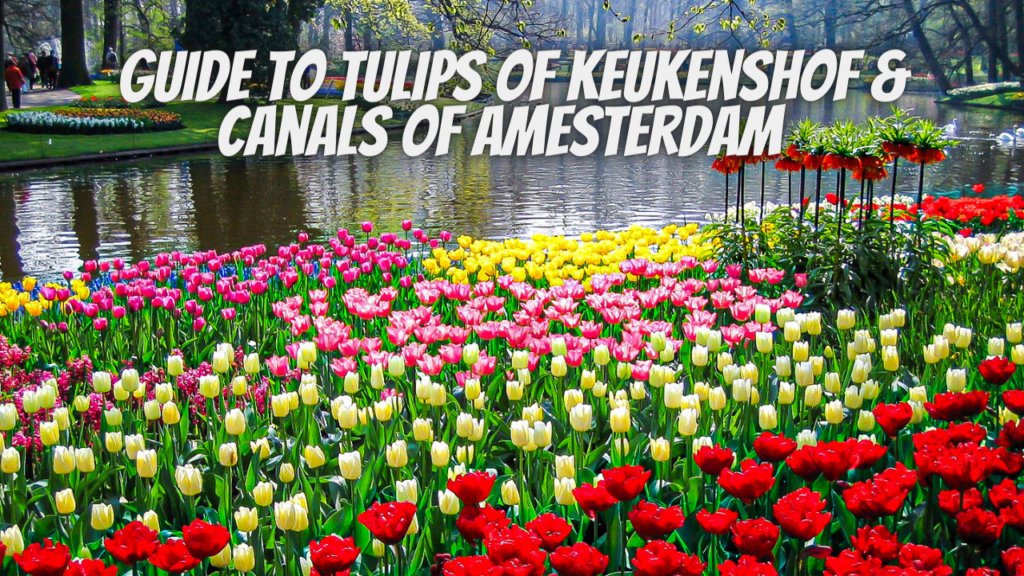 Keukenhof Garden
The pride garden of Netherlands is an enthralling site for nature and tulips enthusiasts as here blooms more than 7 million spring-flowering bulbs. The 200 hectares large garden encompasses more than 20 varieties of tulips and is decorated with sculptures. To enjoy the park visitors will have to tour around its various sections such as Organic Garden, Tropical Beach garden, pink tea garden, Graffiti garden and Red Romance Garden. Imagine the beauty of taking a ride in silent lakes amidst a field filled with flowers, such a heavenly experience is what Keukenhof promises. 
Different Gardens of Keukenhof- 
Organic Garden-  It's designed to introduce the visitors with the core value of the garden that is to embrace nature and take shelter in it.

Tropical Beach Garden- This section of Keukenhof will remind visitors of the serenity of beaches with its palm trees, sand and boats but with rustling flowerbeds.

Pink Tea Garden- With numerous medicinal herbs being grown here such as mint, lemon grass, camomile, the garden seeks to inspire visitors to turn their balconies into little tea gardens. 

Graffiti Garden- The woodland garden is a true sight of joy with its indigenous wild plants and colourful flower bulbs. 

Red Romance Garden- Decorated with red tulips and white sculptures, the garden spread the vibes of love. It might be the right spot for couples to take pictures.  
Other Relevant Information- 
Facilites Offered
Eateries- Enjoy an energizing drink or wholesome meal at ' Jacoba's Kitchen' in the Oranje Nassau Pavilion. 

Kid's Section- The garden makes an attempt at entertaining kids with fun games like Scavenger Hunt, Fun interaction with pet animals, finding way throught the maze and the playground. 

Services- Visitors can avail services of renting a wheelchair and lockers for keeping things. Wifi connectivity is ensured across the park as well.

Keukenhof Tickets

– The Park is open annually during the months of March to May. Visitors can avail

Keukenhof Tickets

from the official site of the garden. A pre-booking of tickets is suggested to avoid standing in long ticket queues at the site. 

Timings- Between 8 AM to 7:30 PM

Address-

Stationsweg 166A, 2161 AM Lisse
Amesterdam Canal Cruise
The silent and peaceful canals of Amesterdam are a treat that visitors can enjoy with a cruise ride. Navigating their way through the maze of canals while being lost in its architectural beauty and floating by its popular sites like Rijksmeuseum, Skinny Bridge, Amsterdam Central , etc., is a must in the city. There are several options available to choose from while booking for an Amesterdam Canal Cruise experience. Here, are some described
Canal Cruise During Day-

Booking seats in a large touristic boat with a guide introducing visitors to all the fun facts about the city will make it a remembering expereince.  

Canal Cruise During Night-

What can be more spectacular than gliding in the canals of the city when the whole city is lit up in the evenings. The faded music and a drink at the cruise bar will make the ride more dreamy. 

Pizza Canal Cruise

–  The cruise is the perfect spot for freinds and family hangout, offering a ride across the beautiful sites of the city while enjoying the versatile Italian cuisine 'Pizza'. Visitors should plan this

Amesterdam Canal Cruise

ride towards the evening to marvel over breathtaking dusk sights. 

Luxury Dinner Cruise

– The calm and cosy vibes of Amesterdam are best enjoyed with a dinner and a glass of wine. Visitors can seek the expereicne well at the Luxury Dinner Cruise. 

Boat Rental-

Those looking for an individual venture can rent a boat and sail anywhere through the 100 km long maze of canals. The large canal of Singlegracht is an universal favourite with parks and monuments located in its vicinity. It's also a good option for those wanting a private family/ friend gathering space.