Places to Visit in Goa During Monsoon / Rainy Season: The rainy season in Goa, known as the monsoon, lasts from June through August. The majority of the rain falls between June and August, but it begins in late May and continues into September. India's Konkan coast, where Goa is located, experiences heavy rainfall. There is continuous rain mixed with sporadic thundershowers. The Western Ghats mountains are drained of their water by the rain clouds that arrive from the Arabian Sea. Rain showers can last particularly long in July and August, when the monsoon is at its most intense. The Chapora, Zuari, and Sal rivers in Goa all overflow. Likewise, the ponds are full.
Goa is gorgeous during the monsoon because of the abundance of flora that resulted from the rain. Over the Arabian Sea, the cloud cover appears to be favorable to the visitors, who can enjoy their view. Goa experiences heavy rainfall during the monsoon season, just like every other coastal region. There is a probability of a thundershower on some days, and it may be a brief drizzle, heavy rain, or moderate rain. While the nights are chilly and lovely, the days are muggy. With cloud cover, the wind can increase swiftly.
The monsoon season in Goa has an average high temperature of 28.8°C to 30.3°C and an average low temperature of 24°C to 24.7°C. Due to its distance from the Indian heat, August is typically the coolest month. The monsoon season sees an average sea temperature of 28°C. If you are someone who enjoys monsoon seasons then you should definitely visit Goa during this season. In this Blog let us know the reasons why you should visit Goa in monsoon, places to visit in monsoon and many more things. Excited? Let's not delay any further.
Why You Should Visit Goa in Monsoon: 
There are many reasons why you should visit Goa during the monsoon season, here I will list a few reasons why you should consider visiting Goa during the monsoon season though it is usually famous during summer.
Cheaper Prices

Less Crowd

No Waiting

Cleanliness

River Rafting
Also Read: Pros & Cons of visiting Goa During Monsoon
Cheaper Hotels and Shopping:
If you are on a tight budget, The greatest time to visit Goa without breaking the bank is in the monsoon season. There won't be as many people around because monsoon season isn't a popular season to visit Goa. Fewer people means less lodging, travel expenses, rental bikes and vehicles, as well as food and beverages. 
Less Crowd:
Except for the monsoon season, Goa's beaches are crowded with visitors all year round. You may easily find a quiet area at this time to put on some sunscreen, relax, and take in the sun. Only one catch exists. There will be less sun and more clouds because of the heavy rainfall. So, before leaving, check the weather on your mobile device. It won't be difficult to book hotels and flights on-the-spot, so don't stress about doing it in advance. 
No waiting:
During the busiest times of the year, all tourist attractions, eateries, bars, and clubs are crowded. however, not in the monsoon season. At this time, reservations or waiting lists for tables at restaurants would not be necessary. There won't be a line to order a drink at the bar, and the dance floor will be big enough for you to show off your moves. As there won't be any long lines, you could also visit national parks including Bondla Wildlife Sanctuary, Mhadei Wildlife Sanctuary and many more amazing places that are famous nearby. 
Cleanliness:
Goa is significantly cleaner during the monsoons than during other times of the year because rains wash away the mud and filth that are typically present during peak tourist season when people carelessly leave trash on the roadsides and beaches. 
River Rafting:
If you regularly travel in search of adventure, going to Goa in July might be the best option. The rivers are rough and the rain is falling heavily, which are both indicators of an amazing and thrilling river rafting adventure. You can anticipate class rapids for grades 2 through 5. The Goan monsoon season is the ideal time to learn how to white water river raft and improve your rafting skills in Goa's natural rivers. 
Places to Visit in Goa During Monsoon / Rainy Season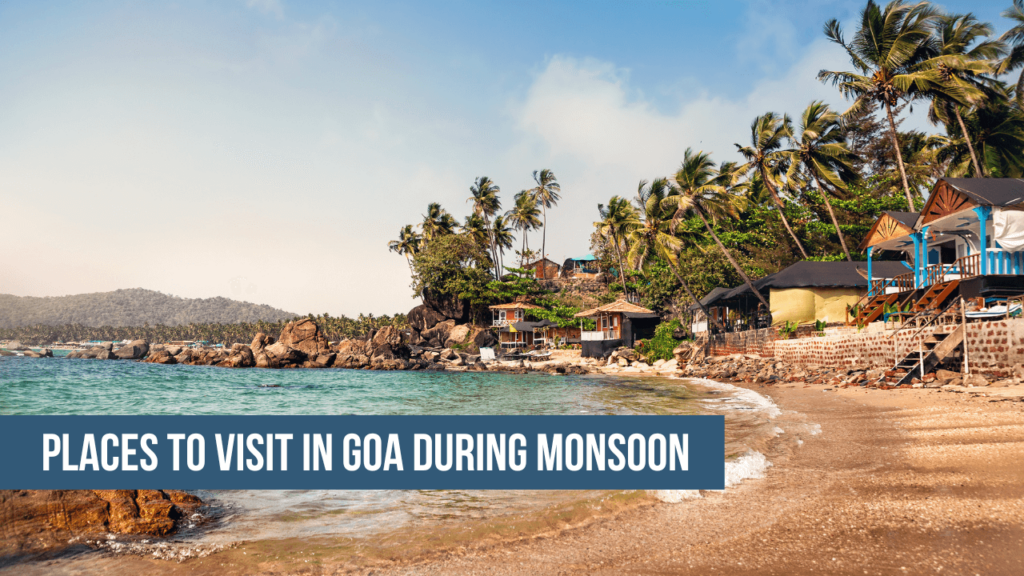 There are many places in Goa that you should not miss experiencing, especially during monsoon. Many people do not know that this is the right season to visit a few viewpoints and places in Goa. In case you are planning to visit Goa during the Monsoon , here is a list of places you should pin on top of your travel plan
DudhSagar Waterfalls

River Rafting in Mhadei River

Spice Gardens

Trekking at Udhaan Dongor

Anjuna Flea Market
DudhSagar Waterfalls:
One of India's five top waterfalls, Dudhsagar is situated on the boundary between Goa and Karnataka, around 60 kilometers from Goa. The impressive power of nature is on display at Dudhsagar Waterfalls, making it a sight to remember.Due to its captivating natural beauty and spectacular surroundings, this magnificent waterfall is one of the top sites to visit close to Goa. The presence of this stunning four-tiered waterfall in the 2013 hit film Chennai Express increased its popularity.
It is currently one of the most visited locations for tourists traveling to Goa and nearby locations. In Goa, the Dudhsagar waterfalls first resemble a stream of milk pouring down the mountain before changing into gushing cascades. Here is all the information you need to know about the Dudhsagar Waterfalls. 
River Rafting in Mhadei River:
White water river rafting is a popular outdoor adventure sport for groups. A six person team balances an inflatable raft by placing three persons on each side and using single-bladed oars to direct it through the curves and rapids of the river. This is a cooperative sport that requires complete concentration and incredible levels of satisfaction due to the adrenaline it produces.
Satteri district is the location of the Mhadei River, which flows through the  Valpoi Village. This river passes through a reserve for wildlife that is protected and has a rich biodiversity. It has been noted as a suitable location for both expert river rafters and first-timers to enjoy the thrills it has to offer. 
Spice Gardens: 
The spice fields are a must-see location for visitors to the state. The Spice Gardens are famous for its calm, laid-back atmosphere and the smells of various spices. Visitors are cordially welcomed and given a homemade welcome beverage. The air is fragrant with the spices that are farmed there, including nutmeg, cardamom, cinnamon, vanilla, betel nuts, pepper, and chillies.
The interpreters take the visitors on a tour of the garden while describing the different kinds of spices, their uses, and each one's medicinal properties. Organic gardening is practiced on these spice plantations. Fruits like cashew, banana, and pineapple are also grown there. These locations are known for their organic farming and wide variety of spices.
Trekking at Udhaan Dongar:
Who doesn't love trekking? It is one of the most affordable yet fun-filled advantour. Trekking at Ushaan Dongar is a journey that will provide you with breathtaking views of the countryside, flowing streams, fascinating fauna, and strenuous hikes. Conquer Udaan Dongor, Goa's fourth-highest peak, and take in the beguiling majesty of the Western Ghats. The area, which is in east Goa's Valpoi taluka, is known for its abundant biodiversity. Reach the hilltop by hiking the meandering routes. One must see the hilltop's panoramic vista of the Ghats.
Anjuna Flea Market :
Anjuna Flea Market in Goa is a hippy haven where you may score a great deal on hippie clothing, trinkets, souvenirs, and handicrafts. In the 1960s, the hippy travelers used this weekly market to barter their one-of-a-kind goods. There can't be a better place to go if you're looking for the greatest Tibetan and Nepali things than this flea market. At the stalls in this market area, you may also get your body pierced or your hair coloured.
Check Out : Anjuna Beach, Goa
If you're in Goa, you should take a break from partying and relaxing to explore the distinct character of this flea market that hums with Goan spices.  This market allows customers to shop until they are completely satisfied and stays open into the small hours of the morning. The only skill you'll need to use in this situation is negotiation to secure a reasonable price for the goods you want to purchase. 
Conclusion
This is all you need to know before packing your bags for the Goa trip. There are many more places you will discover once you go to Goa because there are many hidden gems at Goa that you will discover when you reach there. Talesofbackpacker covered almost all the popular & Must visit places to visit in goa during monsoon / rainy season. I hope this blog has made it more clear for you on how to plan your Goa trip better. In case you think I missed any places or if you want to share your experience, please let me know through the comment session.