Canada is home to several world-class aquariums that showcase the incredible diversity of marine life found in the country's waters and around the world. These aquariums feature a variety of exhibits and programs that allow visitors to get up close and personal with a wide range of aquatic species, from sharks and rays to sea turtles and jellyfish.
Many of Canada's aquariums are dedicated to conservation and research, with programs aimed at protecting marine habitats and promoting sustainable living practices. Whether you're interested in marine biology, conservation, or just looking for a fun and educational day out, Canada's aquariums are a must-visit destination. One can book Aquarium Ticket online to avoid standing in a line.
Famous Aquariums in Canada – Must Visit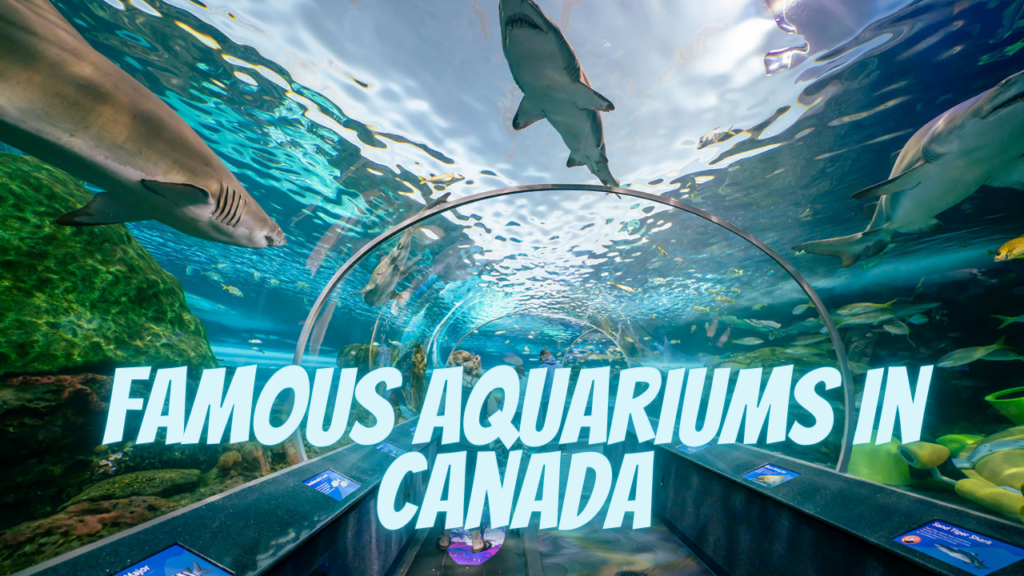 Ripley's Aquarium of Canada
The top of this list is the purportedly best aquarium in all of Canada, and we have to admit, it's really amazing. A truly wonderful event that the entire family can enjoy is now available from the company that brought you Ripley's believe it or not. These exhibits are in Toronto and offer everything you could possibly want. From a sting ray display where you can get up close and personal with these animals to a shark cage where you can actually spend time with them after dark. Ripley Aquarium of Canada is an absolutely wonderful place to visit.
Nicholas Sonntag Marine Education Centre
The main focus of this outstanding maritime institute is teaching, as suggested by its name. Its goal is to teach people of all ages about marine life. By doing this, the species that lives in the waters will be protected in the future. To retain the teaching focus, British Columbia's relatively new exhibits are built more like a research lab than a conventional aquarium. Schools should go there, especially to help students understand more about the planet they live on.
Marineland Of Canada
The Canadian Marineland is located in Niagara Falls. The experiences that a family might have when they first encounter the beautiful creatures are the focus of this Ontario-based attraction. The beluga whales at Marineland are in obviously its main draw because you can come so close and admire them up close. With Aquarium Tickets of Marineland you can explore the home to rides and even some world creatures in addition to some beautiful other water life.
Huntsman Marine Science Centre
On this list, the Huntsman Marine Science Centre stands out from the others in a significant way. The structure, which serves as a real-life scientific research facility, was built to pique children's curiosity about and involvement in marine science. Although it is primarily designed as a place for schools to go, it also has a few different exhibitions, including a rock pool that kids may explore and learn about. It's a pretty special learning setting that you should check out.
Aquarium Of Quebec
One of the most popular attractions in the nation is this beautiful one. There are several exhibitions there featuring some extremely magnificent creatures. This is obviously located in Quebec and was created to be a popular family destination. The aquarium is also one of the few on this list with walk-through tunnels. As a result, you can experience being genuinely surrounded by the wildlife you've come to witness. Additionally, it is home to very clever polar bears!
Ucluelet Aquarium
Even though this Aquarium is significantly smaller than the others on the list, it nevertheless has appeal. The inside has been meticulously designed to cram as much as is possible inside to give guests a good tour of the biodiversity of the waters in the area. It's a science facility, so unlike some of the other places on this list, it's not necessarily intended to be a full-day family excursion. But for a straightforward, authentic glimpse at marine life, this is sufficient. That makes it special and elegant, and the close water source permits outdoor events as well.
Vancouver Aquarium
If you are visiting Vancouver, you should check out the city's aquarium to experience the adventure. Visitors can learn about the effort that goes into the marine life center's conservation initiatives around the world. There are a tonne of animals to see, such their otters or seals, and there are a tonne of possibilities to see how the facility runs, especially how they take care of the animals. It's both an enjoyable day out and a chance to learn.
Shaw Centre For The Salish Sea
This facility for education and conservation is focused on the Salish Sea. Again, the goal here is to inform the public about a topic that is close to their hearts. The shows have a strong emphasis on the animals of the Salish Sea. The Salish Sea is also the subject of an art gallery at the facility, which places a cultural emphasis on the significance of this body of water and its inhabitants. You may sign up for some really wonderful volunteer opportunities through this as well.