Several outstanding zoological parks in North America are devoted to the preservation and upbringing of animals. Elephants, tigers, penguins, and polar bears are just a few of the exotic species on display in these zoos. With global research and conservation programmes, many zoos in North America are dedicated to preserving endangered species and advancing sustainable living.
Zoos in North America have something to offer everyone, whether they are interested in learning about animal behaviour, conservation, or just spending a day out with friends and family.
Zoos in North America You Must Visit At least Once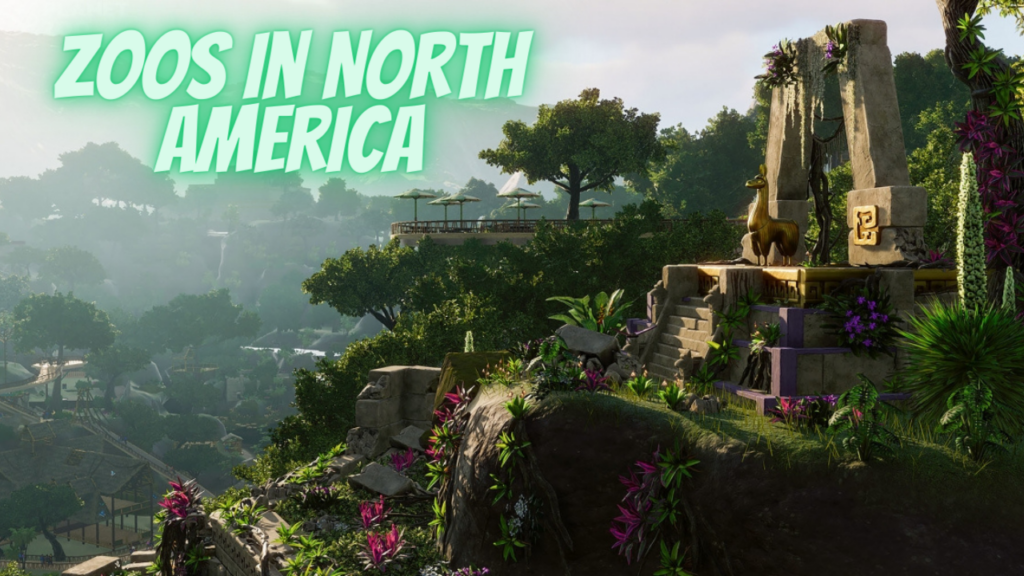 San Diego Zoo 
In San Diego, California, there is a famous zoo called the San Diego Zoo. The 1916-founded zoo, one of the biggest and most varied in the world, is home to around 3,500 animals from 650 different species. The 100-acre zoo is organised into various zones that each reflect a different region of the world.
Visitors can observe species including giant pandas, tigers, gorillas, and polar bears while exploring ecosystems like the African Plains, Asian Passage, and Panda Canyon. The Safari Park, which offers guided tram tours through a sizable outdoor enclosure populated with herds of exotic creatures like giraffes, rhinoceros, and antelopes, is one of the zoo's most well-liked attractions. The San Diego Zoo is renowned for its enormous botanical collection, which contains more than 700,000 plants from all over the world in addition to its numerous animal exhibits.
Those who have purchased zoo admission can visit gardens such the Fern Canyon, Orchid House, and Bamboo Garden and discover the significance of plants in animal habitats.
Bronx Zoo 
One of the biggest city zoos in the nation is the Bronx Zoo in New York City. It has more than 4,000 animals inside its boundaries and is situated on both sides of the Bronx River. One of the most adored landmarks in New York is the Bronx Zoo. Remember that this zoo is huge if you decide to visit it.
Due of its size (more than 250 acres), visiting the entire zoo may take more than one day. Plan beforehand for the exhibits you most want to see if you're travelling with children or have a limited amount of time. 
Philadelphia Zoo 
The beloved Philadelphia Zoo is unquestionably among the best zoos in the United States. Its distinction stems in part from the fact that it is one of the country's oldest zoos. After the Civil War caused a delay, it opened in 1859 and received its official charter in 1874, earning the distinction of being "the nation's first zoo."
This zoo has approximately 1,300 animals, many of which are endangered species, making it home to more than just interesting historical facts. Beautiful animals including black-and-white ruffed lemurs, Amur tigers, and gigantic otters may be seen on its 42 acres.
Oakland Zoo
Visit Oakland Zoo to experience a wide variety of native Californian animals at one of the top zoos in the country. In its California Trail display, it emphasises native animals including bison, grizzly bears, and grey wolves.
Of course, the 100 acres of the Oakland Zoo are also home to additional exhibits and services, such as a modern veterinary facility and a sizable butterfly garden. In the heart of Oakland, the zoo first opened its doors in 1922. More than 700 native and exotic animals, including sun bears, reticulated giraffes, and hamadryas baboons, call Knowland Park in Oakland Hills home which you can explore with your zoo tickets.
Zoo Miami 
Zoo Miami remains the only subtropical zoo in the contiguous United States among the innumerable others. It also happens to be Florida's biggest and best zoo. The zoo, which started in 1948 and has since been referred to as the Miami-Dade Zoological Park and Gardens, was moved to its current location in 1980.
The subtropical climate of Miami is significant in this context since it gives the zoo's animals, who are from Asia, Australia, and Africa, a naturally warm and humid environment. These creatures range from familiar favourites like gorillas and lions to exotic species like Komodo dragons, Malayan tapirs, and Matschie's tree-kangaroos.
Omaha's Henry Doorly Zoo and Aquarium
The Henry Doorly Zoo in Omaha, Nebraska, holds the distinction of being the largest zoo in the USA when both its geographical area and the number of species are taken into account. Since its founding as Riverview Park Zoo in 1894, this well-liked zoo has established a reputation as a pioneer in wildlife protection and study.
On its 130 acres, the Henry Doorly Zoo is home to well over 900 species. Elephants, tigers, lions, and rhinos can all be seen here, and there is also an aquarium where you can witness sharks and sea turtles up close.