The playground for the chic and elite -Dubai is not merely limited to massive shopping malls or skyscraping luxury hotels and buildings but it also has enthralling amusement parks to cater the young Turks. Visit the Motiongate which is a Hollywood-themed land of adventure with thirty rides modelled on memorable Hollywood movies.
IMG World Of Adventure Tickets help you jump the line as you visit this indoor theme park where you can meet your favourite Avengers and walk the planet with Dinosaurs. Playing with Legos at Legoland Dubai rekindles the memories of the visiting adults also as imagination and creativity find the right address to take flight.
If you are a Bollywood fan then don't forget to visit the Bollywood Parks as it is dedicated to Indian movies. Spend some time at Play DXB in the Dubai Mall. Playing with water is your forte so enjoy splashing water at the Atlantis AquaventureWaterpark. Experience the chills of winter in the golden sands as you visit Ski Dubai. Schmooze from one rollercoaster to another rollercoaster as you have a fun-filled day at the Ferrari World. Riverland in Dubai is a part of Dubai Parks and Resorts and acts as a gateway to the main parks.
Amazing Amusement Parks of Dubai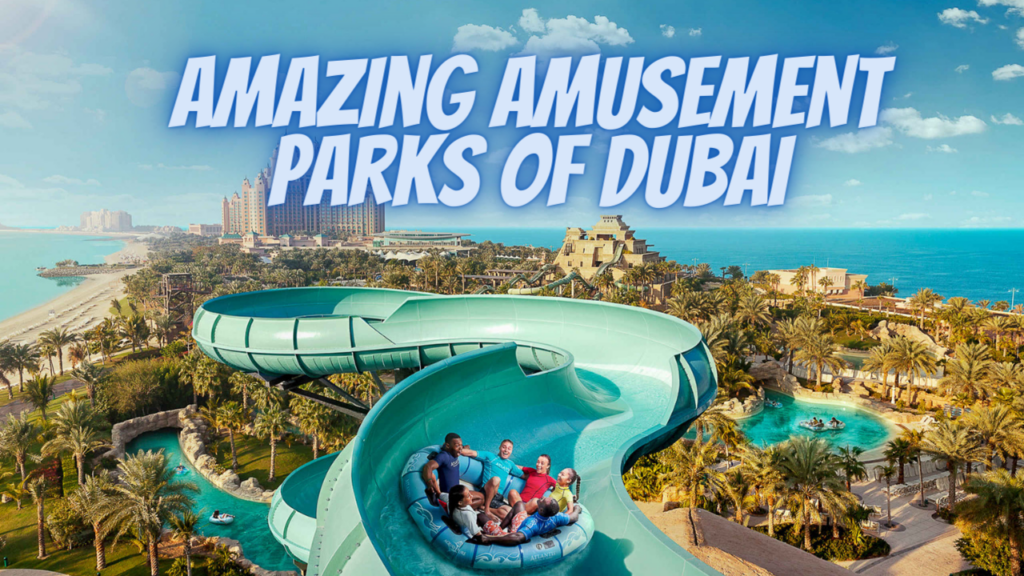 IMG World Of Adventure 
Plan Your Visit To IMG Adventure with the pre-reserved IMG World Adventure Tickets.IMG was established in 2016 and is located on the renowned Sheikh Mohammed Bin Zayed Road. It is Dubai's first and most humongous indoor theme park with the top of world entertainment.
The IMG Adventure Park is divided into four zones -Marvel Zone, CN Zone, Lost Valley and IMG Boulevard. The amazing rides to check out at the theme park are The Velociraptor at Lost Valley as you ride this 1.1-kilometre-long rollercoaster with four loops and feel the thrust of speed as you speed up to 100 km/hour in merely 2.5 seconds across prehistoric jungles and desert.
The Powerpuff Girls at Cartoon Network zone might appear like a kiddie ride but as you hop on the ride you experience a 360-degree spin where the carriage flies through the air as Powerpuff Girls fight against the evil Mojo Jojo. Thor Thunder Spin at Marvel where you move up and down and the water jets from below.
Seat yourself firmly as Thor attempts to rescue the riders from Loki. Ride the Spider-Man Doc Ock where there are two rollercoasters with two coloured seats red for Spiderman and green for Doctor Octopus.
Motiongate 
For any Hollywood fanatic, the IMG World Of Adventure Tickets become more endearing as you visit the Motiongate in Dubai. The Hollywood-themed park is located in Parks and Resorts which was designed and developed by renowned movie studios the Columbia Pictures Studios, Lionsgate Studios and DreamWorks Studios. As soon as you enter the theme park you seem to be on different movie sets.
The theme park is divided into four zones where the visitors come across 4D simulators, rollercoaster rides and play zones and rides meant to be enjoyed by kids and parents together. The Columbia Pictures Studio Zone has a total of seven attractions and you are sure to feel the shivers as you encounter creepy characters.
DreamWorks Studio Zone comprises fourteen attractions where you can meet and greet your favourite characters from movies like Kung Fu Panda and Shrek as they welcome you at the entrance gate of the zone.
The Lionsgate Studio Zone is the third zone which has a total of three attractions. Where you take an aerial tour of Panem City or enjoy a twirling ride to the Capitol in a bullet train. At the Smurfs Village zone enjoy attractions like Smurfberry Factory and Woodland Play Park.
Bollywood Parks
Experience perfect scheduling as you  Plan Your Visit To IMG Adventure helps you proceed towards Bollywood Parks. Feel and experience the magic of Indian cinema as you visit this Bollywood-themed amusement park.
An ideal place to learn about the behind the scene preparation it takes to make a Bollywood movie. Visit the movie sets of hit movies like Lagaan, and enjoy a 4D movie experience of Krish or be part of dance workshops at Cinema Circle.
The park has five different zones – The Rustic Ravine where rural India comes alive with its farms, banyan trees and huts and local performances. The zone is inspired by Lagaan. Royal Plaza looks glorious with its Rajmahal theatre and Broadway-style Bollywood musical show. Whereas Bollywood Boulevard is famous for its restaurants and cafes and also for Crossroad shows featuring Bollywood all-time hit performances.
Sholay: The Hunt For Gabar is an interactive 3D ride where you get to shoot at dacoits or the famous villain Gabbar with laser guns. Inspired by Salman Khan's Dabangg is the Spectacular Stunt Show full of dialogue, dance and song. It is a nineteen-minute show with inspector Chulbul Pandey saving the day.