Top Tourist Destinations in Maharashtra: Maharashtra is comparable to a large canvas that has been painted with distinctive colours and patterns to present a likeable image for the world to see. In a nation as diverse as India, Maharashtra lends timeless beauty with its multicoloured culture and illustrious past. Maharashtra has produced a world full of opportunities for travellers to explore, from its cheerful folk dances and music to its delectable cuisine, from its charming architecture to its brilliant art and craft. 
It has something for everyone in this amazing state, which is home to the Western Ghats in part, the famous Kolhapuri Chappals, a populous that embraces Lord Ganesha unlike any other Indian state, and BOLLYWOOD, one of the biggest film companies in the world. Without further ado, let's investigate this area more and see what characteristics make it so alluring to explorers.
Top Tourist Destinations in Maharashtra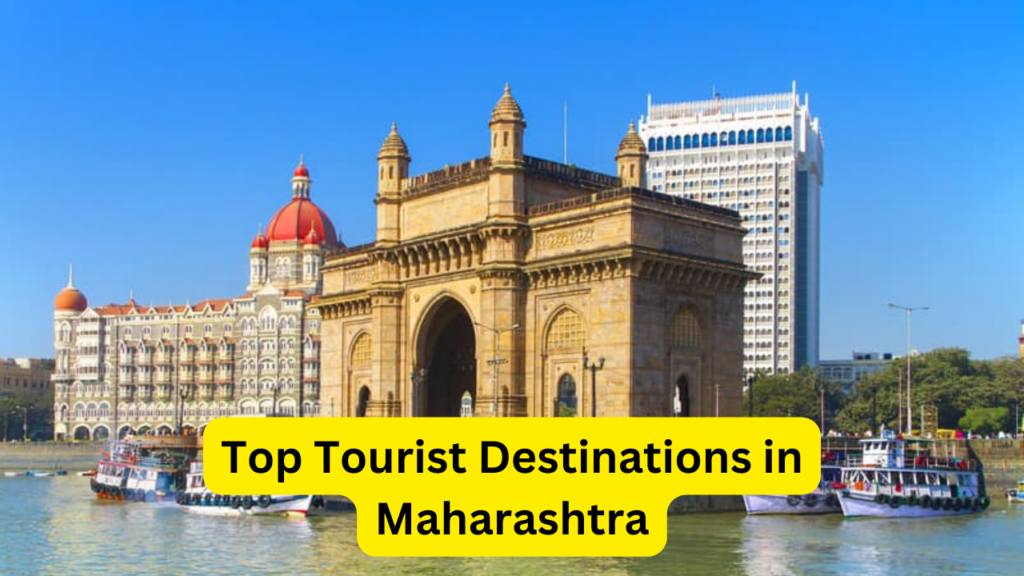 Mumbai
Mumbai, the capital of Maharashtra, is one of the liveliest and busiest cities in all of India and one of the best tourist attractions in Maharashtra. The Gateway of India, the Taj Mahal Palace Hotel, and Marine Drive are a few of the city's most well-known monuments. Mumbai is renowned for its thriving nightlife, colonial architecture, and breathtaking beaches. Visitors can explore the city's famous landmarks, shop in its vibrant markets, or indulge in its delectable street cuisine, among other activities. With Cordelia Cruise, which departs from Mumbai and Kochi and offers a variety of itineraries that visit well-known locations both inside and outside of India, you may have a luxurious cruise experience.


Mahabaleshwar
Mahabaleshwar is famous for its countless rivers, beautiful cascades, and breathtaking peaks. In addition to waterfalls, hills, and valleys, the city includes old temples and manicured beautiful green forests. The city is unquestionably one of the most popular weekend getaways from big cities like Mumbai and Pune and one of the best tourist attractions in Maharashtra. With Mahabaleshwar honeymoon packages explore the hill town of Mahabaleshwar, known for its natural beauty and romantic ambiance. It's the perfect place for a honeymoon getaway because it's surrounded by undulating hills, lush green forests, and stunning perspectives.
Lonavala
The city of Lonavala is among the most lovely escape for those seeking a break from the hectic pace of major cities. It is situated in the Pune district of Maharashtra, in the western region of India. This hill station is located 64 kilometers to the west of present-day Pune city and 96 kilometers east of the major city of Mumbai. The nicknames "City of Caves" and "Gem of Sahyadri" are both used to refer to Lonavala City. The reason for this is that the hill station has some of the most breathtaking scenery, including lush green valleys, amazing caves, peaceful lakes, and magnificent waterfalls. With their ancient beams, themes, and inscriptions, the magnificent Bhaja and Karla caves in Lonavala have drawn the attention of tourists.
Aurangabad
The sixth-most populous city in the state of Maharashtra and a significant center of culture is Aurangabad. The city is the hub of trade, education, and art, and its surroundings are hills. For its silk and cotton clothing, Aurangabad is renowned throughout the nation. At Aurangabad, the Ajanta and Ellora caves are the most well-known and significant tourist attractions. It is part of the city that has the most historical significance. The best time to visit Aurangabad is between October and March for exploration and sightseeing, the weather at this time of year is great because it's still comfortable and cool.
Nashik
Nashik, a sacred location in Maharashtra, is well-known for the significance of its Hindu temples from a religious standpoint. Hinduism places a lot of religious significance on this old sacred location. Several breathtakingly beautiful natural places can be found in Nasik. Nashik's natural beauty is unmatched and provides mental relaxation, from the expansive grandeur of the Sahyadri range giving rise to streams of the Western Ghat to the gorgeous vineyards spread throughout the hills. Some of the top places to go to see natural beauty include the Anjneri Hill, the Pandavleni Caves, and others.
In conclusion, Maharashtra has a wide range of tourist sites that are appropriate for all types of visitors. From the vibrant city of Mumbai to the tranquil hills of Lonavala and Mahabaleshwar, Maharashtra has something to offer everyone. Thus, add Maharashtra to your travel plans if you're planning a visit to India.